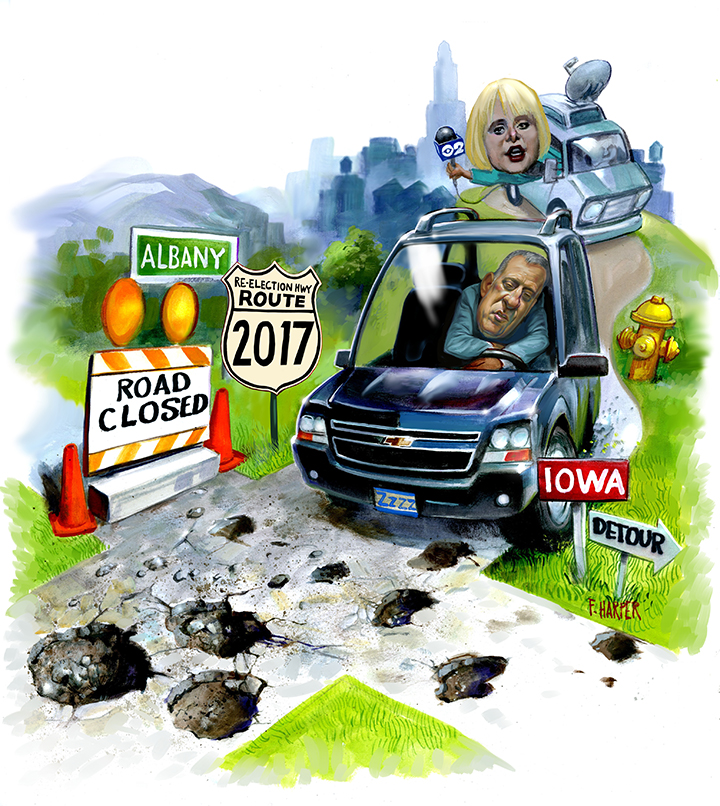 Early in the morning of what would extend into a long, hot mid-August day, a task force of U.S. Marshals and NYPD officers arrived at a cookie-cutter subdivision house on Staten Island's aptly named Destiny Court to serve a warrant on the occupant of its basement apartment, Garland Tyree.
Tyree, a reputed Bloods leader who had violated his parole, didn't go easy. Smoke soon billowed from the apartment, and the task force called in the fire department. When FDNY Lt. James Hayes opened the front door to investigate, Tyree shot him twice. It was the first time in more than two decades that a firefighter had been shot on duty, and the beginning of a six-hour standoff between police and Tyree, who was eventually killed.
At Gracie Mansion that morning, Mayor Bill de Blasio followed the pre-dawn developments, taking calls from his police and fire commissioners. Then, at an hour when most New Yorkers are at the office, and while the FDNY lieutenant underwent treatment at Richmond University Medical Center, Mr. de Blasio went not to work but to work out—at his beloved Park Slope YMCA. He and his staff testily refused to discuss the questionable timing of his cardio session with reporters.
Admittedly, there's not much a mayor can do at the scene of a standoff, and he visited the firefighter in the hospital later that afternoon. Maybe the media coverage was silly. But Mr. de Blasio's decision to hit the treadmill during a crisis that harkened back to a more brutal city encapsulates his struggles to connect with many New Yorkers (his disapproval poll numbers spiked from 13 percent when he took office to 46 percent in October). It reinforced negative stereotypes about him: that he is bumbling and often late to important events, that he cares little about law enforcement, that he is presiding over a return to the bad-old-days, that he would rather hang in Park Slope than work at City Hall.
"I'm more interested in being the education mayor, the affordable housing mayor, than the pothole mayor," he told the Daily News editorial board in September.
Mr. de Blasio is entering the crucial third year of his first term, which will set up the re-election bid sure to dominate his fourth and set in people's mind just what kind of mayor he has been. His administration believes the groundwork he's laid on issues like affordable housing, education and community policing will yield visible progress—and that the mayor retains a base of supporters who will turn out to re-elect him.
"I saw…a much broader vision for the city than many give him credit for," Kathryn Wylde, president of the Partnership for New York City, said.
"We had just a flurry of initiatives that we were introducing and standing up, and now in year three I think we have an opportunity to…show and tell how they're doing, chart some progress," senior advisor Phil Walzak said.
Even if Mr. de Blasio doesn't need the growing number of New Yorkers who say they disapprove of his performance to win re-election, he will still have to govern them—and he might want to give them a reason to like him.
Mr. de Blasio, who through his press staff refused to be interviewed for this article, often earns criticism for not looking outside his clannish inner circle, so the Observer did just that: we asked friends and foes alike for their analysis of the first half of the mayor's term and to propose concrete policy ideas so he could capitalize on his successes or move past his struggles.
LEAN IN TO YOUR EDUCATION LEGACY
 On a rainy afternoon last week, Lamarr Baillou picked up his son Sivad, who turns 4 this month, from the Pre-Kindergarten Center at the Elias Howe School in Hell's Kitchen. For Mr. Baillou and for the tens of thousands of other local parents, programs like this one—free, universal, full-day pre-K where little Sivad, smiling beneath the thick hood of a puffy blue jacket that shielded him from a steady rain, said he'd just learned his "ABCs"—personifies a profound accomplishment for Mr. de Blasio.
"We were paying for him to go to daycare, so that helps—plus the structure is more like school," Mr. Baillou said. "He loves it. It's bigger. He says, 'It's more new-er,' " the beaming father added.
Mr. Baillou was spending $300 a month on daycare—a good deal, he acknowledged, but money he can earmark for other priorities.
Before the implementation of universal pre-K, "not everybody could afford the daycare," noted Mr. Baillou.
This is the legacy Mr. de Blasio wants to leave—and there is no doubt that universal pre-K is a tremendous accomplishment. It is one United Federation of Teachers president Michael Mulgrew doubted would happen.
"I've said it right in front of him and his wife," recounted Mr. Mulgrew. "I said, 'I've heard this [promise] from everybody running for office, and two months after they're in office you never hear them talk about it again.' I thought that's what was going to happen…He went and did it."
Education is about more than just pre-K. Mr. de Blasio must grapple with schools that are already failing—which, under Mayor Michael Bloomberg, were closed in favor of smaller ones. Mr. de Blasio has taken a more sensible approach, in the opinion of Mr. Mulgrew, though closures are still on the table. Next year will see more arguable accomplishments, such as the debut of a program to provide computer science in all schools.
Not everybody gives an A+ to the mayor's education initiatives.
"It's been rough," said Eva Moskowitz, founder of the Success Academy charter school chain and a longtime foe of the mayor who recently announced that she would not run against Mr. de Blasio in 2017. She argues that Mr. de Blasio fails to recognize the strong performance and demand for charters.
Ms. Moskowitz said she'd like to see a mayor who "celebrated academic excellence" at all schools—and one curious enough to visit great schools around the country, including one of her Success Academy charters in New York.
"He knows how to wear out shoe leather when it comes to politics and street campaigning," she said. "He could use that shoe leather to really learn about schools."
Joel Berg, director of the New York City Coalition Against Hunger, had another idea about what the mayor could do in city schools: feed more children breakfast.
To advocates for the hungry, Mr. de Blasio is a breath of fresh air—but a mayor can always do more. Mr. Berg praised the city for starting a two-year roll out of free breakfast to all elementary school students, but said they should go further and offer the meal in all city classrooms. It not only fills hungry stomachs, but according to a slew of academic studies, also increases  test scores. The Food Action and Research Center found that schools serving free breakfasts in the classroom "report decreases in discipline and psychological problems, visits to school nurses and tardiness; increases in student attentiveness and attendance."
One hang-up has been stingy federal reimbursements for such programs.
"It doesn't mean the city shouldn't do it already," Mr. Berg said.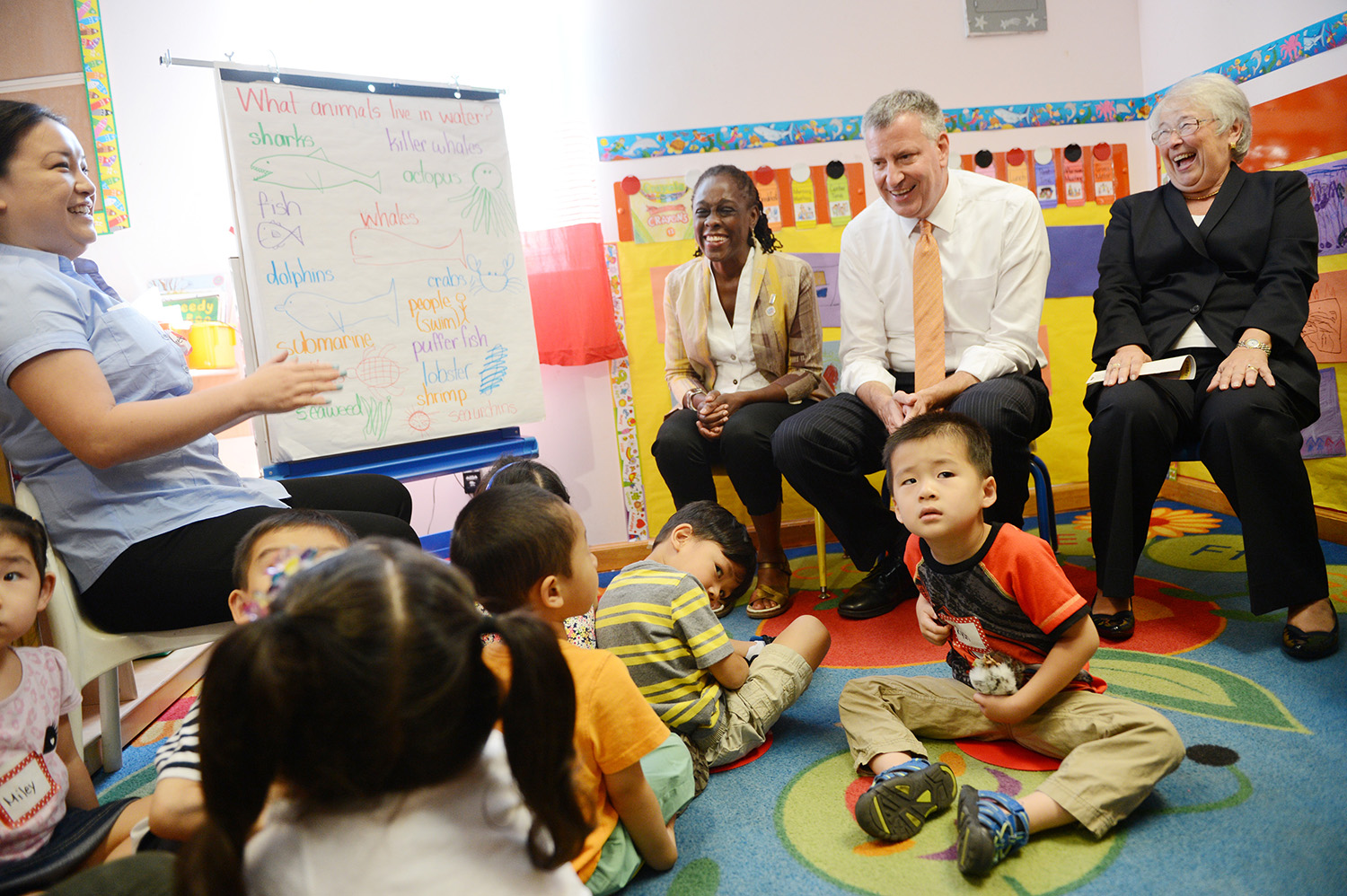 BUILD RELATIONSHIPS WITH PEOPLE  WHO DIDN'T VOTE FOR YOU
Mr. de Blasio wins glowing reviews from advocates for the poor like Mr. Berg, but, unsurprisingly, he's less popular with the wealthy.
So when John Paulson—billionaire hedge funder who has donated to the Success Academy charter chain—suggested that the pro-business Partnership for New York City set up a meeting between some of its members and Mr. de Blasio to discuss charters, some might have expected him to say no.
But Mr. de Blasio said yes, recalled Kathryn Wylde, president of the Partnership. He came to Mr. Paulson's office in late September to chat with a dozen major charter and parochial school supporters, Ms. Wylde said—and "had a real, great conversation" that was an "eye-opener" for many in the room.
"I saw…a much broader vision for the city than many give him credit for," Ms. Wylde said.
After a challenging first year and campaign rhetoric many judged anti-wealth and anti-business, relations between the mayor and the business community are warming up, Ms. Wylde said. Mr. de Blasio pushed for changes wanted by employers on legislation to ban credit checks for job seekers—making exceptions for "sensitive" jobs such as mortgage brokers—and supported a business-friendly reform of corporate tax structure.
"I find de Blasio disconnected. I find him aloof. I also find that he doesn't return emails or letters," said Norman Siegel.
Ms. Wylde said the mayor would fare best by staying local—more projects like repaving the FDR Drive and less extracurricular events, such as the mayor's aborted presidential forum in Iowa. All politics is local, after all—even international terrorism politics. So when ISIS recently released a video with footage of Times Square and Herald Square, a member of the Partnership reached out to the mayor for reassurance. That night, Mr. de Blasio held a press conference in Times Square with Police Commissioner Bill Bratton to tell people there was no credible threat to the city.
"That's the kind of relationship they had with Mike Bloomberg—they could email him in the middle of the night and say there's a problem, and they felt they had access to him and he'd respond," Ms. Wylde said. "And I think increasingly Mayor de Blasio has shown the same kind of responsiveness."
BUT DANCE WITH THE ONE THAT BRUNG YOU
In Ms. Wylde's world, a comparison to Mr. Bloomberg is a compliment. But when Norman Siegel, the civil liberties activist and lawyer, made the same comparison to the Observer, he cast it as criticism.
"I find de Blasio disconnected. I find him aloof. I also find that he doesn't return emails or letters," said Mr. Siegel, a one-time opponent of Mr. de Blasio in the 2009 public advocate race who voted for Mr. de Blasio in the primary and general election for mayor.
An affordable housing group Mr. Siegel is part of that meets monthly hasn't been able to get the mayor's ear. Another group held town halls on policing issues and couldn't convince him to attend. Mr. Siegel's been disappointed, he said, with the mayor's performance on housing, police-community relations, race relations and the homeless—issues that matter deeply to the mayor's base.
If he could get the mayor's ear, Mr. Siegel would offer a concrete idea: take those four issues to the people with more town hall meetings.
"I would hold, for each one of those during the year 2016, town hall meetings in each of the five boroughs—so that means a commitment to 20 town hall meetings," Mr. Siegel said.
DON'T IGNORE COMMUNITY BOARDS
While town halls can be an echo chamber of complaints, so can community boards. Most boards really don't like Mr. de Blasio's zoning changes for his affordable housing plan, and even though only the City Council gets to take a binding vote on the changes, it could pose a problem.
Mr. de Blasio is asking for two changes to the city's zoning laws to further his plan to build or preserve 200,000 units of affordable housing. One would create mandatory inclusionary zoning—requiring developers who want to build housing to include below-market rentals. The second would allow taller buildings.
It seems almost every community has found its own distinct reason to be unhappy: In the Bronx, Borough President Rubén Díaz Jr. has said the plan doesn't add enough new infrastructure to support increased density; in Queens, the biggest complaint was a lack of parking; Manhattan's borough-wide board seeks shorter buildings and safeguards to prevent developers from sticking all affordable units together—"poor floors."
"Community boards matter," said Manhattan Borough President Gale Brewer. "And I think the community boards have spent a great deal of time analyzing these issues."
Still, Ms. Brewer, an ally of the mayor, was characteristically upbeat about the chances that the final plan will include her board's recommendations.
"We would like to try to get those conditions met," she said. "And that would be, I think, positive for the mayor to do that, and we could try to work and try to come up with some affordable housing."
GIVE COPS MORE FIREPOWER
Just over a year ago, police officers turned their back on the mayor at the funerals of two of their colleagues slain by an assassin in Bedford-Stuyvesant. It was the low-point in the mayor's already-strained relationship with police, and perhaps of his entire term. Relations thawed over the summer only to freeze over again when the Patrolmen's Benevolent Association was awarded a contract in arbitration that gives them more meager raises—1 percent a year—than they would have gotten at the negotiating table.
"When he says things like, 'Under my watch we're never going back to the bad-old-days,' that is in his bones," de Blasio advisor Phil Walzak said.
But mayoral critic-turned-friend Sgt. Ed Mullins, head of the Sergeants Benevolent Association—which inked a better contract with City Hall—suggested a way for Mr. de Blasio to prove he has the back of cops: equip first responders with more high-powered weapons and training to fight terrorism.
"One of the strongest things the mayor can do is to see to it that the training and the equipment that's needed so that everyday officers feel they can defend themselves against crime and terrorism was done right away."
REACH OUT TO STATEN ISLAND—LITERALLY
Staten Island is a perennial joke to the rest of the city, the forgotten borough with an inferiority complex and conservative voters, and where the mayor received his lowest approval rating—29 percent—reported an October Quinnipiac survey. And those are exactly the voters Mr. de Blasio should help by creating a fast ferry from Manhattan to the South Shore of Staten Island, where the average commute is a miserable two hours, Borough President James Oddo said.
"I'm not saying a fast ferry is a cure-all," Mr. Oddo said. "It's substantive and symbolic, though, to go right into a place where he probably is least popular, the place that probably has the highest percentage of Republican voters, but the place that has some of the worst commutes in the country, to go right into that and snatch victory right out of those jaws—it [would] shatter a lot of misconceptions that he doesn't care."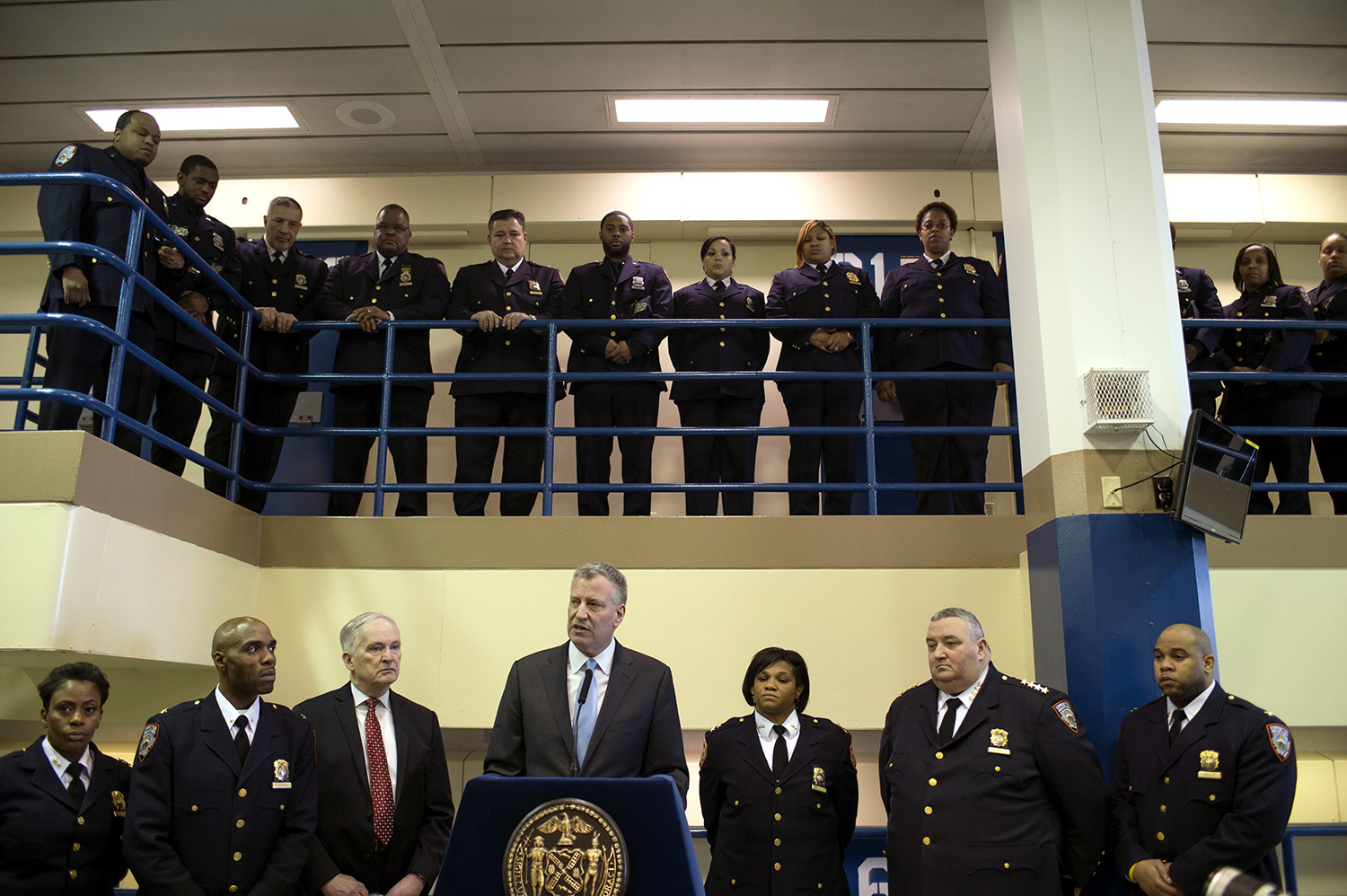 LOCK UP RIKERS ISLAND
Barry Campbell is what criminal justice reform advocates call a "system baby"—born into foster care and bounced around until he wound up in and out of Rikers Island.
"You're locking up human beings, and you're releasing animals—and that's due to the treatment they're getting when they're incarcerated," Mr. Campbell, who now works at the Fortune Society, which aids formerly incarcerated people, told the Board of Correction at a recent meeting.
That is the system Mr. de Blasio inherited. It's a system he should shrink, if not end, argued Fortune Society president JoAnne Page.
"If Rikers were closed and it were broken into much smaller facilities throughout the boroughs, with much fewer people being locked up, it would be a huge step forward," Ms. Page said, touching on a growing call for the infamous jail to be shuttered.
She gave Mr. de Blasio and his team credit for beginning to reduce the use of solitary confinement and rolling out efforts to use supervised release instead of bail for many offenders. Mr. de Blasio's open mind to bail alternatives closed a bit after a man who had been diverted to drug treatment after a nonviolent offense shot and killed a police officer last year. Ms. Page called those struggles "the progressive's dilemma": bad policies that over-incarcerate undoubtedly create more criminals, she said, but if just one criminal slips through reform policies, critics blame the mayor.
"We're really good at responding to horror stories with really bad public policy, and that's what I'm calling the progressive dilemma," she said. "You don't get credit for doing what works, you expose yourself to political risk."
CHANNEL FIORELLO LA GUARDIA
Mr. de Blasio often expresses admiration for Mayor Fiorello La Guardia. And Mr. La Guardia shared his desire to help the poor and the working class, noted Mason B. Williams, author of City of Ambition: FDR, La Guardia, and the Making of Modern New York.
La Guardia led the city through the Great Depression—but paradoxically, thanks to the New Deal and his close relationship with President Franklin D. Roosevelt, the city had much more federal money, allowing The Little Flower to leave his mark in big, concrete ways.
But Mr. de Blasio might look to La Guardia for a different example—how to ensure your policies resonate with voters.
"It was this feeling at ease talking to underrepresented communities," said Mr. Williams, "Part of it was how brilliant he was at presenting his message through the press and later over the radio. So his communications was excellent. And partly it had to do with the efforts that community leaders —church leaders community leaders, to mobilize their own community relations."
When La Guardia stood for re-election in 1937, he was benefited by the turnout of many first-time voters—some immigrants, some children of immigrants, Mr. Williams explained.
Mayor de Blasio has yet to read the funny pages on WNYC, but he has conducted more interviews on the radio of late and paid an increasing number of visits to synagogues, churches and mosques.
The half-Jewish, Episcopalian-raised La Guardia leaned in to his "complicated" Italian heritage, another similarity to Bill de Blasio (born Warren Wilhelm), peppering his speech with both a bit of Italian and a bit of Yiddish he picked up from his mother. Mr. de Blasio, who late in life took his mother's Italian maiden name and married an African-American woman, has likewise moved between communities. That's part of what earned La Guardia votes from so many constituencies who were new to voting.
LET THINGS GO
As a candidate for mayor, Bill de Blasio promised to ban horse carriages on day one. It's an issue that organized labor hates, that the City Council doesn't want to vote on, and that polling shows 64 percent of New Yorkers don't even agree with. And yet the mayor is still talking about the issue.
"This thing should have been relegated to the history books," said Bill Cunningham, a managing partner at public relations firm DKC and former communications director for Mr. Bloomberg.
He recalled Mr. Bloomberg's early campaign promises, some of which he simply couldn't fulfill—and said every once in a while you've just got to "jettison" something.
"What's next in the public's mind?" he asked. "I don't believe in the public's mind they want to see round two of horse carriage wars. It was fun while it lasted, but it's not Star Wars. We don't need a sequel."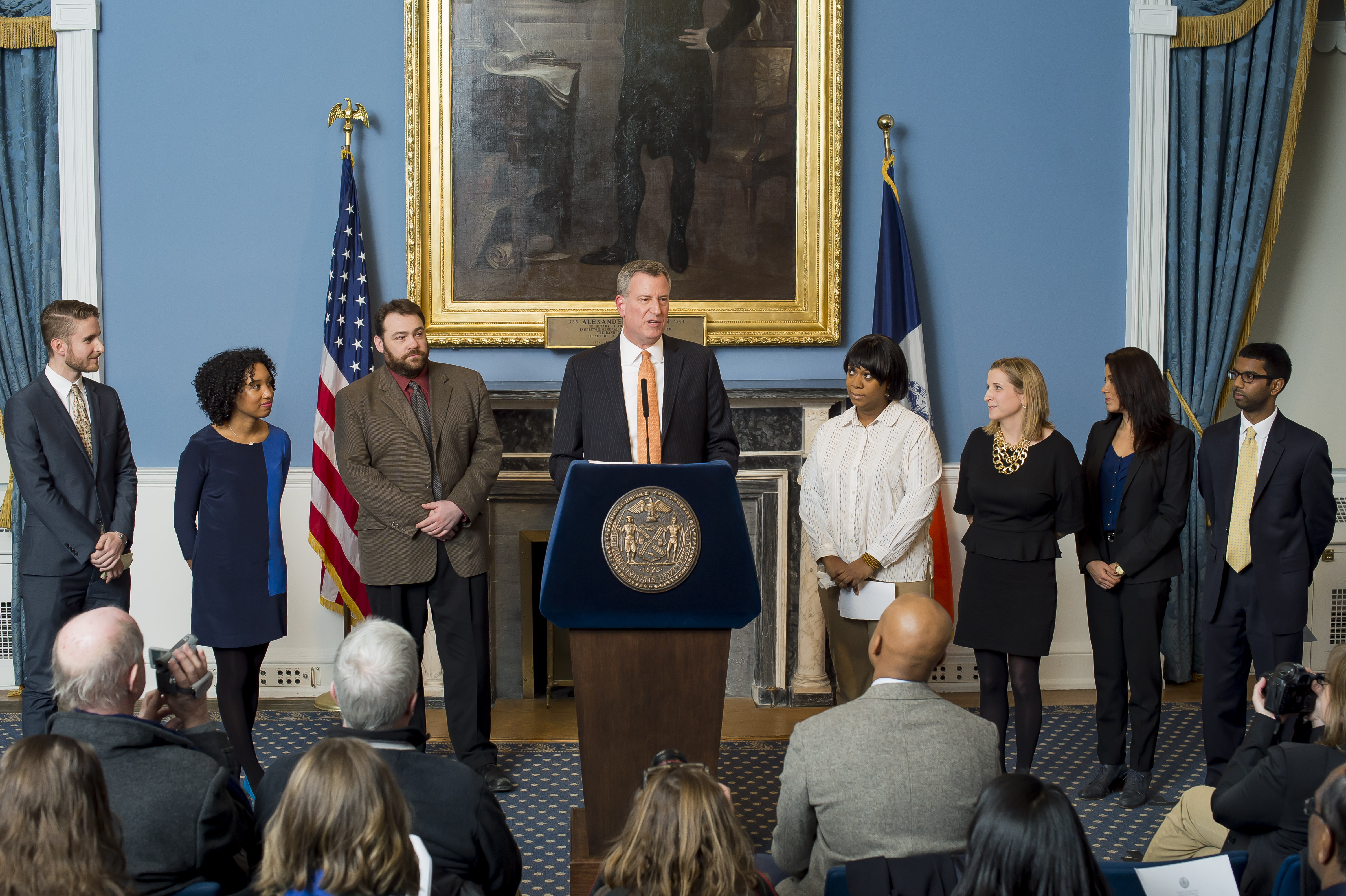 THE MAYORAL RESPONSE
As year three of Bill de Blasio's term approaches, his communications team plans to borrow advice from writing coaches: show, don't tell.
"Our focus is going to be to fine-tune the policies and continue to work on them and improve them, but also do the showing of how they work and how they interact with people's lives, while maybe in the first two years we were doing the telling for people," Mayor de Blasio's senior advisor Phil Walzak told the Observer.
The administration hopes to show progress on community policing, education and the homelessness problem. Mr. de Blasio, for instance, recently rolled out a $2.6 billion plan to build 15,000 units of supportive housing.
"I think that the city right now is probably doing more on homelessness than the city has ever done in the past," Mr. Walzak said.
Likely to dominate much of the year is the mayor's affordable housing plan, which is now hitting resistance from community boards and borough presidents.
"I'm going to decline to get into what may happen or may not happen," said Mr. Walzak, "but I think what you can expect is robust storytelling about why the vision is strong and good for New York."
Year three will involve showing people more of the mayor—something Mr. Walzak hopes will work to counter "comically wrong" stereotypes that the mayor doesn't care about certain communities or issues.
"This is someone who takes his job extraordinarily seriously, cares deeply about the future of this city, believes in his heart this city is the best place in the world and will do anything to keep it that way," he said. "When he says things like, 'Under my watch we're never going back to the bad-old-days,' that is in his bones."