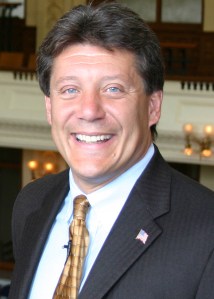 The dearth of competitive districts that has helped to make New Jersey's state elections predictably favorable to incumbents, maniable by party strategists and poorly attended by voters could soon see a challenge in the legislature. Assemblyman John McKeon's (D-27) bill to create new districting guidelines goes to committee Thursday, and the Madison Democrat told PolitickerNJ that he sees his proposal to mandate competition as a potential gain for an electorate suffering from the inertia.
The bill will go before the Assembly Judiciary committee Thursday, where it will join three other constitutional amendments that would need two majority votes in each house followed by a ballot question in 2016.
The crux of McKeon's bill would be a requirement for at least ten of New Jersey's 40 districts be competitive, with a competitive district defined as having a five-point variation from the average district's polling numbers. Those districts would be drawn based on averaged polling data from state elections since the last census.
"It makes it mathematical and puts it in the hands of the voter," said McKeon. "It'll be nine state-wide elections over this period of time, and you look at the average over those nine elections."
Statewide gubernatorial and legislative elections would then be, he said, "competitive by definition.
"The whole reason we have elections every two years is supposed to be the flexibility to reflect the mood of the electorate, to reflect what the legislature looks like. The congress was designed the way it was, and that's why we here in New Jersey try to follow that same model. Now obviously in congress it doesn't work very well, because the incumbents will overwhelmingly be reelected. "
The bill would also change the appointment process for the legislative Apportionment Committee, one of three committees that draw New Jersey's district lines based on census data on population changes. The committee would grow from ten to thirteen members, with the tie-breaking final member subject to public hearings and selected at the beginning of the process rather than at the end. Legislators would no longer be allowed on the committee.
McKeon said that the standards by which that final tie-breaking member is selected are among the most important changes he would like to see, opposing the rationale of the late Rutgers political science professor Alan Rosenthal, who served as that tie-breaking vote in New Jersey's 2011 redistricting.
"In the past, redistricting is kind of a little bit of luck as far as who that extra person is. For example Rosenthal last time said 'continuity in leadership is important.' Well I mean whether it is or it isn't, that's not written anywhere and who knows, man or woman, what their win might say.
"There are things that already exist in our law that are rock-solid: one-person-one-vote, give-or-take equal distribution of individuals among the forty districts, the fact that municipalities other than maybe Jersey City and Newark need to stay intact, all of those remain the same."
As to Republicans' objections to Democrats' recent push on constitutional changes for everything from pension payments to expanding casino gaming outside Atlantic City, McKeon said that his bill's curved path around the governor's desk constitutes fair play.
"We don't make the rules, we're following them," he said. "The governor has been obstructing on many levels, on many important public policy issues. Whether it's guns, whether it's the environment, on many of the things we often have to talk about. These are the rules. This is our constitution, and if this is to circumvent the governor in his non-New-Jersey-centric policies, so be it."