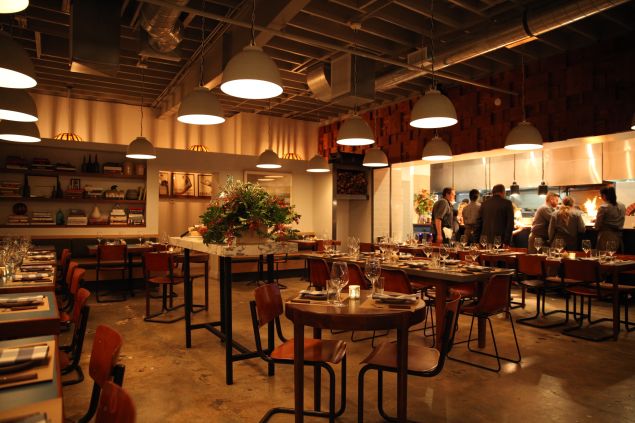 One thing Los Angeles might not fully understand about chef Stephen Kalt, who just opened up modern Italian restaurant Spartina on Melrose Avenue, is how much of an OG New York culinary cat he really was.
He cooked under Daniel Boulud and alongside a team including Jacques Torres at Le Cirque. He went on to develop restaurants with partner Andrew Zimmern.
But it was at his own Tribeca hot spot, the original Spartina that opened on Greenwich Street in 1994, where Mr. Kalt really made his name in the kitchen.
It was a contemporary Italian restaurant that weaved in flavors from Spain and North Africa. It was named one of Food & Wine's top five New York neighborhood restaurants, a pioneering place that gave a still-underserved-at-the-time area a different kind of white-tablecloth spot.
"When we opened, it was pretty spare down there," Mr. Kalt recalls. "There were nights when there were 200 people on a Saturday night, and there would be nobody on the street."
There are no tablecloths and no limits at this Spartina.
Sure, Chanterelle was around the corner, and Tribeca Grill opened a few years earlier. Yes, Odeon had been there for a while. But this was a different era, "before the day of $3,000-a-square-foot apartments," says Mr. Kalt, who used to hang out with close NY chef friends like Geoffrey Zakarian and Bobby Flay and continues to do so.
Mr. Kalt would later go on to open exemplary Italian restaurants at luxurious casinos on both sides of the country: Corsa Cucina at Wynn Las Vegas, a resort whose first crop of chefs also included Mr. Boulud; and then Fornelletto (which will remain open through next summer) at Atlantic City's Borgata, where Mr. Flay and Mr. Zakarian are also part of the celeb-chef arsenal.
Mr. Kalt, who most recently cooked at Caulfield's at the Sixty Beverly Hills hotel, isn't trying to recreate his old Tribeca restaurant or any of his other ventures at his new Spartina. He's focused on creating something that truly belongs to Los Angeles. He has mad respect for market-driven, globally-influenced, casual-chic L.A. Italian restaurants like game-changers Gjelina and Bestia. And like those restaurants, Spartina is driven by the diversity of its city.
"The unique and special thing about L.A. is that every half a mile, there's another ethnic enclave," Mr. Kalt says. "I designed Spartina to be a very sophisticated restaurant but also very casual. That's the feel in L.A. I'm just influenced by the spirit. You never see a guy in a sports jacket here. I never used to go out without a sports jacket."
There are no tablecloths and no limits at this Spartina.
"It's a trattoria," Mr. Kalt says. "We can cook anything."
Spartina is an Italian restaurant, but it's got mezze influenced by banchan, the small plates that come with every barbecue feast in Koreatown. It has a dish called endive kimchi that started with Mr. Kalt tossing endive with anchovies, garlic, Calabrian chilies and scallions, and then letting it sit in the back of his refrigerator for two weeks.
Calabrian chili oil adds pop to a grilled avocado with Moroccan lemon and ricotta salata. It's a remarkable dish–fresh, rich, creamy, bright and perfect–served in its own skin. Vegetarians can feast at Spartina.
Beef bacon hash with grilled Trevisano radicchio and a sunny-side-up egg is a fabulous breakfast-for-dinner riff.
Pizzas include a simple, stellar margherita and a California-meets-Connecticut white pie with shell-on clams, whipped ricotta and garlic confit.
Pasta options that should be popular include a garganelli with chicken-leg ragu and a show-stopping spaghettini with white and black garlic, pecorino and more of those habit-forming Calabrian chilies.
The menu is huge, with more than 50 items. So there are all kinds of experiences waiting for diners at the 100-seat Spartina, whether they're on the sprawling outdoor space, sipping wine and having a salad at the seductive bar by the entrance or, best of all, facing the open kitchen and its Argentine-style grill and wood-burning oven. Come for a pizza and a beer, or drop by for a pasta tasting followed by grilled trout, lamb shoulder and prime sirloin steak. This has the makings of a great neighborhood restaurant, from a guy who knows a few things about creating one, so the point is you'll probably want to come again and again.
Spartina (7505 Melrose Ave., 323-782-1023) is open for dinner daily from 5 p.m. to 11 p.m., with plans to add breakfast, brunch and lunch next year.