A lot of money and art will change hands this week in Miami. Literally dozens of art fairs, as well as a ton of satellite events and gallery exhibitions, are sure to provide many lovestruck moments for art collectors who have been deeply moved by an artwork—or four. Maybe even eight. But is this wanton and immediate desire for art fabricated? Perhaps the art market, like any other luxury industry industry worth its salt, has figured out the right buttons to push with their clientele?
"Businesses often use words like 'limited', 'rare', and 'only one left' in order to create panic in the brain," says NYU Stern Business School professor of consumer behavior Dr. Jacob Jacoby, who spoke to the Observer by phone. "They trigger a reaction called 'Loss Aversion'; when you're more concerned with losing something than gaining something."
In other words, FOMO—a.k.a.  "fear of missing out"—is a very real thing that our brains are wired for, and that fear can be manipulated by art professionals (since no one really has a burning "need" for a 16-foot-tall bronze foot.)
As many know by now, art fairs are loaded with buying-behavior triggers. In fact, constructed "rarity" can often force a buyer to make decisions long before the end of a fair. This pressure is most intense among art-world VIPs, who show up right as doors are opening.
Buying in public, amongst an onslaught of friends, or more importantly, rivals in the insular world of Contemporary Art collecting, spurs a sense of competition. Online access—including pre-fair offers—has sped up the purchase cycle, forcing collectors to decide on purchases faster than ever, and the limited fair dates only leaves so much time to decide on a purchase.
To make matters worse, "holds"—those little reserves that give collectors a day to a week to decide on in-gallery purchases—don't really fly at art fairs. "It is difficult if not impossible for a gallerist to put work on hold during a fair," said Susan Inglett, owner of the Susan Inglett Gallery in New York's Chelsea gallery district. "They have a responsibility, not only to the next collector who comes along but to their artists and to the success of their program."
And yes, some dealers might try to take advantage of the swirling chaos. "I passed the booth of a dealer I'm close friends with at a fair a few years ago," said one collector who preferred to remain anonymous. "She was so eager to sell me a piece that—before we even spoke—that she started writing up a sale for an expensive artwork I didn't know and definitely didn't like. I was seeing it for the first time, and hers was the first booth I entered!  I didn't want to hurt anyone's feelings, so I told her I'd have circle back to her—and never did."
While it may seem clear that these fairs are a dastardly scheme by art insiders to part collectors from their money via inscrutable techniques, Arthur B. Markman, Professor of Psychology at the University of Texas and author of the book Slow Change, says don't blame the fair, blame your brain.
"Your brain has a deep structure for your motivational system," said Mr. Markman, "so if you see a work of art that excites you, your motivational system is designed to act upon that and acquire it."
But why do you want this object so
badly? Apparently it's because, as with sports stars or favorite bands, you start to identify with it.
According to Ian Zimmerman, an expert in consumer psychology at the University of Missouri, Columbia, whenever we're connected to a product—physically (it's in front of us) or socially (we see someone else interacting with it and compare ourselves to that person), it literally changes the way our minds perceive it.
Writing in Psychology Today, he noted: "Our minds essentially start acting like we already own the product, which makes it harder to go without buying it."
Wait, so you can't blame the art dealer's voodoo mind tricks or the fact that you got three hours sleep the night before as the reason why you own a gigantic gold macrame spider web?
Afraid not, says Mr. Markman. "The pressure to buy really comes from within the collectors themselves."
Indeed, buying decisions are generally more self-directed or planned out than they might seem. "An 'impulse buy' is not really an impulse," Dr. Jacoby of NYU Stern said. "At some point in time, you make a mental note that you need this, so when you are confronted with it later on, you are ready to make a critical decision."
Crucial information travels fast these days, and you have act quick before that intel becomes moot. This is often the case when "influencers" create a ripple effect on "copy cat" collectors, which creates a run on certain artists. These scrums for young art may seem totally random to an outsider, but are often based on fast traveling word of mouth.
And with the rapid rise in prices for some emerging art, pressure to get the "right" artist at the "right" price at the "right" time (not to mention the "right" piece by that artist) has begun to creep into the backs of even the wealthiest collectors' minds.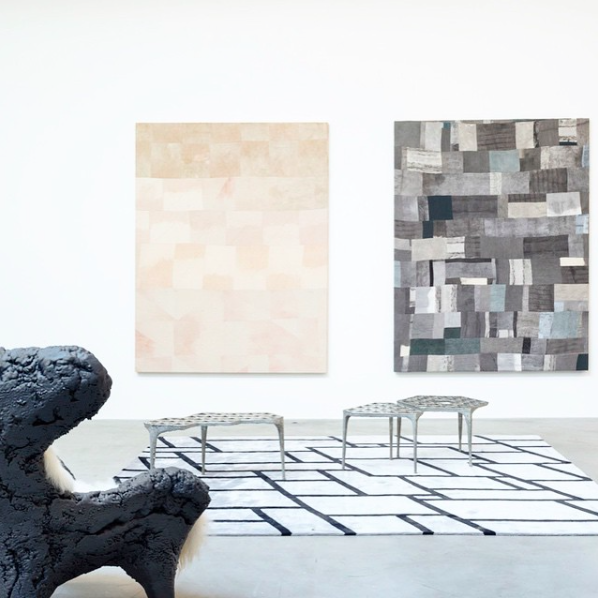 This was evident at the 2013 UNTITLED. art fair, when mega-collectors Susan and Michael Hort purchased multiple works by then-unknown British artist Ayan Farah from the booth of Vigo Gallery, based in London. By the end of the day, virtually all of the gallery's Farah inventory—at the fair and back in the London location—had sold. (Ms. Farah's investment market has since cooled somewhat, but she continues to have a strong following for her ethereal and weathered fabric works.)
But when it comes to true impulse buys, some think there's nothing wrong with them. "Impulse buys are usually based on an emotional response to an artwork, and that's exactly what most artists are hoping their works will provoke," said art dealer and artist Ryan Wallace. Mr. Wallace understands this from all angles: he co-owns Halsey McKay Gallery in East Hampton and will have his own detritus-and-paint abstractions at the UNTITLED. Art Fair this month.
"When I see collectors disappointed in something that they bought, it's usually something that was on a "shopping list" of hot artists they didn't have any emotional connection to. An impulse is the opposite of this."
In other words, seek out a personal connection with the art you purchase. It's not a novel idea, but it's a good one to reinforce.