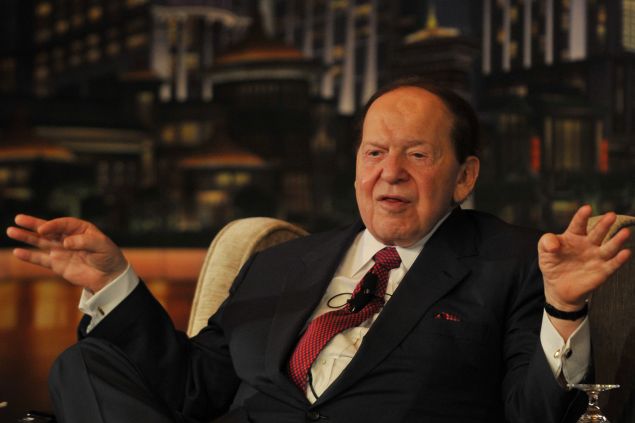 Billionaire businessman and republican donor Sheldon Adelson is the anonymous new owner of Nevada's largest newspaper, Fortune reports.
The identity of the unnamed investor who spent $140 million on the Las Vegas Review-Journal had remained a mystery, even to journalists inside the paper's newsroom, for nearly a week, leading to frenzied speculation and frustrated calls for transparency.
Many guessed that the mystery buyer was Mr. Adelson, the chairman and chief executive officer of the Las Vegas Sands Corporation and host of last night's Republican debate at his Venetian hotel, and it appears that the suspicion was correct.
This is not Mr. Adelson's first foray into publishing. The reliably generous Republican donor already owns the Israeli tabloid Israel Hayom (Israel Today), which he started in 2007 and now has the largest circulation of any newspaper in Israel. Last year he bought Makor Rishon ("primary source"), which is the biggest newspaper for Israel's religious community plus the website NRG, which used to be owned by one of Israel's big dailies, Maariv.
The reported purchase price of $140 million might represent something of a rebound—or at least a dead cat bounce—in the rock bottom prices struggling newspapers have attracted. The Boston Globe, whose daily circulation of 245,000 is some 42% higher than the Review-Journal, was bought by Red Sox owner John Henry for only $70 million in October 2013.