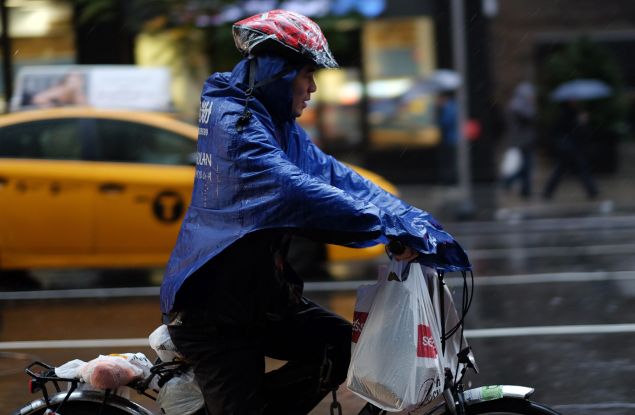 It would be logical to think that those who can afford an expensive place to live, can also afford to tip well. However, according to a report published by StreetEasy, the online real estate business, that is not necessarily the case.
Using StreetEasy's data on median rent prices along with the median tip percentage amounts for 2014 provided by Seamless, an online food delivery service, the report revealed that high rent does not equate to a high tip.
So where do the city's least generous tippers reside? According to the numbers, residents of Upper Carnegie Hill of Manhattan tipped the least.
The Upper East Side enclave was closely followed by Battery Park City in Manhattan and Columbia Street Waterfront District in Brooklyn—both neighborhoods averaged tipping percentages below 13 percent.
And while 17 of the top 20 worst tipping neighborhoods were all in Manhattan, three of the four neighborhoods that provided the best tips are in Brooklyn: Sunset Park, Greenpoint and Bushwick. The other is Woodside, Queens. These four are the only areas that tipped at or above 15 percent.
In total, nine out of the top 10 tipping neighborhoods are in Brooklyn.
That being said, the study relied solely on how much residents tipped the delivery guy. The numbers may have turned out differently if it had included data regarding tips left in restaurants, for example.
Either way, StreetEasy's report comes at a time when tipping is in the news. Back in October the Union Square Hospitality Group, which is run by Danny Meyer, announced that all tipping would end across the group's 13 restaurants, which includes Gramercy Tavern, The Modern, and Union Square Cafe among others. And just this week the three Michelen starred restaurant Eleven Madison Park announced it will also commence a no tipping policy in the new year.
Eater reported that Mr. Meyer would raise prices to make up for the change, saying, "It might seem surprising that Meyer is the guy to be doing away with tipping—more than any of those things, he's best known for his dedication to hospitality above all else, and tipping is a practice that many see as an essential part of that equation. But this isn't the first time Union Square Hospitality Group has taken a major business cue from social trends, introducing sweeping policies years in advance of everyone realizing that it's the right move. So if Meyer thinks we'd all be better off without tipping, he's probably got a good reason for it."
Perhaps some New Yorkers are already following Mr. Meyer's example.