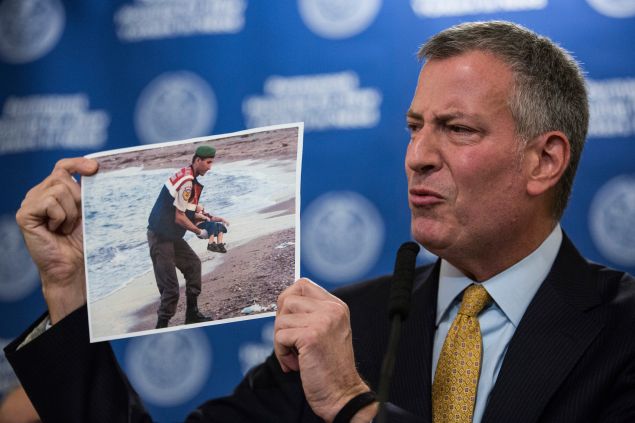 Mayor Bill de Blasio immediately tore into GOP presidential front-runner Donald Trump's new call for the United States to prevent Muslims from entering the country.
At an unrelated press conference in Staten Island, Mr. de Blasio went on a several minute tirade against the Queens-born real estate mogul's controversial comments even before a reporter asked about the demand the candidate made this afternoon for a "total and complete shutdown" on Muslim immigration. The liberal Democrat shook his head as he heard the Republican billionaire's statement read aloud.
"Look, it's against our American values. And I don't even know what to say at this point. If I said 'let's have a total and complete shutdown on Christians entering the United States or Jews entering the United States'—it is against everything this country is based on," he said. "It's as simple as that."
Mr. Trump's statement came this afternoon in the aftermath of last week's mass shooting in San Bernardino, Ca., where a radicalized Muslim couple killed 14 people. Mr. Trump cited recent polling by the Tea Party-linked Center for Security Policy.
The survey found that a quarter of Muslims in a 600-person online survey believed violence against Americans is "justified as part of the global jihad" and that 51 percent believed they should have the option of being governed according to Islamic sharia law. The Republican seemed to argue this meant that Muslims pose a security threat.
"Where this hatred comes from and why we will have to determine," Mr. Trump argued. "Until we are able to determine and understand this problem and the dangerous threat it poses, our country cannot be the victims of horrendous attacks by people that believe only in jihad, and have no sense of reason or respect for human life.
They mayor by contrast highlighted the histories of the Massachusetts Puritans, Pennsylvania Quakers and Maryland Catholics, who left England because of faith-based discrimination.
"The country was formed by people fleeing religious persecution," he said. "How could the front-runner for a major party nomination literally be suggesting a religious test on who gets to come into the country. That is a dangerous, dangerous statement. That is why he must be confronted."
Mr. de Blasio, who has repeatedly ripped into the Manhattan developer since he announced his campaign in June, argued he had an ethical obligation to call out the Republican.
"What is my goal? I'd love to not have to talk about this. But if he continues to divide us, if he continues to say things that are denigrating toward Americans of different backgrounds, it's morally an imperative for any of us to speak out," he said. "It's going to undermine this country if divisive language becomes the norm in a presidential campaign."
This is not the first time Mr. de Blasio has tangled with Mr. Trump, who recently ripped him as "the worst mayor in the United States," or with a Republican presidential candidate. The liberal Democrat, who has not hidden his ambitions to become a national figure, has also tangled with New Jersey Gov. Chris Christie over the issue of granting asylum to Syrian refugees.