College admission season is a stressful time for both the students applying to schools and the employees who have to read their applications. But one NYU administrator took things too far.
Joshua Jackson, a Brown University senior, was interested in applying to the graduate Art & Public Policy program at NYU's Tisch School for the Arts. He emailed Dan Sandford, NYU's director of graduate admissions and international student adviser, to ask if the school's $65 application fee could be waived.
Mr. Jackson posted Mr. Sandford's tone deaf response on Twitter for all to see: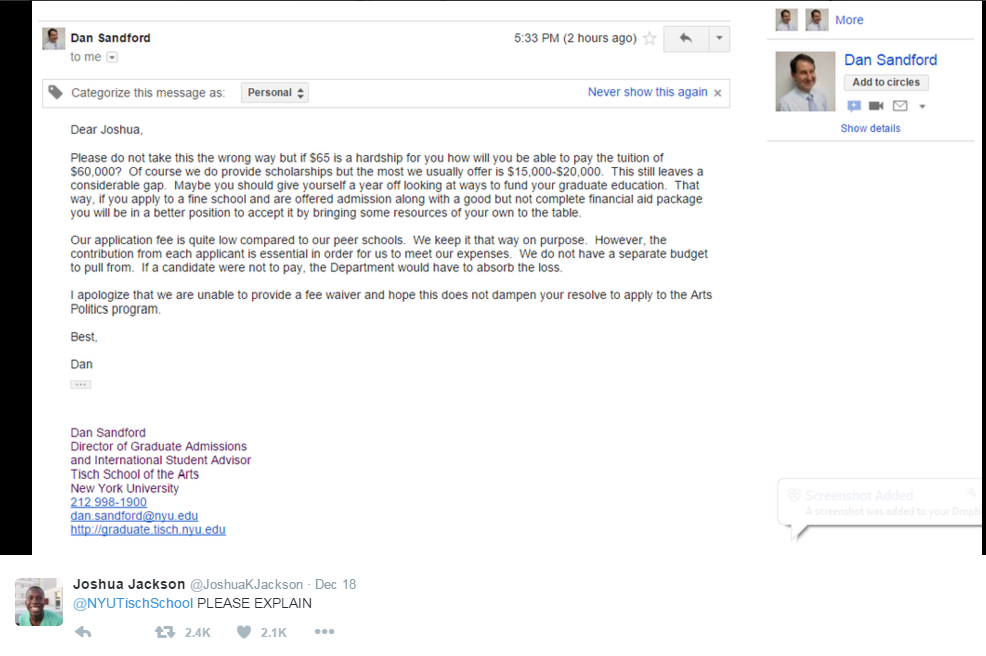 The email reads, in part, "Please do not take this the wrong way but if $65 is a hardship for you how will you be able to pay the tuition of $60,000…Maybe you should give yourself a year off looking at ways to fund your graduate education. That way, if you apply to a fine school and are offered admission along with a good but not complete financial aid package you will be in a better position to accept it by bringing some resources of your own to the table."
Mr. Jackson took NYU and Mr. Sandford to task for their privileged stance: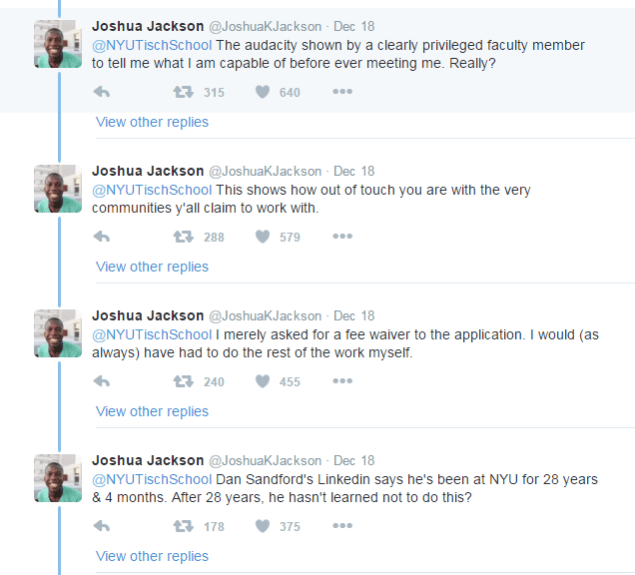 Mr. Jackson's tweetstorm quickly gained traction, as Twitter users of all races (including NYU alum and 30 Rock star Keith Powell) expressed their disgust at the situation:
NYU tweeted an apology to Mr. Jackson the day after he blew up their mentions:
Tisch dean Allyson Green also emailed the entire school yesterday about Mr. Jackson's experience: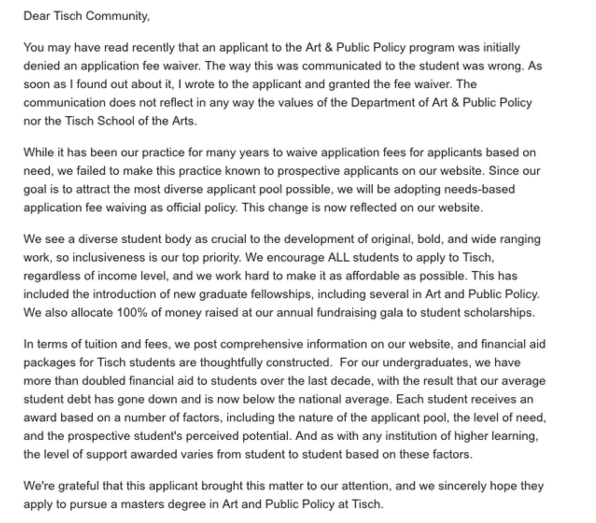 Mr. Jackson has not indicated whether or not he will still apply to the NYU program.
As for NYU, university spokesman John Beckman was contrite in a statement to the Observer.
"Frankly, Joshua Jackson was right to call us out," Mr. Beckman said in an email. "We deserved it, and we owe an apology, which we have conveyed. We'd be pleased to have Joshua apply; if not, we understand—it's our fault."