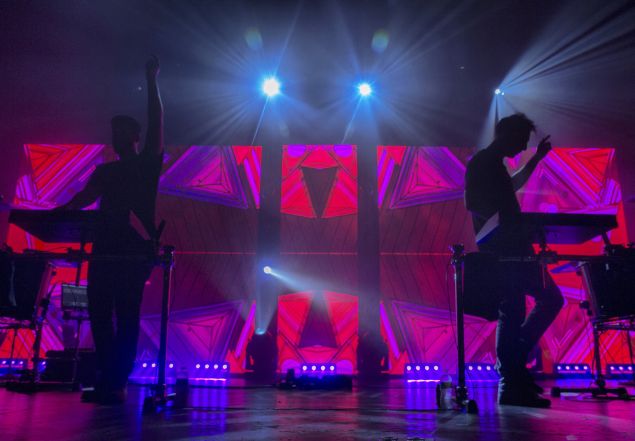 In the 1999 road movie Detroit Rock City, four teens—diehard fans of the glam-rock band KISS—travel to the titular city and hope to catch their idols live in concert. "You know, in 1973 Kiss was opening for Blue Öyster Cult," one teen tells the other. "One year later to the day, man…Blue Öyster Cult was opening for Kiss!"
Harrison Mills and Clayton Knight, the Seattle electronic duo better known as Odesza, have undergone a similarly meteoric ascension. Odesza opened for the British electronic artist Bonobo at Central Park in July 2014, but just last month, Bonobo opened for Odesza at the first of three sold-out dates at Terminal 5.
Mills and Knight have seen Detroit Rock City, and they don't discount the parallel. So what's to account for Odesza's rise in popularity? "A big part of the reason we've had a reach to a wider audience is that we don't try to stick to one genre," Mills told the Observer. "We love so many kinds of music, from funk, soul, world, jazz, we go all over the place. So we try to incorporate those styles into a lot of different things we do. With today's culture and how you can get any song and genre with one click, people's palettes are broader now."
It's not sonic fascism, but it's damn close.
Odesza think very highly of their fans' palettes. There's certainly something infectious about the group's cinematic brand of faux new-age future jams, like "Say My Name" off the smash sophomore LP In Return, out now with the obligatory bonus-album deluxe reissue remix tracks. On "Say My Name," a singer named Zyra belts out something about needing a sign or a signal, worried she is making symbols out of everything in catchy, empowered off-rhymes. "I need the coat and your jacket, and the remnants of your cigarette packet," she cries, her wariness of symbols eerily emblematic of Odesza's use of an Icosahedron as band logo. By appropriating this shape, essentially a 20-sided die, Odesza liberates an indispensable artifact of pen & paper game Dungeons and Dragons from its niche nerd-dom, rendering it cool and worthy of dancing. "I wanna dance, I wanna dance, I wanna dance with you," cries the comely Zyra. "So take a chance, take a chance, oh yeah!"
With that rotating Icosahedron, Odesza are building a brand. It's a move lifted straight from graphic designer Scott Hansen, who records IDM under the name Tycho and designs limited silkscreen posters for each show he plays featuring his triangle logo. Odesza brands their sound to cross genres, much like Bonobo, who dips into jazz, hip-hop, new-age and world music from the sultry, chill grooves of U.K. downtown electro. But their brand is louder, less subtle but more globalization-friendly—the molly-dusted fantasy of a true electro-hippie. Odesza started a label earlier this year, the Foreign Family Collective, taking that brand and turning it into a scene. Now more electronic acts are following suit, starting labels off young artists who seek to help cultivate the same sonic brand, and though their music is undeniably catchy, the future of electronic music loses still more originality for it.
A similar mentality now pervades other genres, notably the large-scale-ready, chemically enhanced realm of Electronic Dance Music, or EDM. The Philadelphia DJ Diplo, once thought of as an independent artist, has propelled his Mad Decent label to a veritable lifestyle brand, with a large roster of artists, festivals and even themed cruises. British retro-house music deities Disclosure have done the same, launching an "underground imprint" called Method and their own traveling tour last February.
Such artistic independence is a faster route to financial gain these days; cut out the middle-man and there's more for the musicians. But when they're signing friends, sharing mixes and building their sound into a brand, the endgame suddenly sounds ignoble. The EDM artists starting their own labels aren't cultivating new sounds so much as recycling fringe genres, stripping them of clear sonic identification, and appropriating them into a hip pastiche of all-encompassing, club-ready swill. It's not sonic fascism, but it's damn close.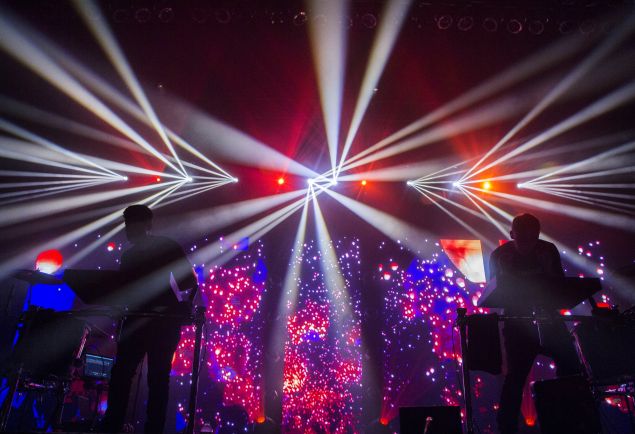 Before Bonobo took the stage at Terminal 5 that night, a signee to Odesza's Foreign Family named Jai Wolf played a set of catchy, tribal pop. Largely sticking to remixes, Wolf riled up the young teens at the front with his rendition of Drake's hit "Hotline Bling," performed in the Foreign Family style. It's the same style as an Odesza song, and the same style as Jai's lone single, "Indian Summer," too. Locked-in wails are pitch-adjusted to sound sweeping and anthemic, like Alvin and the Chipmunks sitting lotus at some juice bar, seeking nirvana in their little tiny chipmunk yoga pants. Bright, celestial synth chords puncture the stock hip-hop beat, a cinematic soundtrack to the party montage of some B movie we've all seen before. The kids up front couldn't get enough of this, and the flashes of their iPhone cameras lit up the dance floor in un-synchronized rhythm.
Musicians have a history of starting their own label imprints to publish and distribute music, once they've made enough money in overhead. You usually see it with hip-hop artists—the most canonized example charts N.W.A.'s liberation from Ruthless Records to Suge Knight's Death Row, and Dr. Dre's subsequent shift to his own Aftermath records. In hip-hop, organizing a social and communal expression into a label is a natural progression from systematic, institutionalized disenfranchisement—a triumph, a success and a statement. But are electronic artists in the same game? There is no triumph over societal adversities among the disposable-income-flaunting EDM set.
Odesza's show was pure spectacle, witnessed by fans falling into two distinct groups. It was an odd-intersection between the young kids up-front, discovering the agonies and ecstasies of electronic music for the first time, and the en-vogue fitness set dancing around at the back of the venue­—the kind of workout junkies who do cardio every morning to offset the copious amount of brain-damage they self-inflict the night before. Some of the teens up-front arrived at the venue a cool three hours before the doors opened, determined to dance in the action and catch the band's immersive light show of sacred-geometry strobes surrounding Mills and Knight's silhouettes. At what point do these dancing teens transform into the self-actualized, hyper-sexual fist-pumpers, devouring every conspiracy theory Netflix show about the Illuminati and rhetorically asking their friends, "do you even lift, bro?"
Locked-in wails are pitch-adjusted to sound sweeping and anthemic, as if Alvin and the Chipmunks were sitting lotus at some juice bar, seeking nirvana in their little tiny chipmunk yoga pants.
Later that week the Internet buzzed about an independent web-based reality show called The Bedford Stop, about a group of young women living in Williamsburg, Brooklyn, who chronicle their adventures shopping, taking selfies and philosophizing about the dating app Tinder. One young woman laments sleeping through brunch with the girls, as she is home alone at her palatial loft, bored, because nothing going on in the whole city could possibly entertain her. Odesza's "Say My Name" and "Sun Models" soundtrack the antics, and that's very unfortunate. As atypical, witting proponents of gentrification, these young women fashion themselves into urban experience tourists, colonialists even, drifting from shop to shop, brunch to brunch, date to date. But what's more, their ready, proud embrace of Odesza's music suggests an unintended parallel—that Odesza's decision to form a label after releasing just two records nurtures the same subculture, the same transient fashionistas, who drift from one sonic pleasure to the other.
BESbswyBESbswyBESbswyBESbswyBESbswyBESbswyBESbswyBESbswyBESbswyBESbswyBESbswyBESbswyBESbswyBESbswyBESbswyBESbswy
BESbswyBESbswyBESbswyBESbswyBESbswyBESbswyBESbswyBESbswyBESbswyBESbswyBESbswyBESbswyBESbswyBESbswyBESbswyBESbswy
BESbswyBESbswyBESbswyBESbswyBESbswyBESbswyBESbswyBESbswyBESbswyBESbswyBESbswyBESbswyBESbswyBESbswyBESbswyBESbswy
BESbswyBESbswyBESbswyBESbswyBESbswyBESbswyBESbswyBESbswyBESbswyBESbswyBESbswyBESbswyBESbswyBESbswyBESbswyBESbswy
BESbswyBESbswyBESbswyBESbswyBESbswyBESbswyBESbswyBESbswyBESbswyBESbswyBESbswyBESbswyBESbswyBESbswyBESbswyBESbswy
Odesza had no idea that The Bedford Stop has used their songs without clearing them, and even after my description of the show, they weren't fazed about it. They said that once the songs leave their computers, the duo doesn't care how the music is used. What's important is that it's being used at all. "Once it's gone, that's the beauty of music," Knight said. "People are gonna interpret it how they interpret it, use it how they use it, and that's kind of the goal."