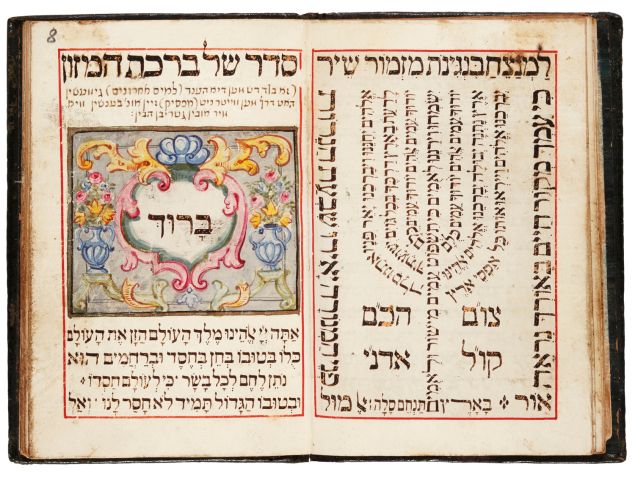 A rare, and famous, religious trove hits the auction block this month.
On December 22, Sotheby's will hold back-to-back million-dollar sales of Judaica that are noteworthy for their rare books and manuscripts, some of which date back to the Middle Ages in Europe. Of greatest note are 12 books and scrolls from the renowned Valmadonna Trust Library (currently based in London), expected to fetch between $10.8 and $16.6 million.
What makes them special? An 1189 Pentateuch and Haftorah (estimated at $2-4 million) is the only surviving Hebrew text from the time before King Edward I expelled the Jews from England in 1290 (Oliver Cromwell allowed Jews to return to England in 1657). There's an eight-volume, 8,000-page edition of what is called the Bomberg Talmud, which was printed in Venice between 1519 and 1523 by Daniel Bomberg, who was not Jewish but had the government license to print Hebrew texts (Jews not being permitted to do so). It is estimated at $5-7 million. A 10th-century Pentateuch and Haftorah is in both Hebrew and Aramaic ($1.5-2 million).
Unlike the Bomberg Talmud, the Pentateuchs and Haftorath were not printed but handwritten, although David Redden, head of Sotheby's books and manuscripts department and vice chairman of the auctioneer, noted that early Hebrew printing sought to "imitate the look of handwritten texts."
For those not familiar with these terms, Pentateuch refers to the first five books of the Hebrew bible (Genesis, Exodus, Leviticus, Numbers and Deuteronomy) while the Haftorah is readings from the Book of Prophets (a traditional element in bar and bat mitzvahs).
"The Valmadonna Trust Library is known as the greatest collection of Hebrew books and manuscripts in private hands in the world," said Mr. Redden, adding that the library contains between 9,000 and 11,000 items and was largely built by Jack Lunzer, a retired diamond merchant who was born in 1924.
Redden noted that the Bomberg Talmud is in "unbelievably good condition, having only had two owners—a 16th-century Oxford University professor of religion, Richard Bruarne, who ordered the edition directly from Bomberg and had the printed pages bound in England, and Westminster Abbey, to which Bruarne left the edition upon his death—before Lunzer acquired it (by swap, for Westminster Abbey's medieval charter) in 1980. "The edition stayed at Westminster for 400 years, probably untouched for most or all of that time."
Books of any kind from the medieval era are rare, but decrees in the 16th century to destroy Hebrew texts diminished their numbers significantly.
Some of the lots have unique appeal, such as the 1737 Viennese book of Grace after Meals (estimate $150-250,000), which describes acceptable blessings to follow dinner and includes figurative and landscape illustrations by Ze'ev Wolf Herlingen, and an 18th-century Central European Miniature Book of Prayers for Women (estimate $80-120,000) that contains prayers in both Hebrew and Yiddish—the only text in this group that includes Yiddish.
David Wachtel, a Sotheby's consultant and expert in Hebrew books and manuscripts, said that it is a misconception that Jewish law makes recognizable imagery taboo. "The Second Commandment prohibits graven imagery for the purpose of worship, and some have interpreted that to mean all imagery, but there is a great deal of imagery in Jewish texts, especially in books and manuscripts produced in Western Europe where artwork abounded."
Books of any type from the medieval era and later are quite rare, but Mr. Redden stated that "decrees in the 16th century to destroy" Hebrew texts diminished their numbers significantly.
Lunzer inherited a small group of ancient Hebrew books from his wife's father and, over the course of decades, expanded their number dramatically. He set up a library trust to house these books in the Italian town of Valmadonna, in Piedmont, where his wife had family ties. His four surviving adult daughters are the beneficiaries of this trust, and the sale is intended to raise money for them.
"We tried for half a decade to keep the entire collection together by selling it to a single buyer, calling museums and libraries around the world," Mr. Redden said. Ultimately, at a full estimated value of $30 million for the entire library, "it proved too much for a single buyer, so we settled on selling 12 treasures." Lunzer's hope is that when these 12 expensive lots are removed from the rest, the remaining books, scrolls and manuscripts in the library proves more affordable for a private or institutional buyer.
Redden estimated that there might be hundreds of potential private bidders for these texts from around the world, although most of them live in Europe, Israel or the United States.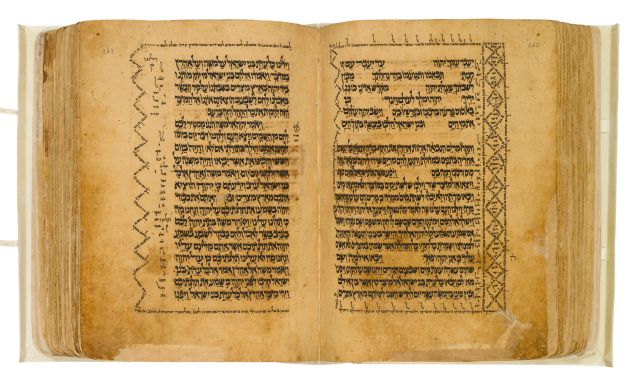 Immediately following the Valmadonna Library sale is the more general Judaica auction, which includes 127 lots and has a presale estimate of $4.5-6.5 million. That sale also contains some significant books, scrolls and manuscripts, including some of the first Hebrew books ever to be printed, such as a c. 1469-73 commentary on the Pentateuch (Perush ha-Torah) by Jewish philosopher Moses Nahmanides (estimate $150-250,000) and a 1469 book called a Responsa (Teshuvot She'elot) by Solomon Ibn Adret, who was a pupil of Nahmanides (estimate $250-350,000).
A legalistic Dear Abby of his day, Adret was considered a great authority on Jewish law and customs, and people would send him questions on one thing or another, which he published along with his responses. One of the questions posed to him was from a man who had sworn off the forbidden practice of gambling but was tempted to wager again—was it possible to be absolved of both the sins of gambling and of breaking a promise?
Many of the texts are quite old, such as the Sefer Torah (Pentateuch), dating back to somewhere in the period 1245-92 and is the oldest complete Ashkenazi or northern European Torah scroll ever offered at auction (estimate $300-500,000), while others are more recent, including a 1980 scroll of the story of Queen Esther (read every year on Purim) that was decorated with Op Art designs by Israeli artist Yaacov Agam (estimate $8-10,000). "Agam didn't do a lot of Judaica," said senior Judaica consultant Sharon Mintz, "which makes this piece very rare."
BESbswyBESbswyBESbswyBESbswyBESbswyBESbswyBESbswyBESbswyBESbswyBESbswyBESbswyBESbswyBESbswyBESbswyBESbswyBESbswyBESbswyBESbswyBESbswyBESbswyBESbswyBESbswyBESbswyBESbswy
Ms. Mintz noted a growing interest in understanding the Jewish role in American life reflected in a number of the lots in this sale. A register of all the circumcisions performed by a New Hampshire rabbi Meyer Derkheim between the years 1774-1818, for example, reveals "the small towns where Jews lived, the lengths people went to obey Jewish law—and the amount of traveling that Derkheim had to do" in order to perform circumcisions. Suggested bids begin at $20,000.