Brooklyn residents have been receiving campaign literature blasting Congresswoman Nydia Velázquez over an alleged link with convicted  former Assembly Speaker Sheldon Silver—and behind the mailers is a well-funded political action committee connected to her long-shot challenger.
Several people in Ms. Velázquez's district told the Observer they received mailers attacking Ms. Velazquez as "arrogant," "dismissive," "indifferent" and "unaccountable," and accusing her of having a longstanding backscratching arrangement with the disgraced Mr. Silver. The literature came from the "Community Action Now" PAC, based out of a post office box in Whitestone, Queens, far from a district that spans Brooklyn, Manhattan and portions of southern Queens.
"For 25 years, Nydia Velazquez & Shelly Silver shared districts, neighborhoods and long-term incumbencies. They've depended on each other to keep their public office 'thrones,'" the mailer reads. "Times have changed. What we'll tolerate has changed."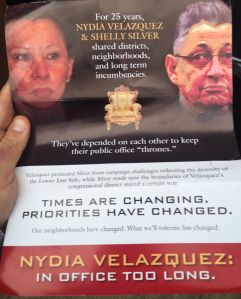 Ms. Velazquez, a 22-year incumbent, faces a challenge in next June's primary from Yungman Lee, a Queens resident and banker in the district. Shaped in a rough crescent, the Puerto Rico-born congresswoman's turf covers Sunset Park, Chinatown, Woodhaven, and the Lower East Side—all areas with large Asian-American and Latino populations—as well as swiftly gentrifying areas of historically Hispanic northern Brooklyn.
Those who reported receiving the mailers to the Observer, however, were in the Park Slope and Carroll Gardens sections of the district, which are largely liberal and white.
The Lee campaign insisted it had no involvement in or awareness of the literature.
"By law, and in truth, Yungman Lee for Congress has no knowledge of any activities in the 7th [Congressional District] other than their own," Michael Tobman, the Lee campaign communications director, told the Observer.
Nonetheless, several people connected to the PAC—which, according to Federal Election Commission records, has raised $130,000 from seven Chinese-American-owned businesses since its founding last year—told the Observer they were friendly with Mr. Lee personally.
Community Action Now treasurer Fanny Lawren described Mr. Lee as "a friend." But she pointed out that the PAC is registered with the FEC as an independent expenditure, meaning it is officially unconnected to any candidate and legally can have no interaction with anybody seeking office or with their staff.
"We are independent from and have no coordination with any individual's campaign," Ms. Lawren said in a statement.
People who answered the phone at most of the businesses that donated either declined to comment or indicated that they did not speak English. One, however, named Raymond Chan—an architect in Flushing, Queens who gave $5,000 to the PAC—confirmed he knew Mr. Lee personally but would not say if he gave money in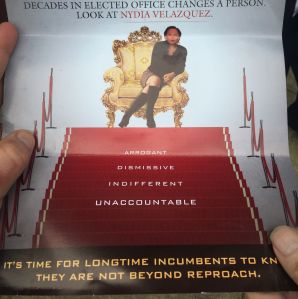 hopes of seeing the banker elected.
"They do good work for the community. That's all I can answer you," he said, and hung up before the Observer could ask further questions about his motivations.
Mr. Chan is also involved in the designing and planning of two major projects planned in the Brooklyn section of the district. One, christened the Eighth Avenue Center, is a massive mixed-use facility slated to include a shopping mall, apartments and a hotel.
He is also attached to a proposed Chinese-style archway that would span Eighth Avenue nearby, a project that has partial funding from the city government in Beijing. Ms. Velázquez has not weighed in on either development, sources say.
The congresswoman's campaign did not respond to requests for comment. Mr. Silver and Ms. Velázquez were in fact mostly cool to one another, sources say, though she did receive his endorsement for re-election in her 2012 race against then-Councilman Erik Dilan.