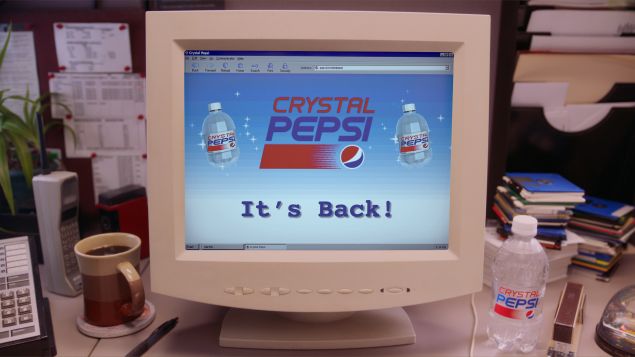 Pepsi is flashing back to the days when Pearl Jam ruled the airwaves by bringing back Crystal Pepsi, which it stopped making in 1993.
The iconic, undervalued 90s translucent cola is making a comeback…well, sort of. Pepsi just announced that it will be giving away six packs of  Crystal Pepsi as a gift to lucky fans who enter in a sweepstakes on the Pepsi Pass app from December 10 through December 11.
The move to bring back the product was largely thanks to its surprisingly large fan-base, spearheaded by pseudo-YouTube celebrity L.A. Beast.
Fans can download the Pepsi Pass app and enter the sweepstakes beginning at noon ET on Dec. 10. Winners will be picked and notified the week of December 14 and will receive their Crystal Pepsi in time for the holidays.
Enough talking. See some of the hype below!
The original Crystal Pepsi launch ad, circa 1992
GIF of the original launch video, if you're impatient:
L.A Beast drinking a 20 year old bottle of Crystal Pepsi
The re-launch video, circa 2015
The Crystal Pepsi song
Nostalgia—the best Christmas gift of all.