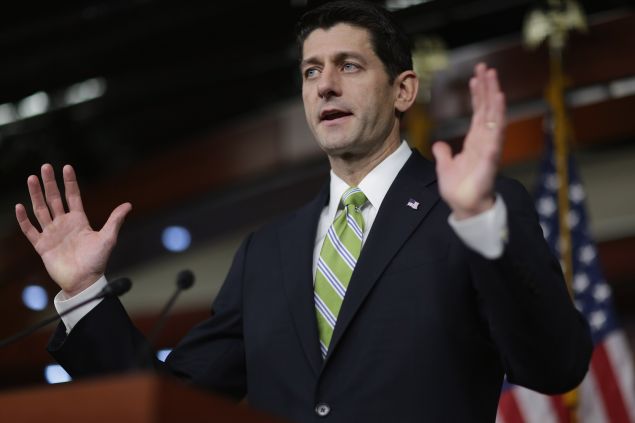 Delivering what his aides billed as his first major policy address, House Speaker Paul Ryan asserted today that world events have proven conservatives correct, and said the Republican Party's goal should be to put together a "complete alternative" to a progressive agenda heading into the 2016 cycle.
"If we want to save the country, then we need a mandate from the people. And if we want a mandate, then we need to offer ideas. And if we want to offer ideas, then we need to actually have ideas," Mr. Ryan said at the Library of Congress in Washington, D.C. "So, our number-one goal for the next year is to put together a complete alternative to the left's agenda."
Mr. Ryan, a Wisconsin lawmaker, claimed Americans are "not confident" and "downright anxious" but offered what he saw as hope: "the world is proving us right."
"Technology is making life more decentralized. The old, top-down formulas just won't do. For a long time, the left has thought that if you want to solve a problem, you get a group of highly trained experts to come up with an answer and impose it on the country," Mr. Ryan continued. "Nowadays, most of us would agree, that's the last thing you should do. The world moves just too fast. Government is always a step behind. So oddly enough, it is the progressives who are stuck in the past."
Mr. Ryan implored Republicans to "put together a positive agenda, and take it to the American people. Give people the choice they are yearning for. And if next year, this House can say we have done that, then we will have done our job."
In terms of policy proscriptions, Mr. Ryan hewed to the traditional GOP playbook. He said the tax code should be simplified, with lower taxes on businesses, and national welfare programs should be turned into state block grants and administered locally. On the Trans-Pacific Partnership, a free-trade agreement championed by the Obama administration, embraced by right-leaning business leaders and hated by the left, Mr. Ryan added coyly that Republicans would be after a "fair deal."
"But we have to engage," the speaker said. "Only an active, forward-leaning America can tear down barriers to American exports."
He said it was "most urgent" to repeal and replace the Affordable Cart Act, something the Republican-controlled Congress has attempted unsuccessfully more than 50 times. As long as President Obama is in the White House, the GOP, given Obamacare's survival in two Supreme Court cases, has no chance of taking the law off the books.
Mr. Ryan, a budget wonk who reluctantly took over from John Boehner, said House Republicans must put out "specific proposals," a subtle rebuke of the body's most conservative wing, where opposition to the White House often trumps everything else. As speaker, Mr. Ryan must walk a tightrope between the traditional, moderate GOP and a Tea Party wing growing in strength.
"Even if he won't sign them into law, we will put out specific proposals and give the people a real choice. And I don't mean just undo what the president has done—as if we could time-travel back to 2009," Mr. Ryan said. "I mean show what we would do, what our ideal policy would be—looking forward to 2017 and beyond. We owe it to the country to offer a bold, pro-growth agenda. And that is what we are going to do."