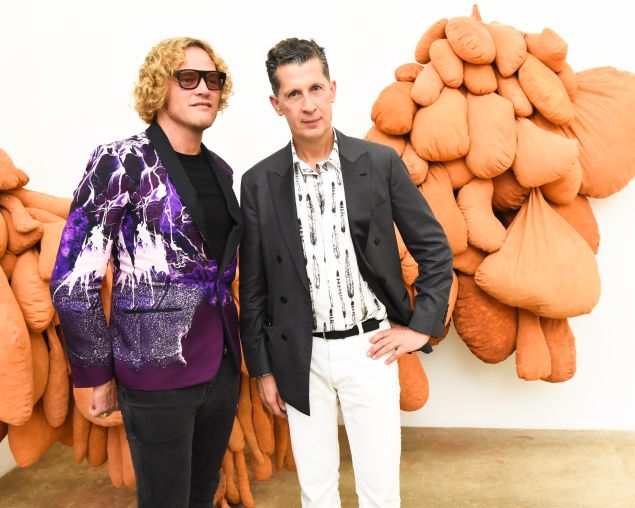 Though Art Basel doesn't start properly until Thursday, for most, things got started Tuesday. In particular for attendees like musician Miguel, stylist Giovanna Battaglia, designer Misha Nonoo, gallery owner Andrea Rosen and Performa founder RoseLee Goldberg, the night centered around a dinner celebrating the opening of No Man's Land: Women Artists From The Rubell Family Collection.
"Last year we kind of 'infiltrated' your celebration of 50 years of marriage and 25 years of the gallery," said Stefano Tonchi, editor in chief of W magazine to Don and Mera Rubell, who opened up their home for the grand supper. This year's event saw about 100 art lovers celebrating more than 100 contemporary female artist representing 28 countries of different generations and disciplines. 
The night, which was also co-hosted by Roberto Cavalli's Peter Dundas, kicked off what seems to be a week-long celebration of women for W, which will also moderate a Pratt Institute panel entitled "Women of Influence in the Business of Art."
"It's an important year for women," Mr. Tonchi told the Observer between servings of yellow and candy cane beet salad and baby lamb racks during the meal, held atop the Rubell's tennis court. "I've been talking in my editor's letter about what's been happening with women; it's probably the Hillary effect. There's a lot happening in art and cinema and we want to celebrate that."
Mr. Dundas agreed with that sentiment. "I was really into being a part of this event for that reason as well because it's really about focusing on and empowering women and their work. What I do really is about making women feel stronger and more powerful in this world. So for me it was a perfect match."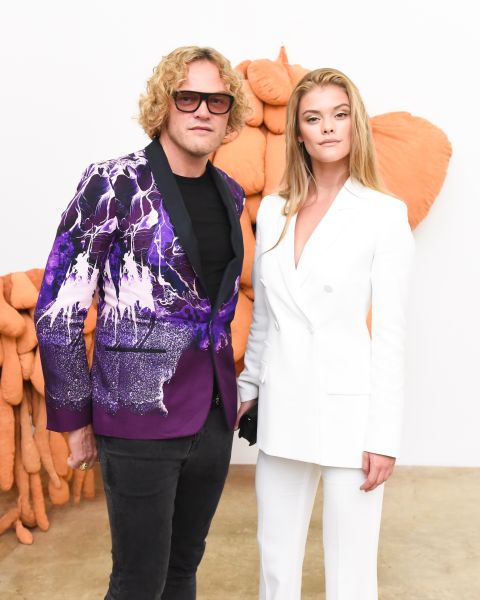 Having recently debuted his first collection for Roberto Cavalli after seven years of injecting sex appeal and modernity at Emilio Pucci, Mr. Dundas distinctly knows about challenges. "What I do is about pushing the boundaries and redefining what I want women and men to dress like," he said. "It's also about how I see them going forward. With art you have to take risks and with fashion there's a fine balance between doing something that you know well and getting out of your comfort zone and trying to find new solutions. That's part of my every day." According to The New York Times, Dundas' vision for Cavilli's men and women will include less evening wear but a bolstered offering of ready-to-wear and accessories.
Mr. Tonchi, a five year W vet also touched on the need to take chances. "Every issue that we work on is a bit of a risk. You know we're working on our March issue and working with the kind of photographers that we do [Steven Klein, Steven Meisel] you never know what you will get. Jessica Chastain, on the cover [of] November, was very 'risky business' and Jessica was totally into it.
"The same with Cate Blanchett, she wanted to do something she had never done before so going to the moon with Tim Walker was definitely that. It ended up being a great, great experience for her and us."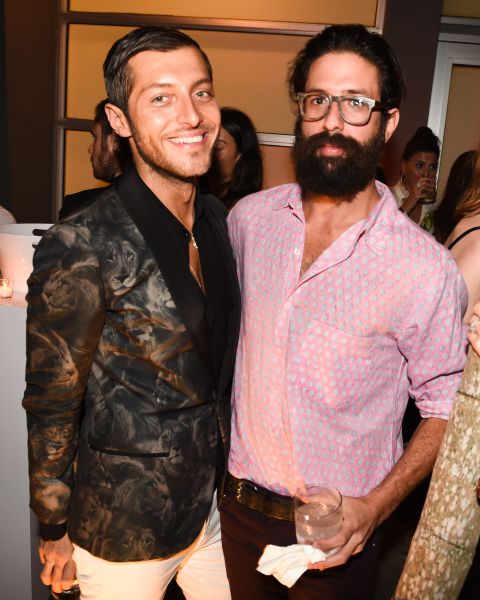 Unsurprisingly, designers also find risk to be the name of the game. Seated across from Mr. Dundas was Greg Chait of The Elder Statesman. "My whole life is risks! The mere existence of my company is a risk. No one knows but we have a big factory that we fund ourselves which isn't typical; the whole thing we do is risky," he admitted.
Back at the dinner table, Mr. Tonchi was already looking towards the next day's events. "Tomorrow is going to be really fantastic; today I had a really quick sneak peek of the new Faena compound and it's really really special. It's a little bit odd, very curious, very peculiar, very different from everything else; it's not something I would call minimal, it's very eclectic."
Later in the week, the editor will team up with Faena Art to host a roller disco beach party that doubles as an immersive roller-disco installation.