Life is long. Just ask Peter Saul and Mary Boone. Combined they have more lives than a crazy cat lady's Alphabet City apartment can hold, but they've each learned from their mistakes—and their successes.
The pairing seemed almost inevitable: the glamorous dealer who launched art stars with big dreams and a healthy disrespect for decorum (like Julian Schnabel and Jean-Michel Basquiat), and the ultimate outsider painter who stubbornly fought off categorization.
They had been on one another's radar for quite some time. Mr. Saul would haunt Boone's openings, and Ms. Boone always kept tabs on the artist, controversial for his political—and sometimes crass—paintings.
During a lunch date four years ago, Ms. Boone decided to pop the big question—"do you want to do a solo show?"—and Mr. Saul quickly said "yes."
"I always liked Peter's work because he's a favorite artist among young artists such as KAWS and Jonas Wood," Ms. Boone, (who rarely chats with the press) told the Observer. "His resurgence reminds me of Andy Warhol in the '80s: another artist's artist, who always felt comfortable at our openings because of the support that he received from younger artists like Julian and Jean-Michel."
On November 7th, Mr. Saul continued his "reinvention tour" with a stop at what has become a home of sorts: The Mary Boone Gallery.  His current show, "Six Classics," at her 24th Street space is up through December 18.
It's a rollicking history show (both art history and world history) that has Mr. Saul riffing off of timeless masterworks like The Raft of the Medusa by Théodore Géricault and Napoleon Crossing the Alps by Jacques-Louis David. For Mr. Saul's followers, it was a very different look from the hyper-politicized subject matter of his last show at Adam Lindemann's uptown space Venus Over Manhattan, which consisted of candy-colored surrealist visions from the '60s and '70s.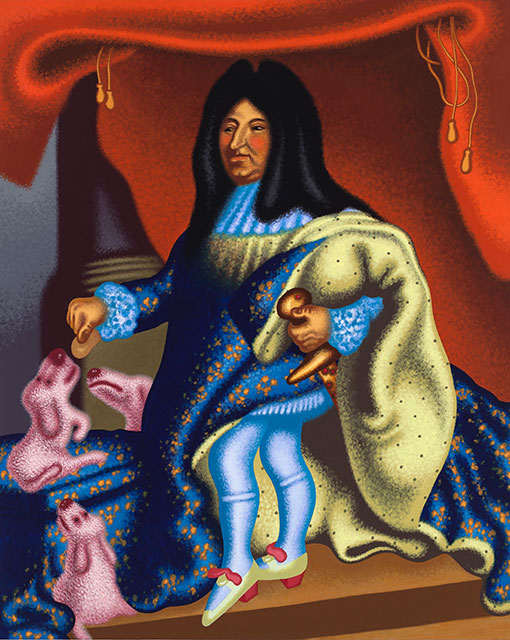 "I wanted a sharp contrast from the Venus show, because I didn't want to give the impression that I was still doing the same work," Mr. Saul said. "But to be honest, I was also afraid that people would find [the work at Mary Boone Gallery] to be too feeble or soft, and that nobody would get offended. Because you see there's a small group of people always watching me to make sure I'm still offending."
Mr. Saul, at the age of 81, still delights in taking unpredictable routes with his artwork, and you could hear the subtle rise in his voice as he talked about his latest opportunity to confound viewers. "I thought it would be interesting to paint obvious historical things that were not hard to understand," he said matter-of-factly. The new show has been getting early praise from fans and press alike.
The works are more scenic and paired-down than the all-over style of the earlier works that populated the Venus show, but they're still chock-full of masterly paint daubs (an acrylic painting technique he's been using since the mid-70s) as well as the artist's landmines of acerbic humor. For example, in his unique reinterpretation of Louis XIV, originally by Hyacinthe Rigaud, the Sun King feeds biscuits to three fluffy pink puppies, conflating the height of regal portraiture with puppy calendars.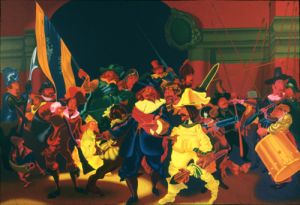 It was Mr. Saul's knowledge of history—and his strong desire to thumb his nose at it—
that drew Ms. Boone to his work in the first place. "The revisiting of history has been in a major part of Peter's work throughout his career," said Ms. Boone, who began her life in New York City as an art history student at Hunter College. "The first work of his that I ever owned was a painting called The Night Watch, which is based on one of the most studied paintings in the history of art. So when we had our first meeting where we began talking about shows, I told him how much i loved these historical references, and he knew that I meant it."
When I suggested that Ms. Boone complimented Mr. Saul nicely, as they were both renegades, she modestly exclaimed "I think there have been a lot of great renegade dealers, and I'm thrilled that you think I'm one of them!"
Mr. Saul, of course, knew Mary had a rep as an aggressive, sometimes harsh, gatekeeper, but looked past that. "Lots of people said they didn't like her, especially other dealers," he said with a chuckle, "but I didn't pay any attention to that."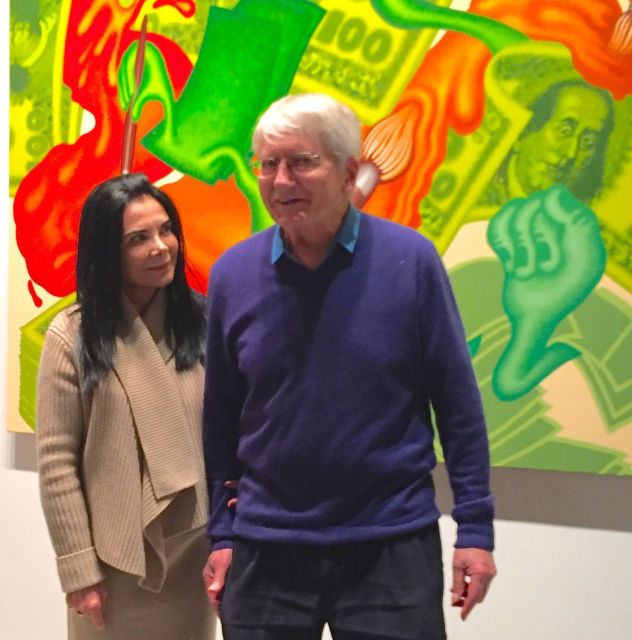 And though it's still early, it looks as if this love affair could go the distance. Ms. Boone already coordinated a show for Mr. Saul at the top-notch L.A. gallery David Kordansky this past May, and she's also setting up shows for him in London and Russia next year.
In a town that loves a good comeback, it's no surprise that the art world has embraced this gritty pair of art world lifers. "I like to joke that we both have bad reputations," said Mr. Saul, "but [Mary and I] get on fine, and she really, truly likes me and my work, and that's what's important."