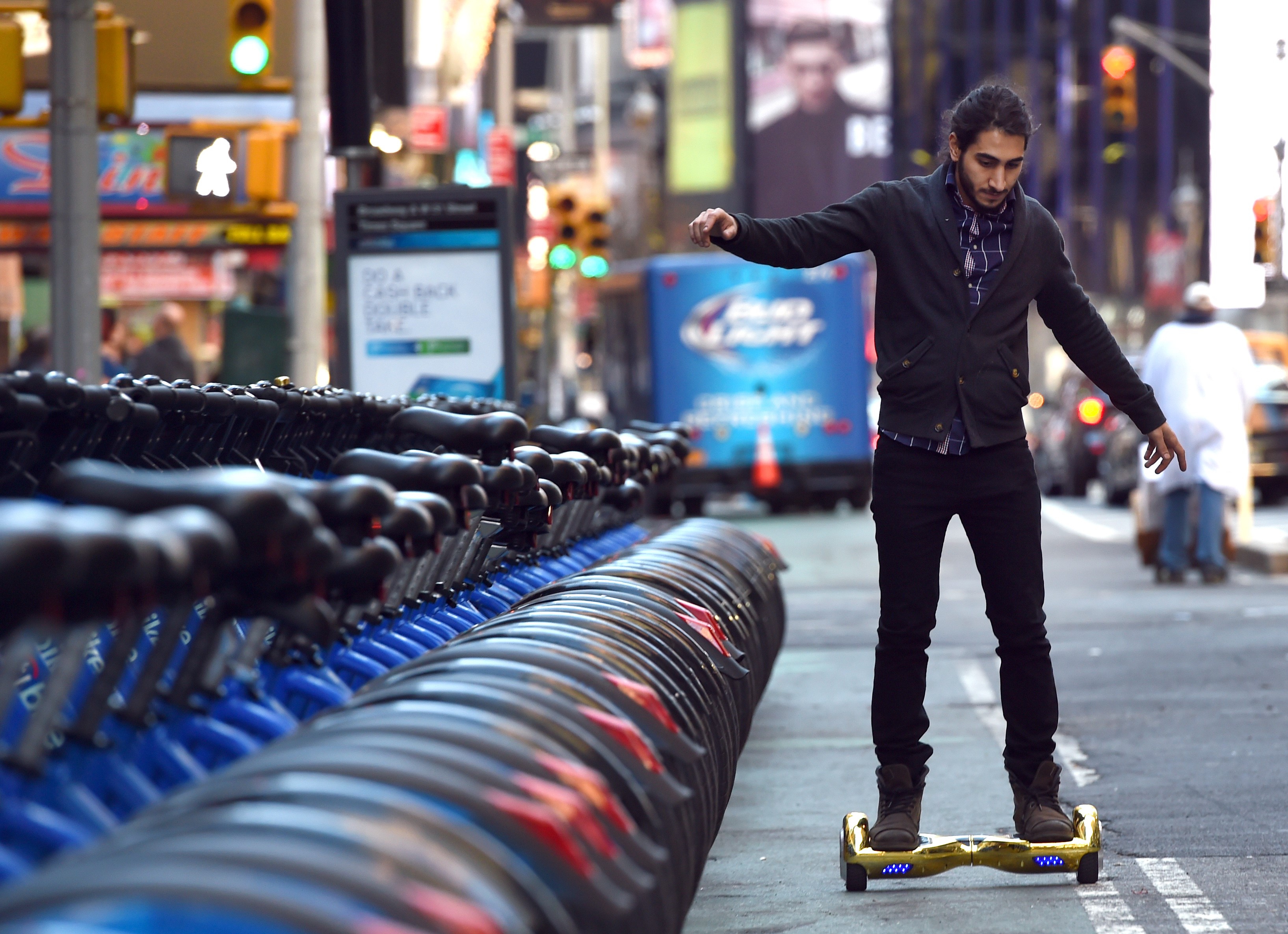 Hoverboards have been pulled from online retailers and banned from airplanes, but three New York City politicians are nonetheless looking to legalize the two-wheeled motorized scooters in New York City.
"We want to make sure that they are safe while they're riding them. Technically we know that they are illegal but they're still being sold across America as well as in the state of New York," Councilman Andy King said today at a City Hall press conference. "We want to make sure that if anyone is riding them, that they're not violating the law."
The hoverboards, which do not actually hover in the air and are more like a skateboard-sized Segway scooter, were among the year's hottest Christmas gifts—no pun about their tendency to sometimes burst into flames intended. But the devices are categorized as motor vehicles in New York State, and since they're not regulated by the state's Department of Motor Vehicles, that makes them illegal under state law in any city with a population of 1 million or more—meaning, New York City.
State Senator Jose Peralta and Assemblyman David Weprin, both Queens Democrats, said they'd introduce legislation to change that law, declassifying hoverboards as motor vehicles so that they would be legal in the city—and open to regulation by the City Council.
"Hoverboards are not motor vehicles," Mr. Weprin said.
Mr. Peralta said they're more akin to skateboards: "Yes, they may go a little faster than skateboards. But yet, they're like skateboards."
The lawmakers said young people who ride them should not have to face a summons—which, if unpaid, can lead to court dates—for using the popular Christmas gift. It's unclear how
Mr. Peralta said there needs to be an "educational campaign" about how to safely use the devices—which drew attention for causing plenty of injuries this holiday—and that there needs to be a crackdown on cheap products whose batteries are prone to catch fire. Neither of those topics is covered in his legislation, and Mr. Peralta said the specifics of regulating the hoverboards should be left up to municipalities.
"They're exploding all over the place. We need to stop that," he said, "and the only way to do that is if we regulate them."
Mr. Peralta said that if you can buy the hoverboards in New York City, you ought to be able to use them here. But plenty of other motorized vehicles—the bikes used by delivery drivers, or the dirtbikes and all-terrain vehicles popular with both street riders and kids in wooded neighborhoods of outerboroughs—are illegal to use in New York City.
"It all depends on the products," Mr. Peralta said when asked about dirtbikes. "These products are for kids to ride and enjoy themselves."
The state pols said they expected that the goal would be to allow the use of the hoverboards in "recreational spaces" like parks. But changing the state law would leave regulations up to the city, and Mr. King wouldn't rule out legalizing the use of hoverboards on crowded Manhattan sidewalks—saying he didn't think there was more risk of tripping over hoverboards than there is of tripping over other pedestrians.
"Anything is possible," he said.