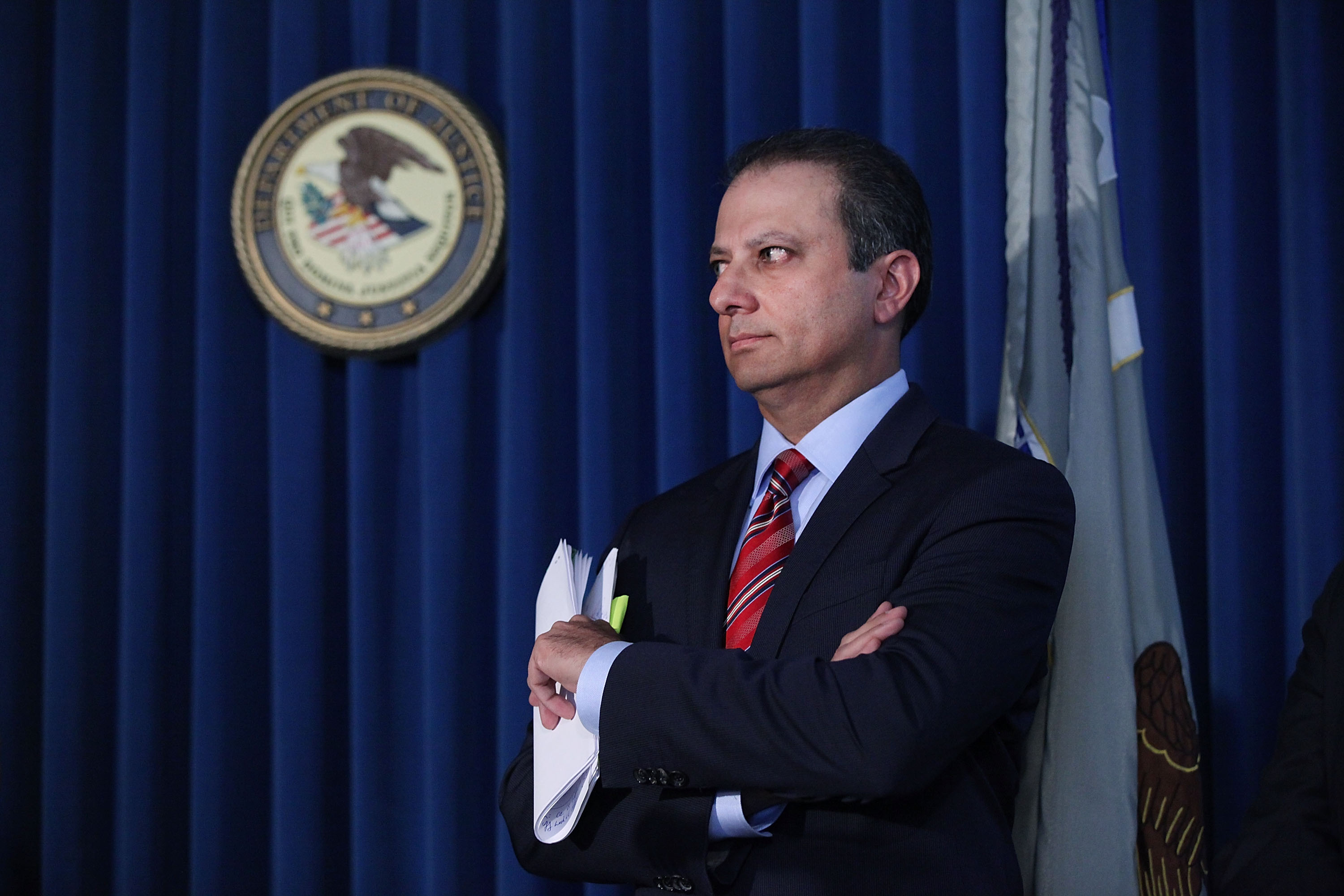 The twin convictions of Sheldon Silver and Dean Skelos present a moment "to reflect" on the ethics woes of Albany, U.S. Attorney Preet Bharara said today—even if some lawmakers would rather grumble about corruption probes than pursue reform.
"There has been, I hate to say it, a little bit more whispered whining on the part of some legislators in the press, without attribution, than focus on how to solve the problem," Mr. Bharara told radio host Brian Lehrer on WNYC today.
Mr. Bharara's office seemed to make history this week with two convictions in two weeks of two of Albany's most powerful men: Silver, the former Assembly speaker, and Skelos, the former Senate Leader, in separate bribery and extortion schemes. Mr. Skelos' son was also convicted.
The U.S. attorney noted those cases focused on two individual politicians and their bad behavior—pushing back against the notion presented by the defense and some others that he was seeking to criminalize business-as-usual in Albany—but said they were indicative of a large issue.
"The system wasn't put on trial, although incidentally the system looks pretty terrible," Mr. Bharara said.
Mr. Bharara declined to name specific reforms he favored, though others have mentioned ending or capping outside income for lawmakers and enacting term limits. Mr. Bharara noted that outside income made it easier to disguise as legitimate legal referral fees what Mr. Bharara has said were actually bribes and kickbacks in the Silver case. And the power amassed by the pols, specifically Silver, over long periods of time meant challenging him or blowing a whistle essentially ended one's political career.
The corruption schemes in both cases involved the men taking official action in exchange for some type of personal benefit—for Mr. Silver, money, for Mr. Skelos, money for his son—and both are accused of taking action on behalf of real estate developers including Glenwood Management. That calls into question votes on issues like rent regulations, Mr. Bharara said.
"When there is money at play and there is self-dealing at play, the question is—you can't trust how the decisions were made," Mr. Bharara said. "And how do you know that votes were cast on the level?"
While Mr. Bharara has received no shortage of accolades for his convictions—he has been lionized in the press and one woman calling into Mr. Lehrer's show today said he was her hero—he has been criticized for speaking broadly about corruption in Albany, which some have said goes beyond his role as a prosecutor. (And a judge in Silver's case did rebuke him for statements he made about Silver's guilt ahead of the trial.)
Mr. Bharara seemed unconcerned about his critics.
"They seem to be largely some of the people who are not solving the problem," he said. "Any prosecutor in the history of the world has to be thinking not only about holding a particular individual accountable, but also prevention and deterrence."
It's true of narcotics and fraud cases, he said, and it is "ludicrous" to think public corruption should be any different.
"It makes no sense to me, except that people have personal agendas and don't like it because they don't like people sniffing around when there's bad conduct," he said.
Mr. Bharara, who famously told audiences to "stay tuned" for more arrests after Silver's, would not comment on any reportedly ongoing investigations in Gov. Andrew Cuomo's role in shuttering the corruption-busting Moreland Commission, or state economic development efforts in Buffalo. But he did hint at what comes next in the Skelos and Silver saga.
Despite their convictions, both men are still entitled to their hefty state pensions. In the past, the federal government has sometimes tried to seize pensions as assets during sentencing—and that option seems to be on the table.
"We will be looking at all the ways in which we can make sure that justice is done," he said.