Ever wish there was one more day in the week? While we can't help you out with Lokisday, we hope to free up a few of your precious hours with the release of our latest open source project. It's a plugin that helps digital content teams manage their print production workflow from the WordPress dashboard (we know you're in there anyway!). We're calling it Eight Day Week.
Since most print content is posted online, our aim was to connect pixels to pages. Eight Day Week (the namesake, if you're curious, is a longstanding Observer column) helps editors and producers organize web posts into print issues.
To start, create an issue for your print publication and add sections. You can give each section a custom name. Add articles (which are just regular WordPress posts) to each section and make sure everything is in the right order (and if it's not, drag-and-drop the post or section to where you want it). Customizable article statuses let your team know when a post has been "filed" or if it's "ready for copy edit." Export the post when the print production team needs it—the result is an XML file that can be seamlessly imported into a print template and mapped to existing InDesign styles.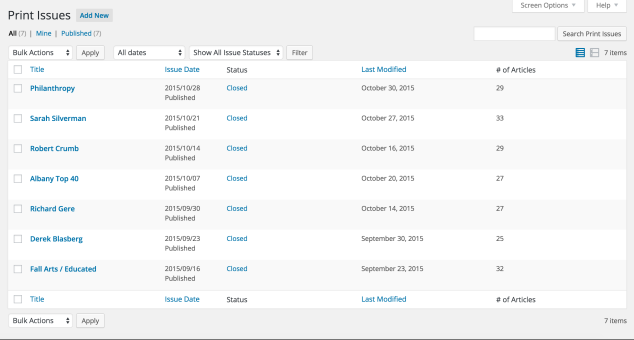 Plan for future issues and review archived editions from the Print Issues table. Here you'll see the status of each issue as well its publication and print date. To best model a real-world print team, two custom roles are available with the plugin. The print editor role has full access to the creation of issues, statuses and publications while the simplified print production role has read-only access to the print issues (the XML export tool is also available to print production users).
The plugin was developed with our partners in code, 10up—a premier web design and development shop that specializes in WordPress. Josh Levinson of 10up was the lead engineer on the project. Get the source code, full technical specifications and documentation on GitHub or WordPress.org. You can also check out a slideshare about the project that Observer's VP of Technology Jeff Sternberg presented at the September Big WP meetup.
If you're interested in incorporating the plugin with your WordPress environment and have questions, hit us up. If you'd like to contribute, even better! We're excited to hear how Eight Day Week changes your print production workflow.