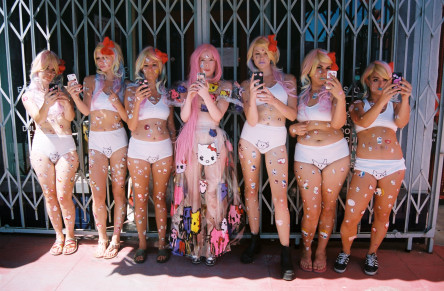 There are strong works to be found at this year's edition of Pulse, which relocated to a beachfront location last December and has now settled into the cozy confines of Indian Beach Park at Collins and 46th.
There was plenty of art to see, and a surprising amount of people came out to see it on a humid Tuesday.
If you're looking for emerging painters, that was on the menu. New York gallery Thierry Goldberg had work by a talented 26-year-old painter named Grace Weaver, who combines rubbery figures and tight gridded patterns in her paintings to create formal juxtapositions of quotidian scenes.
If you're interested in masterworks by living legends, look no further than Cincinnati's Carl Solway Gallery, who was exhibiting a large and rambunctious painting by Joan Snyder; a heavenly abstraction jam-packed with chunks and drips of lurid color.
Maybe large-scale, interactive performance is your thing? Pulse had that too, in the form of Kate Durbin's Hello Selfie LA project. Dubbed as a "new form of passive aggressive performance art," similar-looking, scantily-clad female performers were seen taking selfies at the fair space for an hour straight, while uploading the images to a Facebook event wall in real time.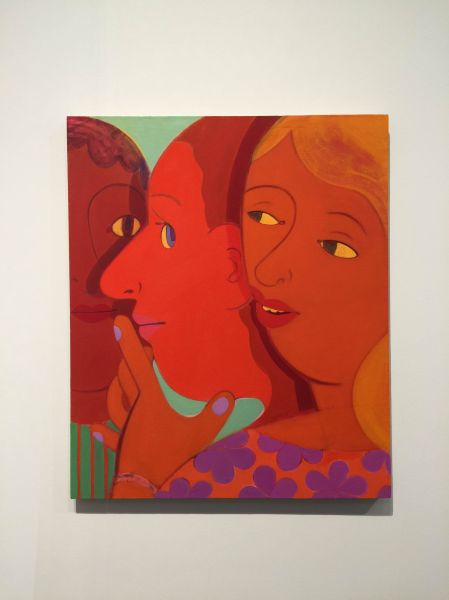 There was even a giant corporate sponsorship project courtesy of Target: a separate gallery space that included art made with Target products, including an 18-foot-long programmable boom box of Bose speakers, an installation-cum-physics project using 34 Dyson fans, and a kinetic "mirror" made from 968 Troll dolls.
As expected, there were visitors from every walk of life at Pulse, each gravitating toward their own interests. But does this make for a good overall art fair experience?
Pulse is clearly somewhat disjointed. Catering to so many factions, it makes you feel like you're in a shopping center: find the group shows on aisle 1; On aisle 2 you shop for emerging art; the performance art is aisle 3, and so on. Consider the fact that many of the booths were lacking in quality, too, and Pulse provides viewers with a "less selective" feel than some fairs.
Pulse is clearly somewhat disjointed. Catering to so many factions, it makes you feel like you're in a shopping center.
But in order to maximize the number of galleries they can service (as well as make money), Pulse is almost forced to take these tacts. And in the end, everyone is really down here for sales.
And how were said sales? "So far very good," said artist Anthony Goicolea, who mid-day confirmed sales of two of his mid-sized portrait paintings and a reserve on a large, hyper-detailed painting of a dystopian greenhouse world, which was at the booth of Barcelona-based Galeria Senda. Tibor de Nagy, which brought a bounty of serious and talented veteran painters like Tom Burckhardt, Shirley Jaffe, and Andrew Masullo, had a host of sale and/or hold stickers during this first day, and the aforementioned Thierry Goldberg gallery seemed to be moving the relatively inexpensive paintings of Ms. Weaver at a nice clip.
Many other booths looked quiet though, despite the throngs of people moving through the aisles. With reports of sluggish sales at the UNTITLED. fair on its first day as well, is it possible that we're seeing even more of a market backslide or are buying still just easing into things?