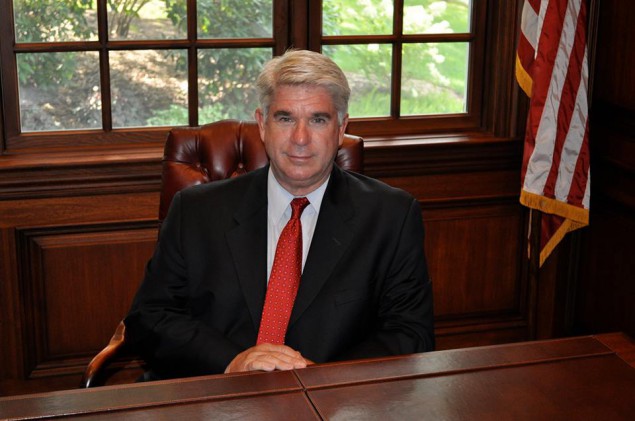 Wyckoff Mayor Kevin Rooney announced that he was hoping to snag the role of Bergen County Republican Organization (BCRO) chairman from Bob Yudin on the day after his reelection. According to Rooney, the county's Republican Party is in dire need to revitalization after heavy losses this year—and in previous years—have left the Bergen GOP disjointed and disorganized. He thinks he is the right man to fix the party's troubles.
"The party has been fighting for way too long," Rooney said. "There is a lack of unity and, obviously, there is a lack of success. The current chairman has not been successful whatsoever."
According to Rooney, Yudin's leadership has left Republicans in Bergen with little ability to fundraise. He also said that the current chairman's leadership style is "antiquated" and does not provide an environment where people feel their ideas are heard.
"People need to be listened to, and that includes everyone from the youngest to the most senior," Rooney said. "People want to sit down, they want to express what they want. You don't always have to do it but you do have to listen."
Rooney also went on to criticize Yudin, stating that his leadership is what has allowed Bergen County Democratic Chairman Lou Stellato to lead his party so successfully.
"Lou has been very successful. Having Bob Yudin as the current chair has led to that success," Rooney said. "Bob is Lou's best asset. Keeping Bob there ensures the success of the Democratic Party in Bergen County."
While Rooney blasted Yudin's leadership, a letter to the editor submitted by the chairman and published on Dec. 29 in the Bergen Record, expresses some vastly different opinions. In that letter, Yudin reacts to being named one of the "Losers" in the paper's "The state's winners and losers in 2015." He cites successes under his leadership, noting that when he first entered his position only the Bergen County Clerk was a Republican.
"Within two years of my taking office, we won two freeholder seats," Yudin wrote. "Then, we won three more freeholder seats and elected a Republican sheriff. We also elected a Republican county executive and helped reelect Governor Christie with more votes in Bergen County than any other county in New Jersey. Moving forward, we reelected two freeholders and our sheriff."
In his letter, Yudin also addressed what he believes are the party's challenges.
"The Bergen County Republican Organization faces a very substantial challenge," Yudin wrote. "There are 57,446 more registered Democrats in Bergen County than Republicans. This fact, coupled with the massive amounts of money contributed by the various unions to the Democrats, puts us at a disadvantage and calls into question the viability of the two-party system in Bergen County."
According to Rooney, Yudin's letter—which also states that he is looking "forward to more years" as chairman—just repeats what the chairman has been saying over the past few years in the face of losses.
"It is the same rhetoric that Bob has put out there over the past few years," Rooney said of the letter. "Each year after the losses we suffer, it is always the same comments. 'Here is why and next year will be better.' Well, next year is never going to be better with the current chairman in place."
Rooney works at a real estate holdings company owned by his family in addition to his role as mayor. He said that if the jobs were to become too much, he would be willing to reevaluate his roll on the Township Committee in order to lead the Republicans.
"I plan to win," said Rooney. "I will cross that bridge when the time comes to it. Right now my priorities are on the township and this position."
Unless Yudin were to make the unlikely decision to step down, a BCRO election for chairman will be held in June.