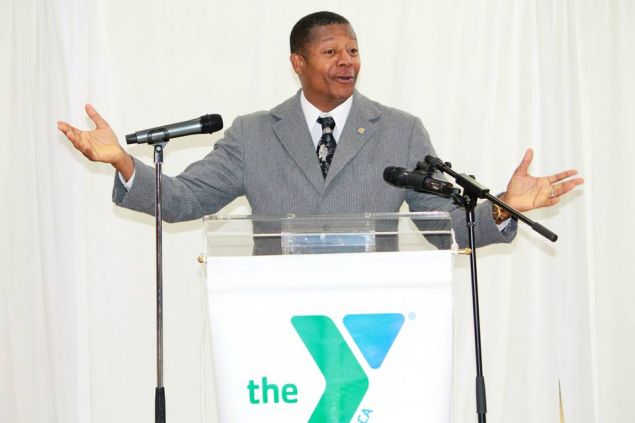 Queens State Senator James Sanders filed paperwork yesterday to take on Queens Congressman Gregory Meeks, the Observer has learned.
Federal Election Commission records show Mr. Sanders submitted paperwork to challenge Mr. Meeks, a fellow Democrat and 17-year incumbent. Both men represent large tracts of predominantly African-American southeastern Queens.
Mr. Sanders, a close ally of organized labor, has been an outspoken critic of Mr. Meeks' support for the Trans-Pacific Partnership—a proposed free trade agreement backed by the Obama administration and congressional Republicans, but opposed by unions and most Democrats.
"The beauty of American democracy is that anyone can run for office," Mr. Meeks said of the apparent challenge. "I wish him the best of luck."
Mr. Sanders did not respond to a request for comment. The principal campaign committee listed with his FEC filing was Sanders for Congress Inc.
Mr. Meeks has long been dogged by claims of corruption, in relation to receiving favorable loan rates, failing to make financial disclosures and for ties to nonprofits under federal investigation.
However, Mr. Meeks has never been accused of a crime and is well-entrenched in the district. He enjoys the support of his mentor and predecessor Floyd Flake, who is now a major faith leader and political power broker in the area.
Mr. Sanders previously served in the City Council. In 2012 he unseated former State Senator Shirley Huntley, who was later convicted of embezzling from a taxpayer-subsidized charity she oversaw. Ms. Huntley served a little under a year in prison.
Reports surfaced in 2013 that federal authorities were looking into Mr. Sanders' ties to a nonprofit, though he assured the Observer last year that his "house is in order, so people can look to their heart's content."
Should Mr. Sanders pursue a run, the primary would be in June of next year.
This story has been corrected to reflect that Mr. Sanders defeated Ms. Huntley in a 2012 primary.