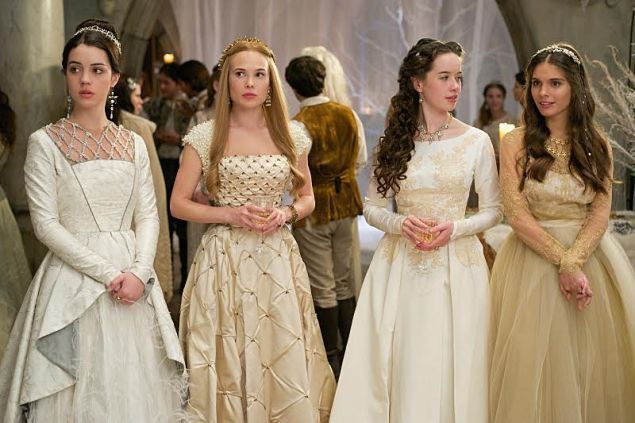 Now that holiday soirée season is upon us, everyone is searching for a gorgeous gown that no one else will have. After all, overlapping at galas is exactly like wearing the same dress to prom—and the "who wore it best" competition isn't worth it. If you're looking for unexpected inspiration, The CW has it. The network that's most famous for bringing teen angst to television with shows like One Tree Hill and Gilmore Girls currently airs the surprisingly chic show Reign, which is far more more Alexander Wang than Abercrombie.
Reign is the most fashionable show on TV, but unless you know a cool teen, you're probably not watching. Think Game of Thrones meets Gossip Girl, with characters in couture. It follows Mary, Queen of Scots and her ladies-in-waiting (in real life they were all named Mary, which would have made for modern-day Heathers hijinks). They experience all the usual CW suspects: sex, drugs (well, technically poison), and rock and roll (courtesy of indie bands like Twin Forks and The Lumineers, who wrote the theme song). It's a fashion girl's fantasy and a history nerd's nightmare.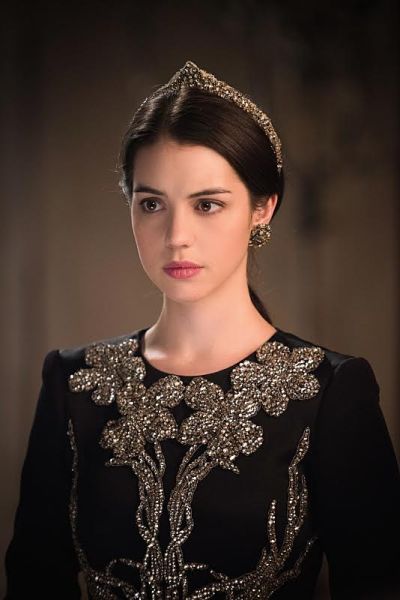 Reign's brightly colored brocades and vintage statement pieces make it the ultimate holiday party inspiration. Much of that is thanks to the supremely talented costume designer Meredith Markworth-Pollack. She began her career assisting costume designer Eric Daman on Gossip Girl, dressing Blair Waldorf, another major style muse for fashion obsessed teens. She then worked on the underrated Hart of Dixie, where Southern styles reigned supreme. The shows have brought her from New York, to Los Angeles, and now to Toronto, where she and the show are based.
For those who are skeptical about binge-watching a show geared towards teen girls, Ms. Markworth-Pollack understands. "You're playing with history and people don't always like that, but when you own it like the show does it all comes together and works."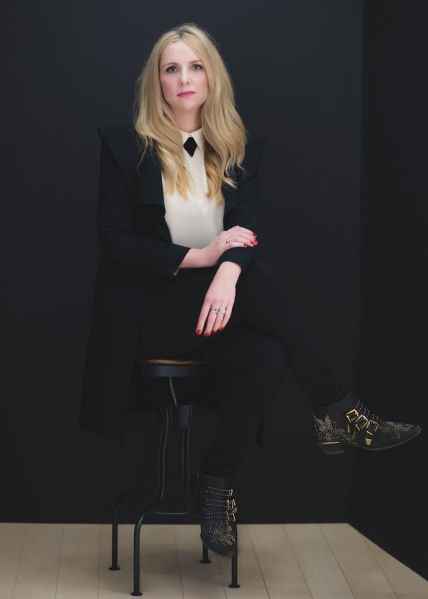 On the first call Ms. Markworth-Pollack had with execs at Reign, the creator, director and studio execs explained that they wanted to dress the characters in modern pieces while maintaining historical accuracy. They told her that they wanted a 16th century essence, integrated with contemporary pieces that young viewers would respond to. "In a way I think that combining these elements can be harder because the rules are out the door. It's almost like fantasy instead of historical because you're coming up with a whole new look and it needs to be believable and something different for the viewers," she noted. When building the dresses, Ms. Markworth-Pollack often uses a historical painting of Mary, Catherine or Elizabeth, and looks at the elements and fabrics to create the Reign version.
Some 16th century looks did not translate well to teen TV. "They didn't want the men in pumpkin shorts because it's not sexy, so we decided to give all of the men custom leather pants. We've made probably close to 1,000 pairs. For the women, it's finding that fine line of gown. I wanted gowns that kept some kind of Elizabethan element, whether it was a nipped waist and extreme silhouette, or if it had a bit of a medieval feel. A lot of it was about keeping the textures and the palettes. I found a lot of off-the-rack pieces that felt bohemian and relaxed or super structured."
Hip bumps were another vetoed trend, which confirm that women have been using strange style devices for centuries, you know, like the Kardashians and their famous waist trainers. "Women would put hip bumps or hip rolls over their petticoat and then put their skirt on and then their overskirt on to exaggerate the hips and make the waist look smaller." While it was on-trend back in the day, on screen it looked stiff. Instead, Ms. Markworth-Pollack used pleating at the waist to achieve the same result. It also turned out to be a savior, so actors engaging in sword fights and riding horses wouldn't be weighed down with pounds of costuming. 
In earlier seasons, the actresses in the show looked like Coachella-goers (especially thanks to their Anthropolgie-esque headbands), their style has matured over the last three seasons, which was a conscientious choice. "We wanted to keep it really young and playful and happy in the beginning, and then everything got really serious. Even though it's really only been two years, especially when you only live to be 40, two years has a lot of impact."
'I knew I wasn't going to have someone as iconic as Elizabeth I running around in a Free People dress.' — Meredith Markworth Pollack
It helps that now that the show is established their closet of costumes has tripled, which is a major difference from the first season. "When you start a show you're using rentals mostly. We were renting from Europe, from the studios in Los Angeles, using a ton of vintage and off-the-rack and really only building for our principal characters." Now Ms. Markworth-Pollack has fabric imported from all over the world, along with vintage dealers in Los Angeles, New York, Canada and Europe.
When Queen Elizabeth I was introduced this season, Ms. Markworth-Pollack knew she'd have to up her style game and build dresses for the character, sharing, "I knew I wasn't going to have someone as iconic as Elizabeth I running around in a Free People dress."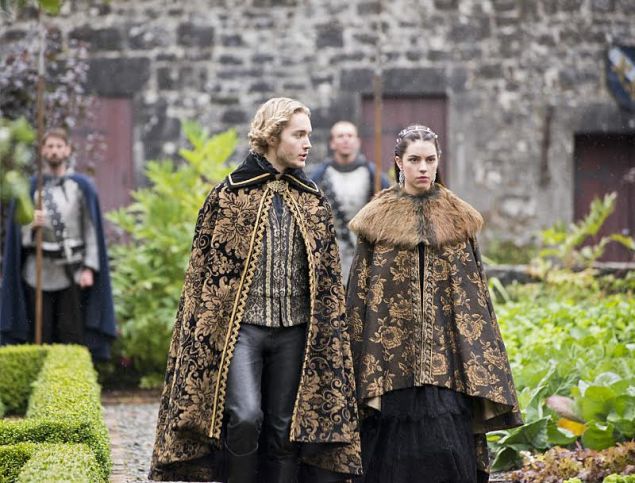 Free People is in fact a show staple, which Ms. Markworth-Pollack owes to their gauzy fabrics and lace. She also uses "quite a bit of designer" on Queen Mary, which reads like a red carpet: "Givenchy, Alexander McQueen, Temperley London, Marchesa, Oscar de la Renta, Isabel Marant." This season she loves Valentino and Alberta Ferretti, saying "their collections have been exactly what Reign is all about." Instead of focusing on specific designers, she looks for pieces can envision with a custom corset, because it's all about blending. 
Teens are so entranced by the couture clothing that they've dedicated Pinterest boards and Tumblr blogs to seeking out the style. Fahima Rakhmatova, the blogger who runs Fashion of Reign, is especially adept at identifying one-of-a-kind and vintage pieces, like this metallic trim used for embellishment. Ms. Rakhmatova says, "Reign's mix of contemporary and period pieces had me hooked in an instant. I binge watched the first three episodes and sat down to make the blog about its costumes the same day."
Ms. Markworth-Pollack appreciates the outpouring of adoration, especially when young fans send her their fashion school thesis or runway show based on Reign. She connects with fans on her incredibly popular Instagram page where she gives them a behind-the-scenes peek. She's blown away by Ms. Rakhmatova detailed Tumblr page: "Instead of going through all of our continuity I'll go to the Reign Tumblr. She knows more than I do sometimes!" 
When it comes to her own style, she loves mixing unexpected elements. "People have such an idea and connotation of vintage, that you have to wear head to toe vintage, and that's not true at all." With the holidays swiftly approaching, she advises utilizing the same ultra-elegant D.I.Y. aesthetic as the show.
"It's so nice to throw on a silk Armani vintage blouse and pair it with contemporary pieces that you may not think would ordinarily go with it. So many times I was buying vintage or off the rack pieces and I would take it and swap out the bodice and add a lace overlay and make it work." While you might not want to cut up your Valentino gown without help from a professional, her mix and match advice is sound, as evidenced by the current obsession with all things Reign.