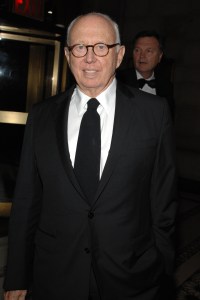 It's fitting that Ellsworth Kelly looks like a mathematician. Poised, appearing younger, easily, than his 87 years, dressed as sharply as the lines that cut his steel and aluminum sculptures, he has a kind of preppie geometry. The black-eyeglass-wearing acolytes who flanked him at his Matthew Marks Gallery opening did a little nerd dance at the edges of his entourage, approaching and scurrying away, scared to talk to him but eager to brag later they were there.
When the Museum of Modern Art reopened in 2004, it had only two artworks on the first floor, as if they were enough to tell the tale: an Auguste Rodin and a Kelly. The man has a cult.
"I've been around a long time," said the artist, with understatement. He's intermittently on oxygen these days; at first he can't decide if he wants that mentioned or not, but then bragged, "I feel more alive" than he has in years because of it.
Mr. Kelly has new works at two of the Marks galleries in Chelsea, and older drawings at a third Marks outpost. The art is elegant, precise, powerful. But the artist, given current art-world trends, is on the defensive.
"I am an abstractionist, and abstraction is not what people are doing today. Contemporary art has gone into performance, video, even photography. Figurative images, sometimes of celebrities, can be "75 percent of the painting," He groused: Those painters make it too easy on the viewer.
But "my content is color and form. I ask 'What do you feel about the color and the form?' I don't need that extra thing." As if it settled the matter, he added: "De Kooning's paintings are about painting, and they don't need that extra thing, either."
Mr. Kelly, a fierce name-dropper ("I knew Leger, Brancusi, Giacometti, and each one was a lesson somehow"), knows that for an artist, looking over your shoulder at the next generation is part of the gig.
"Miro was living in Majorca, and he came up to me and said, 'Come visit me.' And I got there, and he asked, 'What's going on in New York? Pollock, Rothko–people are forgetting about Miro!'" Shocked, Mr. Kelly said to him, "'You're Miro, the great master!' But he taught me something. As you get older, you watch the younger painters."
The art world has changed radically in the last half-century, but Mr. Kelly said the biggest change may have been that architects have come to understand, and design, for contemporary paintings and sculpture. It didn't start out that way: In 1950, Marcel Breuer, who was later to design the Whitney Museum of American Art, spurned Mr. Kelly's work in favor of Paul Klee's, he said. And "Le Corbusier said to me, 'The trouble is you young painters need new architecture, and the problem is there is no new architecture.' But architects–James Fried, I. M. Pei–have understood very well."
Mr. Kelly said "when Renzo Piano was designing the Art Institute of Chicago building, he said, 'Oh, you need more space.' So I made a piece 64 feet by 14 feet." That piece's younger sister, so to speak, a graceful, meditative curve of white aluminum, is the keynote work of the Marks exhibitions, greeting viewers at 522 West 22nd Street.
Next week, Mr. Kelly said, he begins a new series of work in his home in Spencertown, N.Y. "The color comes … I pull it out of the air. My eye tells me when something is right and something is not quite right."
He concluded, with some surprise: "So many people go to college now and want to be artists. Art has become such a popular thing. I guess we have to thank Warhol for that."
But don't we also have to thank Ellsworth Kelly?
"I hope so."