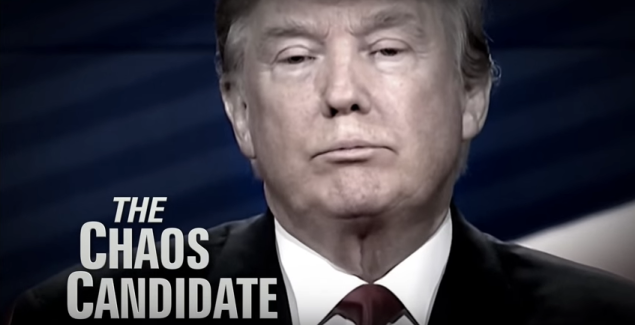 On a ho-hum holiday Sunday for the public affairs shows, two commercial messages cut through the chatter. On Fox News Sunday, it was a one-minute Jeb Bush ad from a super PAC called "Right to Rise." The ad never mentioned Mr. Bush's last name as it thumped Donald Trump.
"Donald, you're not going to be able to insult your way to the presidency," Mr. Bush says in one of several carefully chosen snippets from Republican debates and other TV appearances of the candidates. "That's not going to happen."
The commercial shows close-ups of Mr. Trump frowning, wincing and otherwise contorting his face while Mr. Bush preaches against him, teasing him for saying he gets his foreign policy from "the shows."
"Saturday or Sunday?" Mr. Bush asks, an apparent reference to Saturday cartoons.
While we see and hear news clips of Mr. Trump answering questions, we also hear the sound of hopeful, energetic strings melding into more of Mr. Bush's voice, talkin' tough, Texas tough, dadgummit. Almost as chesty as that other Bush boy who shall not be named.
"Jeb," the ad concludes, red letters on a black background. "Tough. Experienced. Tested."
On CNN, the pitch was softer. State of the Union and other shows carried a promotion for the New Year's Eve special featuring Anderson Cooper and Kathy Griffin in Times Square.
If you have never seen one of these shows, try tuning in. Their live schtick will help you forget the old wasteland of Guy Lombardo and Dick Clark. Those venerable cornballs would blush at what Ms. Griffin has gotten away with on camera for seven years. They make you feel as if you've shown up at the right party.
In the ad, she speaks of a reunion with Mr. Cooper.
"We're going to be in New York together," sighs Ms. Griffin, her long, red hair falling softly across her bosom. "Making out. Touching. Linking arms. A hug that goes too far…"
Here's the best of the rest:
TED CRUZ'S DAUGHTERS: Two Fox shows—Fox News Sunday and Media Buzz—made a big deal about how a Washington Post cartoonist drew Ted Cruz's daughters as trained monkeys. They showed Mr. Cruz, speaking with self-righteous indignation, telling journalists to stay away from his kids. The cartoon was posted online and quickly taken down by editors.
What neither show carried was the speaking roles Mr. Cruz's daughters played in an ad mocking the Democrats, especially leading candidate Hillary Clinton. This was the ad that prompted the cartoon. The ad shows Mr. Cruz's oldest daughter reading a Christmas book.
http://www.youtube.com/watch?v=95SHBzDMepw
"I know just what I'll do, she said with a snicker, I'll use my own server, and no one will be the wiser."
This referred to Ms. Clinton's use of a home internet server while Secretary of State. By eliminating these speaking parts from its coverage, Fox shaded both pieces as sympathetic toward Mr. Cruz, who is using this affront to his family to squeeze more money from his supporters.
SCHLONGED and WRONGED? Although Fox News Sunday beeped out the word, NBC's Meet the Press allowed the past-tense verb "schlonged" to be heard on video from Mr. Trump's lips. He used it recently to describe Ms. Clinton's loss to President Obama in the 2008 contest for the Democratic nomination.
It's a Yiddish word about the role of the penis in sexual intercourse. After playing it from Mr. Trump's speech, host Andrea Mitchell said the word aloud again herself. Why, shucks, it was enough to make Mike Huckabee blush.
One of Ms. Mitchell's guests, Debbie Wasserman Schultz—the national chair for the Democrats—assured Ms. Mitchell that neither her mother nor her grandmother would allow such vulgarity in their homes.
"He's been an equal-opportunity insulter," Ms. Wasserman Schultz said of Mr. Trump. "He has engaged in some of the most vulgar invective and rhetoric and really brought this presidential campaign… to the lowest depth I've ever seen."
She said her children see Mr. Trump on TV and ask her "Mom, why is he so rude?" (Perhaps she could arrange a play date with Mr. Cruz's children; they could clue them in).
Of course if you follow the logic of Mr. Trump's word, it seems as if his use of "schlonged" suggests sexual intercourse performed against a woman in a way she did not intend in a way that leaves her demeaned. Might there be another word for that?
SAY WHAT? It got a little testy on ABC's This Week when Bill Kristol and LZ Granderson disagreed on two topics.
KRISTOL: "I think the big story is how weak Hillary Clinton is and how pathetic it is the Democratic party could produce…"
GRANDERSON: "Time out. What do you mean 'How weak she is?'"
KRISTOL: "Hillary loses to (Marco) Rubio and ties Cruz… (Joe) Biden and Elizabeth Warren could have beat her."
Later, in a discussion of the movement "Black Lives Matter," Mr. Granderson said white people are paying more attention to the growing amount of videos showing white police killing young black men with gunshots.
"Black folks have not been making this stuff up," he said.
When Mr. Kristol steered the conversation to black-on-black crime—the way conservatives often do—Mr. Granderson called his bluff.
"No one in the black community is saying police are the sole problem," Mr. Granderson said. "What we're saying is it's part of the problem that's been ignored."
SHAMEFULLY SELF-SERVING—AND ENTERTAINING: On the CBS show Face the Nation, host John Dickerson presented a blatant promotion for another CBS show, Late Night with Steven Colbert. By interviewing his network stablemate Mr. Dickerson also entertained his audience.
Mr. Colbert—who used to pretend to be a right-wing TV host on Comedy Central—said of Mr. Trump: "He's my old character with $10 billion…  He's willing to drink his own Kool-Aid." He also used the word "Frankenstein."
As a pretend right-winger, Mr. Colbert said he used to live by the Joe Scarborough rule. "If someone on your show talks for more than seven seconds, you've lost control," Mr. Colbert said.
Now that interviews are a bigger part of his new gig, Mr. Dickerson wondered what Mr. Colbert would like to ask Pope Francis?
"I would ask how did he get into the shoes of the fisherman without becoming dogmatically so rigid that there is no joy left in his heart?" Mr. Colbert said.
He also remarked on the catharsis of humor in tense, fearful times.
"You can't laugh and be afraid at the same time," Mr. Colbert said.
Disclosure: Donald Trump is the father-in-law of Jared Kushner, the publisher of Observer Media.