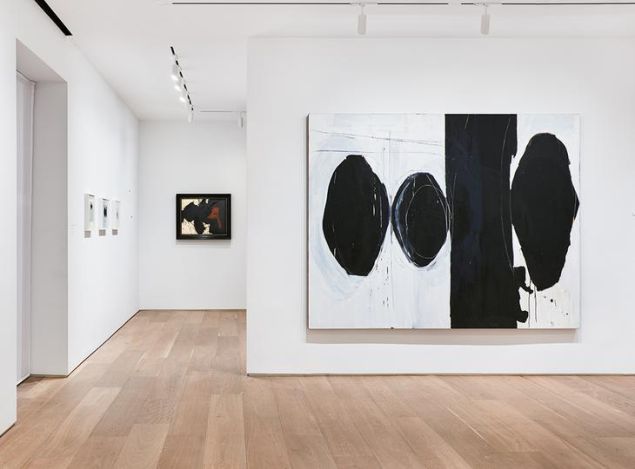 Robert Motherwell (1915-1991) was the baby of abstract expressionism. Youngest of his generation's greats, he was also the most literate, the most eloquent, and the most fully reflective of the movement's diverse roots in European modernism, including not only surrealism but also Matisse.
Motherwell's many paintings entitled "Elegy to the Spanish Republic" refer to the first great conflict between democracy and fascism that was to evolve into World War II. However— unlike that war itself—the Spanish Civil War between 1936 and 1939 led to a triumph for fascism, and the death in Spain for decades of the dream of liberty. The "Elegies" pay tribute to those who fell in defense of that dream.
For many years, Motherwell has been neglected, perhaps because he can't be pigeonholed as gestural (like Pollock & de Kooning) or color-field (like Rothko & Newman).
But recently he's been enjoying a renaissance, with three fine shows: early collages at the Guggenheim (2013), early paintings at the Guild Hall (2014), and his "Open" series from the '60s and '70s at Andrea Rosen (May 2015).
Now Dominique Lévy has taken on that most challenging, memorable and celebrated series. The show is "Robert Motherwell: Elegy to the Spanish Republic" (through January 9; but closed December 25 & 26, January 1 & 2).
Although the "Elegies" are classic, some people may still have trouble with their huge, aggressively beautiful but strangely wobbly shapes, especially as they are displayed in this show—not that this ambitious gallery can help it.
It has rounded up 18 examples of this image, dating from 1954 to 1989, from tiny sketches to enormous museum loans.
This is only a fraction of the total series, which was begun in 1948, continued until 1991 and in all totals more than 250 paintings and works on paper.
Nevertheless, the selection in this particular show does enable viewers to get a good idea of how many variations Motherwell was able to create on a single theme.
What a rich vein he chose to explore, even with — or perhaps because of — limited colors (mostly black & white) and limited forms (mostly ovals and vertical bars)!
At the same time, the display on the lower floor of the gallery is kind of overwhelming, with five huge versions – three from major museums – crowded into what is really not enough space.
Don't be fazed. Try to take it all in – even if you have to stand so far away from one wall that you're backed up against the opposite one.
Coming across as unexpectedly fresh is the Elegy loaned by the Philadelphia Museum of Art, done in 1958-1961 and shown in the installation view above.
Unlike most of the other versions, it has only one vertical bar, but even so you can see how Motherwell used black not as an absence of color, but as a particularly rich & powerful color itself—just like Matisse, and (even more appropriately) like those Spanish masters who came before him, Goya and Velázquez.