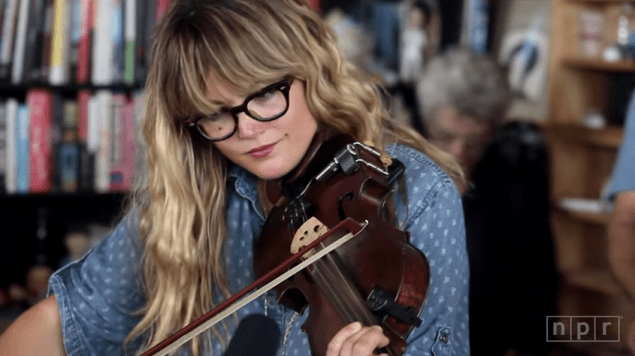 "If that's all there is.…"
It's such a simple song, but one I have been obsessed with ever since hearing it on my car radio a few weeks ago at the stroke of midnight on WUMB, a local college station here in Boston. I can't stop playing it. It brings me joy, so much so that I have started more than one day with it. But it makes me weepy as well. Male menopause must be real, people. This morning for instance, I played it after breakfast as I was on my way out of the house. With no one around, reflecting on a sweetly nostalgic week, I felt something well up inside and instead of holding it back, I let myself cry to this song—a 49-year-old man with his emotions close to the surface.
There is the tune itself, the vaguely celtic-tinged-country melody for certain, and its simple but plaintive lyric. But there is something about Sara Watkins' voice that just hits me on an emotionally deep level. She cuts right in there. And I know it's not just me.
I knew nothing about Watkins Family Hour or Sara Watkins, and had only heard about Nickel Creek, the band that launched Ms. Watkins and her brother, Sean, to fame. Turns out they started Watkins Family Hour as a sort of hootenanny with a revolving cast in that particularly vibrant scene that orbits around Largo in Los Angeles. And the core band on the record is an A-list of players such as keyboardist Benmont Tench of Tom Petty and the Heartbreakers, Don Heffington on drums, Sebastian Steinberg on bass, and Greg Leisz on dobro and steel guitar. Sean plays guitar and sings. The intense Fiona Apple is a frequent vocalist with the group as well.
The players make all the difference. They handle this cover tenderly, which is not to say preciously. They bump up the tempo and strip down the arrangement to something almost completely acoustic, but loose and Stonesy. Listening to the comparatively draggy original, a Lindsey Buckingham composition from the 2003 Fleetwood Mac comeback record, Say You Will, while perfectly fine, is a letdown. Pretty much any other version would be, as this is a vivid example of what a great cover version does for a song; it locates the heart and elevates the song to something else completely.
Sara Watkins attacks the song urgently, somewhat breathlessly, and soars, letting the long notes fly while phrasing the rest with a sweet tone delivered without almost any vibrato and just the right amount of husky edge. Her voice is appealingly girlish but not overly cutesy or coy. She bends the coda—coming back in after the instrumental solos—with just the right amount of blue notes for emphasis ("…down, down, down"). By the time she gets to the lines "So come on, let's go, let's run away/If that's all there is/Oh to steal your heart way," I do believe that's all there is—not just to steal my heart away, but Christ, maybe to life. A perfectly executed and emotionally driven performance like this sometimes makes you feel like that's all you need.
Sara Watkins performs at the Bowery Ballroom Thursday, December 10 and at the Music Hall of Williamsburg Friday, December 11.