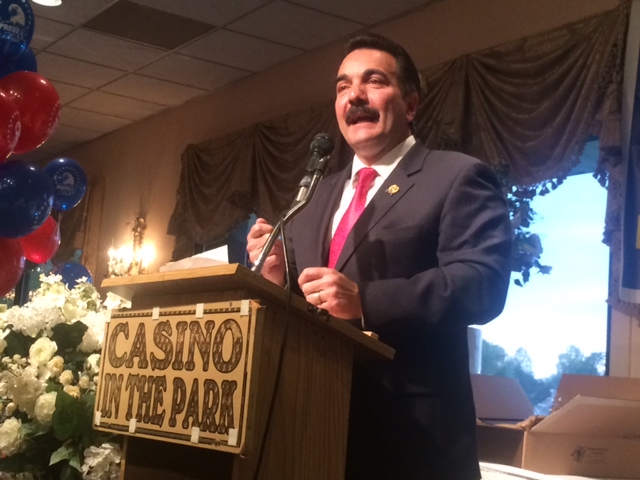 On Thursday, Assembly Speaker Vincent Prieto (D-32) failed to replicate a success his counterpart in the state Senate, Senate President Steve Sweeney (D-3), was able to pull off in October. He couldn't muster up enough votes to complete the veto override of a gun safety bill that would make it more difficult for those with records of mental illness to buy guns. That shortcoming—though Prieto said he will present the vote again and again until enough of his Republican colleagues agree—underscores the dichotomy and relationship between the two houses. It also brings forward the North Jersey/South Jersey dynamic looking to races in 2017.
"A lot of the legislative leadership is dependent on the negotiations between North and South Jersey political bosses," said Montclair University Political Scientist Brigid Harrison. "Over the past several years what has happened is that one house has been controlled by North Jersey and the other by South Jersey. I think that there is potential for fluidity in the leadership simply because we don't know what will happen in terms of Sweeney's bid for governor."
With the 2017 gubernatorial contest coming up, a North Jersey/South Jersey balance in the Senate and Assembly is expected. If Sweeney were to get the eventual nod for governor, his current position would likely be filled by a Northerner, making Prieto's position as Speaker an unbalanced completion to the legislative leadership. To appease legislatures and voters statewide, a Southerner would need to rise to fill the seat. That swap might have Prieto angling for the congressional seat currently held by Congressman Albio Sires, likely to retire after his next term.
Another possibility is that a Hudson County candidate like Jersey City Mayor Steve Fulop might need to look west to Bergen or Passaic County in order to fill the seat, avoiding a Hudson County-heavy legislature while keeping someone from South Jersey in the roll of Senate President.
Though Prieto currently seems secure in his position and Harrison said that yesterday's vote was "by no means a nail in the coffin" in terms of being reelected as Speaker, PolitickerNJ decided to look ahead to see who might take over his position, especially if he decides to move on to another role in government or if negotiations didn't go his way in 2017. Here is a list of potential Assembly Speakers, after Prieto:
Gary Schaer (D-36). The Passaic County-based assemblyman is close to New Jersey Democratic State Committee Chair John Currie. He is also close with Fulop. Those factors might put Schaer in position to snatch up the seat, particularly if Fulop were to become governor. His rise could fulfill Fulop's need for Bergen/Passaic support during his run.
Troy Singleton (D-7). Burlington County native Singleton could provide that North/South balance if Sweeney gets the nod. Singleton also worked for former speaker Joseph Roberts, putting him in a good position to move up.
Lou Greenwald (D-6). As another South Jersey guy, Greenwald is another candidate who could fill the quota of a North/South balance. He is also a long-time member of the Assembly (he has served since 1996) and the current Majority Leader so it seems possible that he might be looking for a promotion if the timing was right.
John Burzichelli (D-3). Hailing from Sweeney's District 3, he is another possibility to maintain the status quo and keep the statewide balance intact if Sweeney moves up. Also, as Deputy Speaker, he is already close to the position, making his transition a strong possibility.
John McKeon (D-27). LD27, which McKeon calls home, includes much of the deep blue Essex County. As one of the representatives of the powerful Democratic stronghold, McKeon's name could be potentially in the mix for Speaker.
Shavonda Sumter (D-35). As the goddaughter of Currie, Sumter has strong allies that might help her if she looks to the position of Speaker. If, for whatever reason, Schaer doesn't work out, Sumter could be the possible Northern pick for the spot. According to sources, however, she might be a pick for Lieutenant Governor.
Wayne DeAngelo (D-14). DeAngelo could be the likely labor pick for the spot. He is an officer for the Mercer County Central Labor Council and Assistant Business Manager of IBEW 269. Like Burzichelli and Schaer, he is Deputy Speaker and, therefore close to the spot.
According to Harrison however, no name is set in stone, because the choices for Speaker and Senate President are "negotiated on a broader level" and "this is something that is typically negotiated behind closed doors by a very powerful political machine." With former Ambassador Phil Murphy and State Sen. Ray Lesniak also angling for the governorship from the Democratic side, the possibilities of who to put forward also becomes more varied and harder to predict.