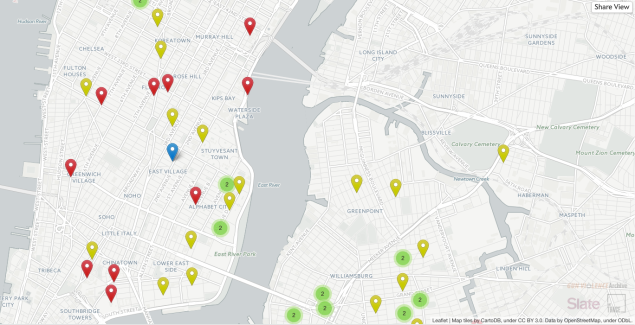 In the wake of recent mass shootings across the country, The Trace, a nonprofit media organization dedicated to expanding press coverage of guns, is tapping into the issue with a new interactive map that starkly displays the number of people shot near your home.
Using data collected by the Gun Violence Archive (GVA) and collaborating with Slate to create the map itself, The Trace has provided an easy way to track down gun violence in every American neighborhood. Since GVA is a fledgling non-profit organization, the data provided in the map only goes back to January 2014. However, in 365 days (December 5, 2014 to December 5, 2015), there have been 30,284 fatal and non-fatal shooting incidents in the United States. A 2012 Bloomberg article anticipated the increase in gun violence, with research estimating that 2015 could mark the first time gun-related deaths exceed traffic fatalities.
The map is user-friendly: Type in any address in the United States and you will see how many gun-related incidents occurred within a 1-mile radius of the location this past year. As of now, the specifics are limited to either "fatal" or "non-fatal" classifications. For instance, there have been a total of nine shootings near Times Square this past year (four fatal and five non-fatal); Morningside Heights had four fatal and 11 non-fatal shootings; and the East Village saw 16 shootings in a one-mile radius from Tompkins Square Park, with six fatal and 10 non-fatal incidents.
"Gun violence is pervasive," Miles Kohrman from the Trace told the Observer. "Most of the public interacts with gun violence, and we see that when we have these horrific events like we've had many times this year."
Mr. Kohrman says that the map is a work in progress. He hopes to refine the information by providing more specific details about each incident; however, the data set will not change.
"If there's enough of a demand, we may keep building upon it," said Mr. Kohrman , who assured that GVA is an accurate source, keeping up with national shooting incidents on a daily basis for the public to view. "They have 365 days worth of data everywhere and anywhere in the U.S. It makes this map as streamlined as possible."
However, with the help of Chris Kirk, Slate's interactive editor and the chief developer of the map, the Trace also hopes to evolve the detail of each incident. Mr. Kohrman would like to provide viewers with what kind of shooting each of these incidents were (homicide, suicide, assault, etc). The current goal for the Trace is to incorporate these features as well as update the data on a quarterly basis.
"We worked to refine the current data set; it's not final," Mr. Kohrman said. "It's a living and breathing project."