If you're about to become engaged, setting a date will be your first big decision. Why not kick convention to the curb and set your sights on a winter 2016 wedding? The romance factor is major—snow outside, warm and cozy inside, with a roaring fireplace reflected in a ballroom chandelier. The timing can be meaningful: uniting friends and family at a Christmas wedding; giving New Year's Eve a romantic spin; underscoring the spirit of Valentines Day. And your gown can be much more unique and glamorous than what you'd wear down the aisle in spring, summer or fall.
Think opulent formality like gold brocade, or show a little more skin with a sexy high slit. You can opt for ornate glamour with sparkle fringe and feathers or choose classic white—with a dramatic touch of black. Look for a gown that suits your setting, whether it's an ornate gilded ball room, a historic home, a mountaintop ski lodge, a chic urban boutique hotel, a clubby library or a modern gallery-style loft. And if your idea of a winter wedding involves inviting your guests to a tropical island, consider a formal affair at a beachside hotel—just keep the fabric airy and light and effortless.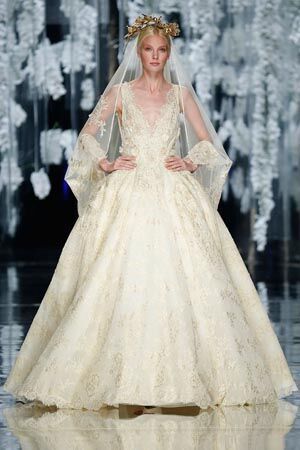 Be a princess in a gold brocade ball gown, starring a deep V neckline edged in floral lace from Yolan Cris. This would work in a gilded ball room for a Christmas theme, or evoke a feeling of a bygone era.
From Houghton: Glamorous, cool and on-trend with the season's fringe. The high, round neck gown with long sleeves features a cross-over silk fringe skirt, perfect for a very urban modern penthouse or a western chic mountaintop wedding.
A sexy plunging body suit with shimmer is paired with a diaphanous full skirt, slit high to show some skin from Rivini by Rita Vinieris. Airy and light, it would work for a boutique hotel or formal beach wedding.
A two-in-one look from Monique Lhuillier combines a rose gold long sleeve sheath gown with a detachable tulle overskirt. Just the right amount of sparkle for a candlelight ceremony in a historic home, woodsy lodge or clubby library.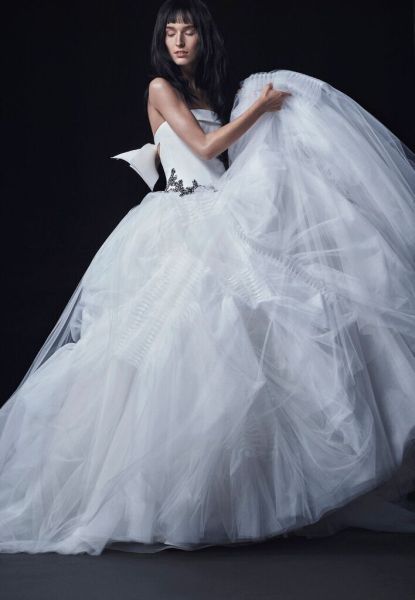 Vera Wang's soft white crepe strapless ballgown features a dramatic pleated tulle skirt with crystal accent at the waist and silk bow at the back. This works perfectly for a classic black and white winter theme or Valentines Day.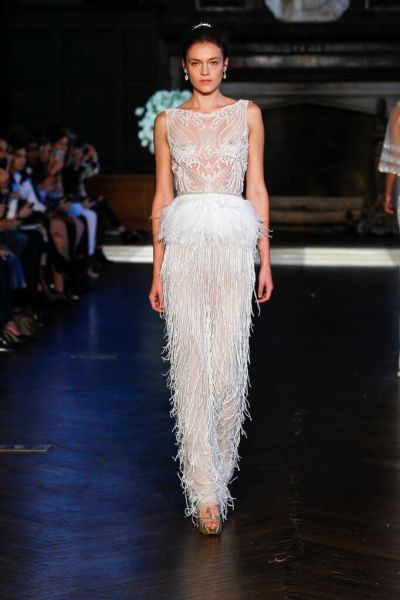 Celebrate a New Year's Eve wedding in this festive "I never want to stop dancing" dress from Alon Livné's White collection. Beaded illusion boat neck with a column of hand-beaded fringe tassels and ostrich feather belt.
Rachel Leonard was the Fashion Director of Brides Magazine for 18 years–the first employee at Condé Nast to make the jump from advertising to editorial. Rachel is currently the Editorial Director for The Bridal Council, and can be followed on Instagram @_rachelleonard