While shopping for a Commes des Garçons frock or Prada pump at Dover Street Market New York this weekend, keep your eyes peeled for a cluster of covetable new sculptures. Designed by Amoia Studios, these aren't just any average pieces of home décor. After all, they come encrusted with rocks and semiprecious stones sourced from Brazil.
The range, created by brothers Samuel and Dominic Amoia, is already beloved by Stella McCartney and Calvin Klein. Fusing furniture, interior and sculptural design, each item created by this duo has a texture that goes beyond the rough surface of the natural minerals. The cylindrical pieces in this installation–located on the third floor of Dover Street Market–are embedded with terrazzo and promises to have healing properties.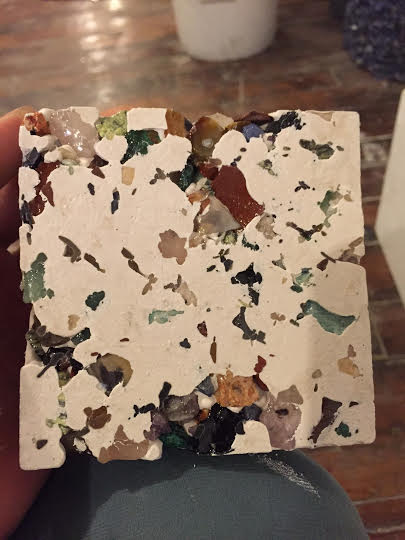 Other items from the brand include a petite side table whose legs are made from spiky shards of pyrite and a monochromatic black cement table with a gradated tourmaline surface that would definitely be adored by Rick Owens. While the Amoia Brothers do produce a range of their own designs, they're mostly whipping up custom orders for clientele, which are sometimes made by hand. And come Spring 2016, lighting and accessories will be added to the lineup.
Should the 10 Amoia Studio pieces from DSMNY be a bit too hefty to squeeze into your New York apartment, the Anndra Neen purses perched atop them should be a reasonable purchase instead.