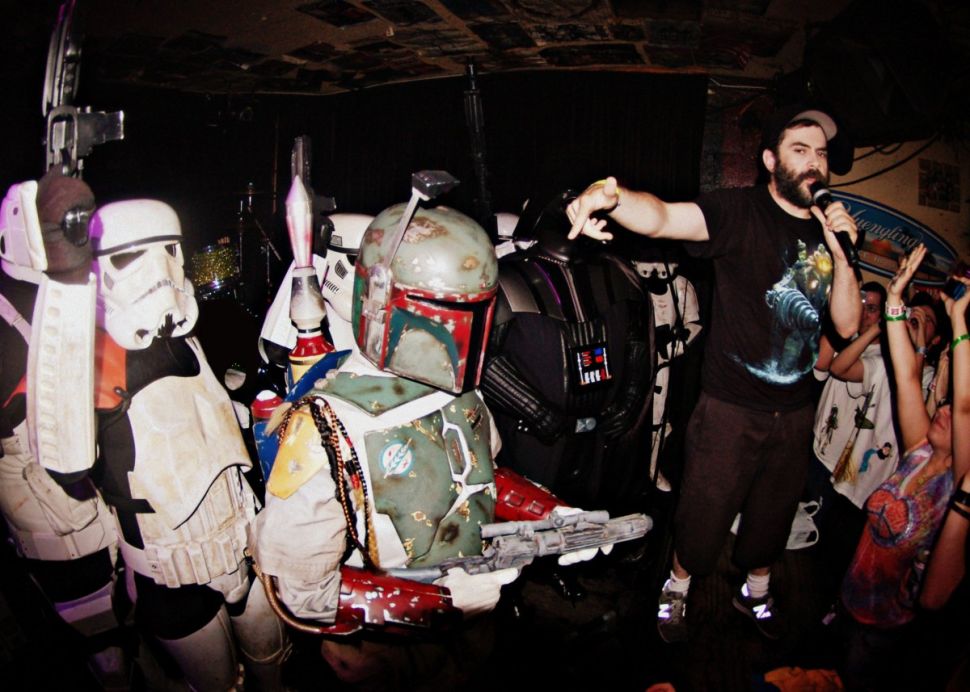 Some say he's the Beethoven of nerdcore rap probably.
Now, MC Chris has a new Star Wars track. 
MC Chris's first studio album came out in 2001, Life's a Bitch and I'm Her Pimp, with a DQ Blizzard track and his first Star Wars rhyme, about how Boba Fett has to chase Han Solo to keep up with payments on his sports car. Since then he's rhymed about food, weed, nerd girls and what it's like to be a wizard.
With multiple albums to his credit, MC Chris has made a name for himself making hip hop on nerd obsessions.
With the Star Wars franchise releasing the first of a new trilogy on December 18, MC Chris released a new song today about loving Star Wars, the Observer has learned. Check it out on Bandcamp.
[protected-iframe id="68cb66d41736baab4b801e4514c82cad-35584880-79214703″ info="https://bandcamp.com/EmbeddedPlayer/track=3448237076/size=large/bgcol=ffffff/linkcol=0687f5/tracklist=false/artwork=small/transparent=true/" ]
We spoke to the MC about the new song, the movies and how he approaches his music. This interview has been edited for clarity and length:
I noticed that since your hit "Fett's Vette," you've done a bunch of songs about relatively minor characters and their vehicles (such as "IG-88's Chevy" and "Dengar's Dump Truck"). Is the next song going to be about some other character's ride?
No, it's not. That happened because, we have skits on all my records. Sometimes we reference songs that don't exist and then several albums later, they will come up.
My manager in the skit is basically saying to me, "Since that was a big hit, let's replicate that over and over." He just rattles off a bunch of ideas. And because we just love taking the joke further than it should be, I had fun making all those songs.
I've done other songs that weren't about vehicles. We just did one about Dexter Jettster. He's from Attack of the Clones, the guy who runs the diner.
I've definitely become known as the guy who raps about Star Wars. No one else really does this, but it's kinda my little niche that I was smart enough to jump on in the late 90s. It's just kinda my thing.
How's the song going to work? Is it based on the trailers?
What I am doing is I am talking about the excitement you feel before the movie comes out. It starts off with me talking about being excited about Return of the Jedi as a child. When the third movie came out, that was the first one I saw in the theater. Before it came out, that was my friends and I running around the neighborhood looking for information anywhere we could because it was before the Internet.
Then in the second verse you see me and where I was at in my life when the Phantom Menace came out.
Verse three, is The Force Awakens.
It's really just talking about where I was in my life when I saw the trailers. It's about being a Star Wars fan and what that does in your life. It's about how we feel leading up to the moment we see it, when we don't know anything.
That time leading up to Phantom Menace was far more enjoyable than actually experiencing it.
For more on 'Star Wars: The Force Awakens' check out: Rare Vintage 'Star Wars' Posters Make the Perfect (Inexpensive) Holiday Gift
It seems like you like to take the thing in hip hop where rappers talk about their own legend and instead embody the legend of characters you dig in these films. Is that right?
I think of myself as a hip hop biographer. When I tell a character's story, whether it's Boba Fett or Dengar or Luigi, I really dig in and research everything I can find about them.
It's fun for me to put myself in their shoes and write from their perspective. It's something I really love to do. I understand their motivations better, but I can also tell something about my own life and my own character.
A lot of these songs are really telling about who I am, but I hide it under this Star Wars facade.
Does the choice of who you rap about reveal something? Do you pick the characters you identify with?
I could do this with anything. I could write about a historical character, an author. I really feel I can put myself in anyone's shoes.
I'm writing a song right now about the Riddler, the Batman villain. I'm doing research now but I'm really unenthusiastic about it until I feel like I know the guy and know how he thinks. Then when I do I get completely into it.
It's not so much that I'm choosing characters to help to tell my story. I just discover that I have something in common with them to help to write my song.
Have you checked out the theory that Jar Jar Binks in Phantom Menace was meant to be a Sith Lord?
I think that's people who can't deal with reality, so they have to change things to make it less of a bitter pill to swallow.
I think it's a very difficult things for Star Wars fans to deal with. Star Wars is this perfect thing. Then there's something that's part of the story and it's canon and it's imperfect.
The Jar Jar thing is just awkward. It's not funny, and it's trying to be funny. I think people want to do something with that bad feeling.
Honestly, looking back on those movies. I love the emperor's stories in the prequel. I love his plan. Like when I first watched The Dark Knight, at first I didn't understand the Joker's plan and I didn't enjoy it as much, but then once I understood it I enjoyed it a lot more.
Eventually, I totally understood that the prequels were about the Emperor and his attempt to take over the whole galaxy.
You know, I ended up becoming a huge Jar Jar fan. I lived in Jersey City and there were all these Jar Jar lunch boxes in the window of this little store for like a dollar, and I bought all of them. Then fans started giving me every Jar Jar thing possible. I have a great collection, but I think I'm going to sell it all to benefit cystic fibrosis. I have a kid now, and I need room.
Are you feeling good about the film?
One-hundred percent. You can't think about the fact that a movie was made or directed. You really just have to get into the emotions of the story. You have to lull yourself into thinking 'This is real, This is hapenning.' So you can get excited. You can get scared. You can feel the things the director wants you to feel.
I think most people are saying it can't be worse than the prequels. And I think that's a good place to come at it from. J.J. Abrams is someone who inspires confidence. But still I think a lot of people are looking at is as their expectations are low.
I love Start Wars because it is top notch science fiction. Aliens. Awesome space ships taking off. That's enough for me. With a Star Wars film I just need to see a light saber being ignited.
I can't wait to see this movie. I'm excited. There's nothing cynical I feel about that.
As these stories expand, sometimes in good ways, sometimes not (and I'm not just talking about Star Wars here), a big part of the conversation we hear as sequels get made or stories get rebooted is this whole "they're ruining my childhood" thing. What's your take?
I think what people are really sad about is they've grown up, and they can't feel what a kid feels.
There's a new Ghostbusters coming out and some people are really mad about it, but Ghostbusters is such a great perfect thing that it can't be touched.
It doesn't have to be that way. That's your bag if something new bothers you. There's nothing that can affect your childhood, unless you want to ruin it yourself by tainting it with your adult cynicism.