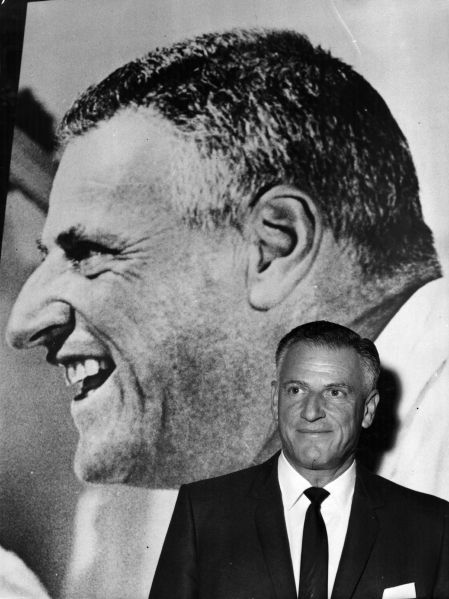 Two summers ago an old friend from my high school days came to Washington with his ex-wife and teenage daughter and looked me up for a little reunion dinner.
As we sat in the restaurant and began to catch up about what we had been doing in recent decades, I mentioned that for a good part of the 1990s my most interesting client was Frank Sinatra. My friend's daughter began snapping her fingers and tapping her feet and singing "New York, New York" and "Fly Me to the Moon."
I was surprised to learn—though I should not have been—the younger generation, like those who came before, enjoys the art of Frank Sinatra that will live forever.
As the worlds of entertainment and culture join together to wish Mr. Sinatra a happy 100th birthday this December, lets take a moment to thank all of the artists whose timeless talent and passionate spirit lifted our lives and our world in so many ways.
For reasons of space I will only highlight a few who have had special meaning for me, and no doubt you have your own lists of favorites.
My list includes Mr. Sinatra, whose politics of civil rights and cool from his Rat Pack days with JFK, to his songs of love that have warmed many nights alongside women I have loved, has a special place. And Bob Dylan, whose songs of protest and life gave him a title he has long eschewed but profoundly deserved: the voice of a generation. And Ernest Hemingway, whose prodigious literary talents bring alive forever stories of love and war and history and life. And Stanley Kramer, the producer-director whose timeless contributions to motion pictures both chronicled and shaped the culture and history of the times he lived in.
Stanley Kramer inspired great emotion and taught great truths about nuclear war, civil rights and the ultimate crimes of the Nazis.
Kevin Spacey once ignited a Golden Globe Awards ceremony when his speech accepting the award for best actor included a stirring tribute to the late and legendary Mr. Kramer, whose legacy is proudly carried today by his wife Karen Sharpe Kramer and his daughter Kat Kramer who throughout her own career in stage, screen and song has carried the torch for movies that matter and art that can change the world.
One of my greatest honors and joys in 2015 was to make the acquaintance and begin a new friendship with Karen Kramer, a treasure trove of the lore and spirit of Hollywood whose brilliant daughter Kat Kramer was named after her Godmother Katherine Hepburn.
Mr. Kramer was one of the finest producers, directors and champions of movies that matter. Steven Spielberg has called him ones of the great voices of film to lift the conscience of the world. It was a magical moment when he was honored as Mr. Spacey accepted the Golden Globe for his wonderful performances in House of Cards on Netflix, a leading company in a new wave vanguard that is transforming the industries of motion pictures and television.
Mr. Spacey's moving tribute to Mr. Kramer dramatized the ultimate union of art, vision, technology and history.
As Mr. Sinatra integrated joints by refusing to perform unless they invited in his friend Sammy Davis Jr., and Mr. Hemingway championed the cause of Spanish Republicans against fascism in the 1930s, and Mr. Dylan wrote and sang his songs of protest that so powerfully shaped the generation his art helped to define, Mr. Kramer produced and directed timeless films that inspired great emotion and taught great truths about subjects including nuclear war, civil rights and the ultimate crimes of the Nazis.
In Mr. Kramer's film On The Beach Gregory Peck, Ava Gardner and Fred Astaire were in Australia as the rest of the world was destroyed by nuclear weapons in World War III and deadly clouds of radiation relentlessly advanced to kill the last people alive on earth. His film shocked and shaped the world and gave new impetus to the cause of nuclear arms control.
In his films Home of the Brave, The Man Who Came to Dinner and The Defiant Ones Mr. Kramer entertained audiences while developing themes of tolerance versus racism that sadly remain the forefront of American and global politics today.
In Judgement at Nuremberg Mr. Kramer explored the ultimate evils of Nazism and the Holocaust and the response of the civilized world after the Nuremberg trials. In Inherit the Wind, about the Scopes Monkey Trial which involved the teaching of creationism and evolution, Mr. Kramer entertained audiences while inspiring them to consider what he called the right to think and the right to teach.
In The Men, Mr. Kramer introduced the indescribably brilliant actor Marlon Brando to motion picture audiences and raised timeless and still-relevant issues of paraplegic veterans to center stage through the big screen.
In High Noon, Mr. Kramer dramatized the power of integrity and courage by one man played by the legendary Gary Cooper who was surrounded by cowardice and fear but stood up courageously against the dark side of human nature.
To fully understand the courage shown by Mr. Kramer when he hired blacklisted artists during the McCarthy era that was a dark moment in the history of politics and cinema, watch the important film Good Night and Good Luck by George Clooney about the epic battle against Joe McCarthy by Edward R. Murrow, one of the greatest journalists who ever graced the profession.
What is impressive, powerful and lasting about the legacy of Mr. Kramer is his astounding body of work that spans decades and includes so many films of historic import that shaped his times and remain compelling today.
This theme of art enriching life and artists who change the world resonates from generation to generation.
Mr. Sinatra was advancing the presidential candidacy of John F. Kennedy and performing benefits for Martin Luther King while lovers wrapped their arms around each other to the timeless tunes created by the greatest composers performed by the greatest voice in the history of music.
Mr. Hemingway was telling the stories of the war through novels that were true must-reads in their times and will forever lift generations of readers and writers to reach for the stars in their own work.
Mr. Dylan was indeed the voice of the generation that changed the world in the 1960s, and as his career evolved, and he invented and performed songs that chronicled the evolution of his own interests and phases in his life, he sang for the voiceless and enriched the lives of all who cherished his art.
This spirit is as old as the first time a genius of talent brought his or her gifts to a larger audience, as new as artistic triumphs we can read about on the pages of newspapers today, and as timeless as the work of Messrs. Sinatra, Hemingway, Kramer and Dylan and so many others whose names we know and whose art we love.
A very short list of artists who continue this spirit today would include George Clooney, Matt Damon, Brad Pitt, Ellen DeGeneres, Steven Spielberg, Angelina Jolie, Susan Sarandon, Kevin Spacey, Tom Hanks and so many others that you or I might include.
Somewhere in America and around the world today there are young women and men who are thrilled and inspired by the indescribable talents of those who came before them and are working their hearts out to develop their talent, perfect their art, fine tune their work and plan their careers to make their dreams come true.
When Ernest Hemingway was awarded the Nobel Prize for literature in 1954 this was said of him by H.S. Nyberg, a member of the Swedish Academy:
"We wish to express our admiration for the eagle eye with which he has observed, and for the accuracy with which he has interpreted the human existence of our turbulent times; also for the admirable restraint with which he has described their naked struggle. The human problems which he has treated are relevant to all of us, living as we do in the confused conditions of modern life; and few authors have exercised such a wide influence on contemporary literature in all countries."
Words such as these can be said of all artists who give the world music that moves, movies that matter, literature that lives forever and art that can change the world.
While we raises our glasses to say Happy Birthday, Frank, lets tip our hat and thank them all.