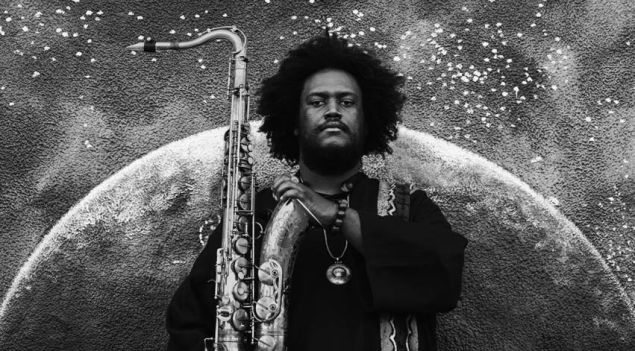 Jazz was supposed to be dying, wasn't it?
That's at least been the vibe in the press the last few years. Nielsen denounced jazz as the least-popular music genre in America in its 2014 year-end report; it tied with classical for a 1.4 percent share of the total consumption of music on a national level. That's just wrong. But oh what a difference a year can make.
Just as it did in the early '90s when the likes of Pete Rock and Large Professor began to discover killer breakbeats on old Blue Note records and A Tribe Called Quest invited Ron Carter to play the bass on The Low End Theory, hip-hop has once again given jazz the shot in the arm it needed to thrive in 2015. Only this time those sparks are coming from California, where Kendrick Lamar recorded the year's most important and acclaimed hip-hop album To Pimp a Butterfly with the help of some of the hottest jazz musicians in the game right now, including Robert Glasper, Ambrose Akinmusire, Thundercat and the other fella making tsunami-sized waves of excitement for the genre: South Central sax great Kamasi Washington.
This forward momentum produced countless wonderful new releases, most of which were certainly buoyed by the Kendrick/Kamasi Effect, be it in terms of sales or spins on-air. Here are 10 that stood out among the pack in a truly banner 12-month span for this great national music. Jazz is alive and well; just try to challenge that after listening to these records.
10) Pat Metheny, Jan Garbarek, Gary Burton, Scott Coley, Danny Gottlieb, Paul McCandless and the SWR Big Band, Hommage à Eberhard Weber (ECM)
[youtube https://www.youtube.com/watch?v=9sEcdK72nZ0&w=560&h=315]
2015 saw guitarist Pat Metheny returning home to the label where he got his auspicious start for the first time since the release of his 1984 LP Full Circle to celebrate the 75th anniversary of his former bassist Eberhard Weber. This mind-blowing live album draws from the two-night-long Great Jubilee Concert in Weber's hometown of Stuttgart, Germany, this past January celebrating the life and career of a true architect of the ECM sound.
Read This: The Best Jazz Albums of 2016 (So Far)
In addition to Metheny, who commissioned the 32-minute title track culled from tapes of the bassist's solos, such beloved associates as saxophonist Jan Gabarek and vibe great Gary Burton also join the legendary Südwestdeutschen Rundfunks Big Band in these most unique arrangements of their friend's renowned oeuvre. Weber's ability to play his custom electro-acoustic bass might have been sidelined in 2007 following a massive stroke, but thanks to the wonders of technology and the knowhow of such innovative pals like Metheny and flugelhornist Ack van Rooyen—who plays on this year's other Weber LP, Encore—his artistry has been rendered immortal.
9) World's Fair, Julian Lage (Modern Lore)
[youtube https://www.youtube.com/watch?v=c_sKqUysqt4?list=PL-JEV4IIffCU0smWtWMcyD9TK7RtMyZyt&w=560&h=315]
One of the best jazz stories of the last 20 years involves guitarist Julian Lage, who has been in the public eye since the acclaimed 1997 documentary about his days as a child prodigy, Jules at Eight. Now, at 28, he is one of the leading voices in modern jazz guitar. But World's Fair, his proper solo debut, is his most definitive statement as a recording artist yet. Recorded entirely on acoustic guitar, Lage's playing on these dozen instrumentals almost transcend jazz entirely; his phrasing is more in line with John Fahey than Pat Metheny, while managing to construct a perfect conduit between the two. This is calm, healing music that could only be made by the hands of someone who's already amassed a lifetime of experience before his 30th birthday.
8) Space Time Continuum, Aaron Diehl (Mack Avenue)
[youtube https://www.youtube.com/watch?v=_myjxm_dnik?list=PLPtysUSalP2VoFKzUC2-o2kUaMGKq-0K9&w=560&h=315]
At only 29, pianist Aaron Diehl already exhibits a wisdom and mastery of the piano some cats don't achieve until they are well into middle age. On Space Time Continuum, he sidesteps any kind of psychedelic or electric clichés associated with the relationship between jazz music and outer space by delivering this beguiling set of good old-fashioned post-bop with the help of his invincible rhythm section of bassist David Wong and drummer Quincy Davis and such famous pals as saxophonist Benny Golson and baritone sax icon Joe Temperley. Jazz this connected to the stars never sounded so earthbound.
7) The Meridian Suite/Three Times Three, Antonio Sanchez (Cam Jazz)
[youtube https://www.youtube.com/watch?v=QKyA7lTm7x4&w=560&h=315]
As if the mid-teens of the new century couldn't get any better for Antonio Sanchez. The current Pat Metheny Group drummer celebrated the accolades he received from his game changing score to the Academy Award-nominated 2014 film Birdman with not one but two albums in 2015.
The Meridian Suite features Sanchez's innovative new group, Migration, featuring the talented tenor saxophonist Seamus Blake, who offer an insightful exercise in the interpolation of harmony, melody and groove to construct a fluid singularity falling somewhere between Brainfeeder and Bearsville Records. Three Times Three, meanwhile, pairs Sanchez up with a trio of trios featuring such prolific pals as bassists Matt Brewer, Christian McBride and John Pattituci, guitarist John Scofield, saxophonist Joe Lovano, and pianist Brad Mehldau for a double-disc of elegant, exciting and intoxicating conversation. It would be great to see his next film score be more in the vein of either of these LPs, or perhaps even a combination of the two. Nowhere to go but up from here, Birdman.
6) Astronautilus, Get The Blessing (Naim Jazz)
[youtube https://www.youtube.com/watch?v=eay5CxNoPmA?list=PLlA_SQFoBdc1mHqM0DAfVx96ZIdFaXoCa&w=560&h=315]
For a certain population of Portishead fans, the most fun we've gotten from seeing our heroes from Bristol branch off into their own adventures in sound is the directions bassist Jim Barr and drummer Clive Deamer have taken in the wake of the group's extended hiatus. Astronautilus is the fifth and finest LP from the rhythm section's Get The Blessing, taking the group's fusion of Soft Machine prog, Aphex Twin pulse and Ronnie Scott cool to heights of innovative interplay reached by very few in the English jazz world. Now if they could only get Beth to sing on a couple of tracks next time out…
5) In The Moment, Makaya McCraven (International Anthem)
[youtube https://www.youtube.com/watch?v=qSbtp8zIRws?list=PLiDR8B-0Fe5HV93lENnwIH7XTZQJcsBdG&w=560&h=315]
The amazing thing about Madlib's Yesterday's New Quintet project is observing how one man can multiply himself into an entire jazz ensemble from the comfort of his own studio. What producer Makaya McCraven does on his amazing In The Moment is reverse the formula of Otis Jackson, Jr., recording 48 hours of live improvised jazz featuring such skilled and stellar musicians as Marquis Hill on trumpet, bassist Matt Ulery and Tortoise guitarist Jeff Parker to name a select few and then editing it all down into a 19-track organic beat tape. This is the next level of the fusion of hip-hop and jazz right here.
4) The Silver Lining: The Songs of Jerome Kern, Tony Bennett and Bill Charlap (Columbia)
[youtube https://www.youtube.com/watch?v=O5wHph-bIzA&w=560&h=315]
How wonderful it was to see this charming surprise of a collaboration between Astoria's favorite son and Montclair, NJ's resident piano jazz maestro on store shelves over the fall. Following his whirlwind year at the side of Lady Gaga on their acclaimed 2014 showstopper Cheek to Cheek, this quiet, contemplative rendering of the Jerome Kern songbook feels like the quintessential palate cleanser for Bennett, who has always sounded best when backed by a small jazz band such as the one Charlap has put together here with bassist Peter Washington, Kenny Washington on drums, and special guest, pianist Renee Rosnes on four two-piano tracks. If Bill Evans had gotten Eddie Gomez and Philly Joe Jones to play on his 1975 and 1977 sessions with Mr. Bennett, it would have sounded like The Silver Lining.
3) Supreme Sonacy Vol. 1, Various Artists
[youtube https://www.youtube.com/watch?v=Shja0SpGAJ8?list=PLUSRfoOcUe4azAH4HbCQnTZdSUyT-wuB9&w=560&h=315]
Throughout the entirety of its 76-year existence, Blue Note Records has kept its finger steady on the pulse of what was next in the world of jazz. And just as it was under the auspices of such esteemed past label presidents as Alfred Lion and Bruce Lundvall, the Don Was administration is proving to be just as adventurous and exciting for the imprint. And perhaps no other release to emerge from the label in 2015 made that statement better than Supreme Sonacy, Vol. 1—the first artist compilation from one of the more exciting new labels to emerge from modern jazz in quite some time.
These 15 tracks contain a generous helping of the kind of talent to expect from this promising joint venture featuring such white-hot names in the game as Marc Cary, Marcus Strickland, Casey Benjamin of The Robert Glasper Experiment and Jaleel Shaw, expertly compiled by Revive founder Meghan Stabile, a groundbreaking force for the female role in the business of jazz music in her own right. If you like the direction Blue Note has been going under Was, Revive Music takes it to the next level. As Ali Shaheed Muhammad of A Tribe Called Quest says, "Supreme Sonacy feels like the newer side of jazz, not explorative but more like the DNA made up of several genres." Couldn't have said it better…
2) This is Not a Miracle, Food
[youtube https://www.youtube.com/watch?v=CgXXOrJH6DQ&w=560&h=315]
Since 1969, the famed German label ECM Records has been at the absolute vanguard of creativity within the construct of modal jazz—especially so in terms of integrating electronics into the music in an organic and seamless way. The albums that European power trio Food, comprised of British saxophonist Iain Ballamy, Norwegian drummer/programmer Thomas Strønen and Austrian avant-guitar hero Christian Fennesz, have been making for ECM seem like the fruition of all those years of innovative woodshedding. And none is more exemplary than This Is Not A Miracle, which shows these guys not only have an advanced creative aptitude in the slipstream between laptop technology and acoustic instrumentation, but an uncanny sense of groove to boot.
1) The Epic, Kamasi Washington
[youtube https://www.youtube.com/watch?v=NtQRBzSN9Vw?list=PLeb_AzFfAcEAUIL8HewdWa_GMBZeBhCR9&w=560&h=315]
Only a couple of years ago, Kamasi Washington was a hungry up-and-coming sideman working with a wide variety of hip-hop, R&B and jazz greats ranging from Nas to Snoop Dogg to Lauryn Hill to Stanley Clarke. That is, however, until his impressive triple-disc studio debut The Epic was released in May on Brainfeeder, the label run by another one of the West Coast's future jazz power players, Flying Lotus, the grandnephew of John and Alice Coltrane. Lotus was largely hands off in the creation of The Epic. But the influence of his family is indeed strong in Washington and his vision of jazz music as a leader.
Across this creative journey of 17 compositions, he and his group of lifelong friends and band mates play the art like a balloon as they traverse across an astral plane of moods, tones and shades that go from these spiritual Alice-esque orchestrations to Kirk Whalum-style smooth tenor jazz to next-level hard bop in the vein of Ornette, Archie and Pharoah within the span of its 171-minute oeuvre
The album's appeal is universal, its brilliance palpable.
The album's appeal is universal, its brilliance palpable: The Epic was the very first jazz album in the 20-year existence of Pitchfork to receive a Best New Music rating—just the tip of an avalanche of critical accolades that helped the album peak at No. 2 on the Billboard Jazz chart, No. 6 on the Heatseekers chart, and No. 18 on the Independent Music chart, and saw lines up the length of West 3rd Street to get into New York City jazz club The Blue Note during his two-night stand there in August.
The Observer briefly spoke with Kamasi Washington about this great year in jazz and his place in its ascension into the national vocabulary once again.
In the wake of the box office success of Straight Outta Compton, it's amazing how different South Central Los Angeles is perceived in 2015 as opposed to those days when N.W.A was taking off. Compton feels like an artist community now, right?
Kamasi Washington: In the media it was just known for drugs and violence and gangs. Growing up in South Central, to be a person growing up in that area, it projected a negative self-image. But then when I got into music, I realized from being raised in there how it really is one of the great artistic centers of the Los Angeles area, particularly Leimert Park, which is right there in the middle of the hood on Crenshaw and Vermont. You had guys like Branford Marsalis, Pharoah Sanders, Kenny Kirkland, the Watts Prophets, Gerald Wilson, they all right there. It does definitely have that sense of being a cultural hub where the arts have thrived in L.A.
'Here's the thing—it's like the jazz musicians who have influenced the hip-hop musicians are influencing the jazz musicians (laughs). But to me, the music literally has a connection.'
It's been such a big year for the genre. Its nice to see jazz back in vogue.
Yeah, its music gets kind of stuck in limbo, because its origin is in the hands of common people, but it gets pushed up to this place of high art. Which it is. But then it gets caught in the middle, like what is it: high art or an organic product of the people? I find that's what's happening now is that the lane it needs to be in is high art, and in that context the artistic content of something might be too lush in where the general population couldn't really appreciate it. That's not true, and it's never been true. It's just now that idea is fading away, and people are giving themselves the opportunity to open themselves to even try and listen to it. They're giving jazz a chance, and that's opening doors.
Bass saxophonist Ralph Carney once called jazz "neighborhood music," which is a really cool way of seeing it.
When you think of it, it's all neighborhood music. Even the biggest symphonies, especially when you think of someone like Bach, who started out as a church musician in a little town.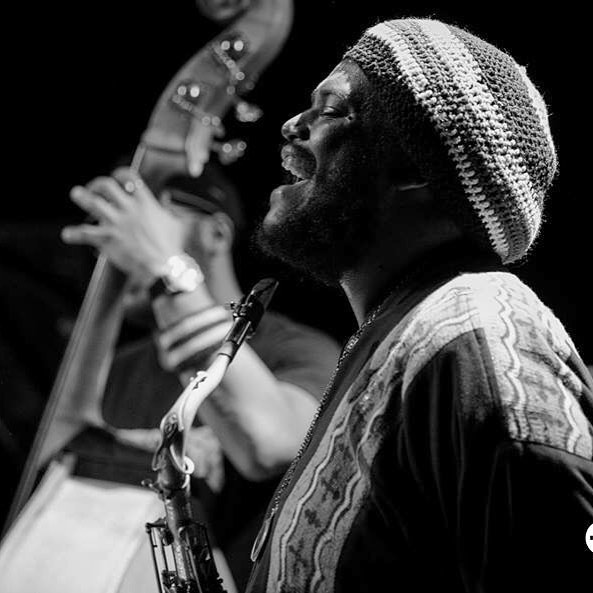 And once again, it looks like hip-hop has come to jazz's rescue as it did in the early '90s. Only these days, the interpolation between the two forms has become so entwined creatively with the influence of J. Dilla, and Madlib is as omnipresent as Monk or Bird.
Here's the thing—it's like the jazz musicians who have influenced the hip-hop musicians are influencing the jazz musicians (laughs). But to me, the music literally has a connection, like Madlib, Dilla, A Tribe Called Quest, and even the whole G-Funk thing. You can put another name on what James Brown did, but it would still be jazz. It has all the elements of it. And then you look at the nature of both forms of music in the way that hip-hop has repurposed music via samples, while jazz repurposed music via standards—like taking a Broadway show tune and turning it into this bebop song or "Cherokee" on The Epic. That's why I did it.
The Ray Noble original goes one way and we flipped it into something else, and that's what hip-hop is all about. Musically, at least. It's all connected when you think about it. Jazz, hip-hop, R&B, funk, rock 'n roll. They're all just branches from the same tree. When you look at it, Joni Mitchell's band was full of jazz musicians, and you look at James Brown's, his whole band considered themselves to be jazz musicians (laughs). These names we put on music, they just words. If we had no words associated with these forms of music, it would be a whole different story.
It's been said you are a great math student, which surely must have helped you in music…
Yea, it definitely helps in terms of transpositions and organization of notes. It really comes into play there; especially when I was in college, where I was a composition and musicology major. I was also taking really high-level math and science courses along with my music classes. It's funny, because I always felt that math was just another language. It's like a second vocabulary, even when you get deeper and deeper into it. And it expands upon your own vocabulary, just like English, Spanish or French. They really are related in a way that people don't realize.