"I'm so delighted to welcome visitors young and…extra young!" enthused Frances Rosenfeld, the curator of public programs at the Museum of the City of New York, to a crowd last Sunday that did indeed skew quite young. The occasion was a show put on by The American Magic-Lantern Theater, which the Observer was not entirely surprised to learn is the only traveling theater company of its kind in the United States.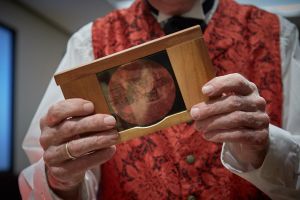 Similar to a slide projector, but with more alluring subject matter than mitosis and meiosis, magic lanterns were the 19th-century entertainment. Colored glass slides were inserted into a wooden projector with two lanterns inside for special effects, and were accompanied by storytelling, singing, joking and lectures.
After a primer on the sound effects the audience was expected to provide—clapping, even louder clapping and rhythmic clapping—the lights went down and we, along with some 50 children, shifted anxiously in our seats.
"I hate to have to tell you this with children in the audience," the show's narrator/writer/producer Terry Borton faux-lamented, putting up a slide of a portly fellow holding a jug to his lips during a mini-lecture on early Christmas rites. "But people drank, and drank and drank," the top-hat-and-red-vest-clad Mr. Borton intoned as the fellow in question grew portlier and portlier and portlier to loud laughter. The slide, we later learned, dated to the 1850s (most slides in the show were from the 1890s, along with the mahogany and brass projector itself). Considering our boozy week ahead, we reflected that not much has changed in that regard.
Nor, apparently, has children's senses of humor. The iPad generation was surprisingly taken with the old-timey performance, which included musical accompaniment by Nancy Stewart and alternated between jokes (Q: "When does the sculptor explode?" A: "When he makes faces and busts!"), stories, singing and special effects (dolls danced, the northern lights flickered, and a mouse scampered into a snoring father's maw, the last to shrieks of horrified delight), plus a few "scary" slides that paid tribute to phantasmagoria—spooky projections used to trick séance participants.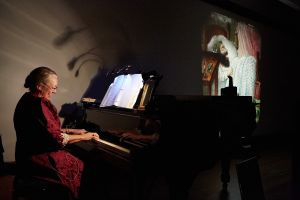 After the show we found Mr. Borton, a fourth-generation lanternist, revealing his secrets to a small crowd. Among them: Cutouts, food coloring and the knowledge that while times change, children's tastes do not.
"It's remarkable: look at pictures of shows from 100 years ago—the snoring mouse slide, for example—and kids are doing the same things they do today," he said.