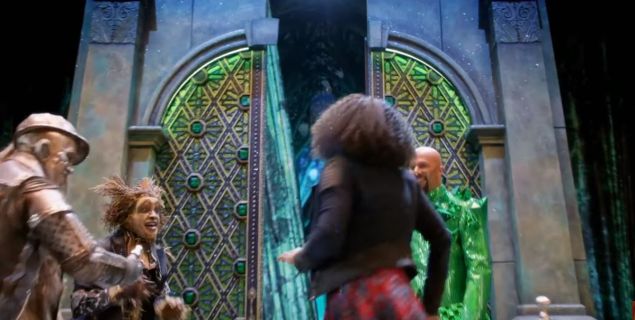 The hottest TV event of the night wasn't Thursday Night Football. (Let's face it, it never is.) No, the show that had everyone talking tonight was The Wiz! NBC's been putting together live productions of classic musicals every December since 2013. Despite the mixed reviews of the last two, there's a lot to be excited about tonight's show. Other than the general awesomeness of the musical itself look at that cast.
Folks on Twitter wasted no time registering their excitement and #thewiz was trending all day.
Even members of the cast could barely contain themselves.
Though it's making some lament their decision to cut the cord and forego a television.
There were a couple of hiccups in all the excitement though. First CNN posted an article titled "The Wiz Live!: You need to watch with Black Twitter." A lot of people really didn't appreciate a major news organization using them a spectacle.
Others took issue with the articles use of the phrase "da bomb" in the year TWO THOUSAND AND FIFTEEN.


(Via KnowYourMeme)
But the biggest, and oddest, controversy of the day came about when a number of white people expressed frustration about The Wiz having an all-black cast. Yes, that really happened.
What do you even say to that?
Oh and just so we're all clear.
But enough of all that, how was the show? Well, it wasn't without its awkward bits. Particularly the fact that there's no studio audience. Really weird for a live musical.
But that was easy to overcome
There were also some really weird camera angles.
And at least one tweeter made this observation about the opening shot of the musical.
There were also some awkward attempts to update the musical.
Including some jokes about celebrities that seemed out of place.
Also, one important character was strangely absent.
After a brief scene at the beginning, Toto mysteriously disappeared. That became a sore point for a lot of people.
And it's really weird to have a stage musical be constantly interrupted by commercials.
Though there may be a good reason for them. (Other than, you know, the money)
Another plausible theory:
Still, they could really be a buzzkill.
But none of that mattered. The performances made it hard to notice anything else.
An early highlight was Amber Riley as the good witch of the north.
Oh yeah. Chills.
And Ne-Yo killed it as the Tin Man.
And the nature of his song got everyone thinking a little dirty.
When he sang "What Would I Do if I Could Feel," everyone got the feels.
His voice wasn't the only thing that stole the show, either.
And we can't forget David Alan Grier as the Cowardly Lion.
Oh yeah, he's still got it.
Queen Latifah was, of course, fabulous as The Wiz.
Both in terms of performance and style.
Most importantly, Shanice Williams made a phenomenal Dorothy.
Seriously, she was so good, Twitter ran out of jokes.
Or when Common showed up looking like… this.
Or when Dorothy's entire Emerald City squad flaked out on her before she set out to kill the Wicked Witch.
One person imagined a certain presidential candidate's interpretation of the show.
Not even Queen Latifah was safe.
Some went as far as to suggest a new name just for her just for this role.
And with Mary J. Blige as the Wicked Witch of the West, expectations were obviously high.
She did not disappoint.
Once Mary took the stage, she was all anyone could talk about.
Until "Brand New Day," of course.
Though there was some disappointment that the actors didn't strip like they did in the original.
All was forgiven though, when the musical gave us the most badass quote of all time from Dorothy.
And everybody could sympathize with Dorothy not wanting to join The Wiz in her hot air balloon.
Finally, there was Uzo Aduba as Glinda. One of the most anticipated performances of the night. And that's saying something.
And did she ever.
Oh, and Toto came back too.
Though some people thought it was weird that Dorothy didn't even mention him once after arriving in Oz.
So how was the show?
OK, that may be technically true, but it's more than a little reductive. The Wiz Live! is the best musical NBC's done so far. It puts last year's Peter Pan and 2013's The Sound of Music to shame.
Yes it was seriously that good. Let's hope NBC gives us more of this kind of thing next year. Whatever they do, it can't be worse than…
Now let's never speak of that again.