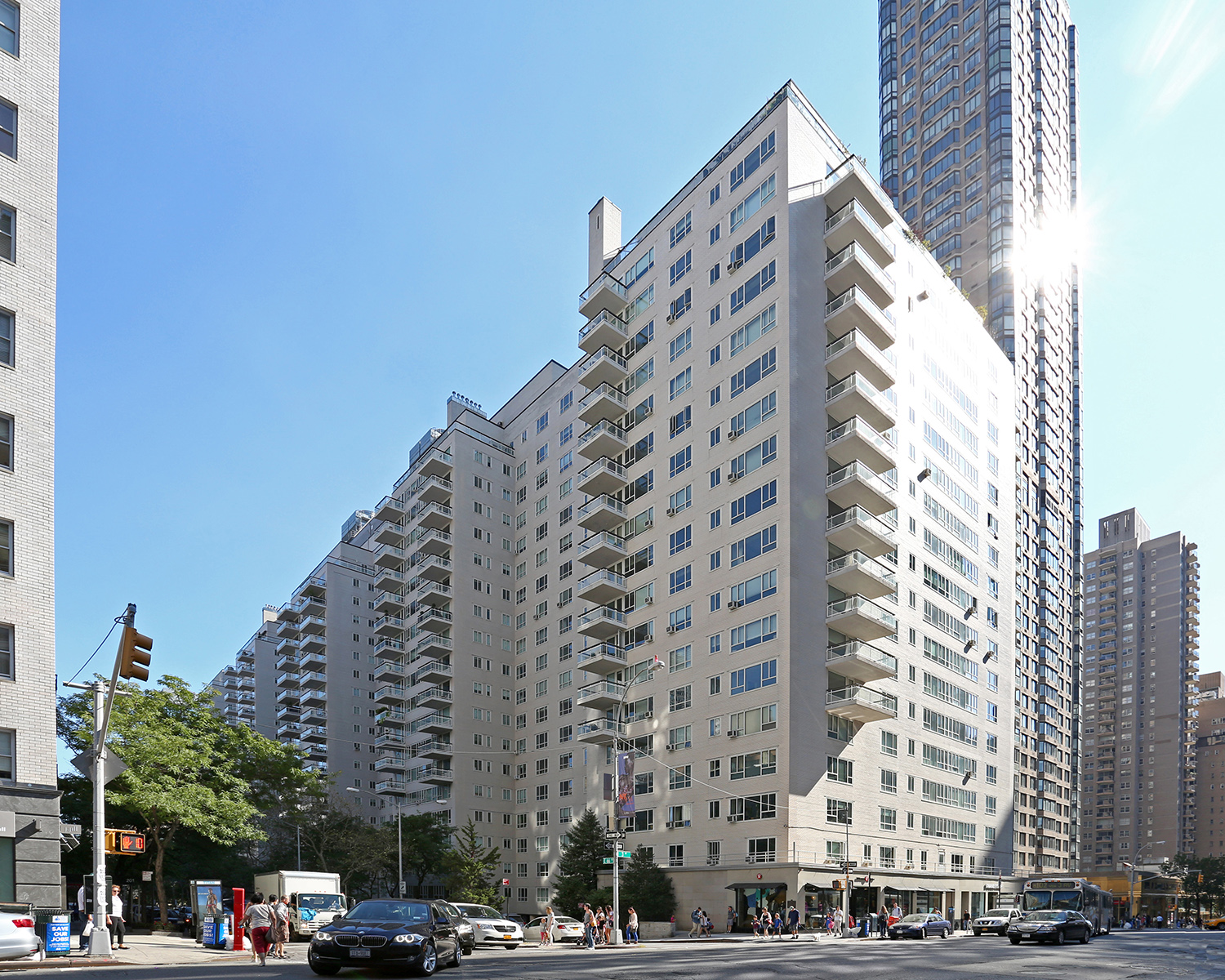 When Robert Kaswell first moved to New York, he lived in an apartment at 342 East 67th Street, and every time he walked to the subway he'd pass an eye-catching white-brick complex that spanned the entirety of East 66th Street between Second and Third Avenues.
"It intrigued me," Mr. Kaswell admitted when we spoke on the phone last week. "At that time—around 1985—there were a lot of society people, but they were all old. They'd be all lined up in the garden in wheelchairs."
In his early 40s then, Mr. Kaswell, who works in commercial real estate, was a veritable hatchling compared to the geezers in the garden, but there was something about the white-brick behemoth that caught at him. He wanted in. But Manhattan House, as he soon discovered the swanky if senescent complex was called, wasn't the kind of place that you could just waltz into. The 584-unit upscale rental had strict entrance requirements—an NBC News producer who applied in the mid-1970s recalled wearing white gloves to the interview and answering questions about her parents' background despite having long established her own career—and a years-long wait list. Mr. Kaswell waited three years and even then he didn't get in until his sister's hair stylist in Scarsdale interceded on his behalf.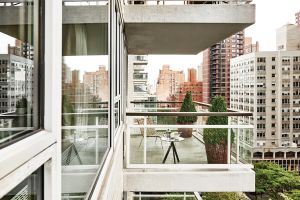 "Anyone who has a history with New York City certainly knows about it," said Corcoran broker Elizabeth Spahr, who has done a passel of deals in the building, which is considered to be the first white brick apartment and has spawned hundreds of lesser imitators, many of them in the immediate vicinity. "It's not the Beresford, but it's certainly a well-known building."
Indeed, the place had a pretty glamorous aura in its heyday. Benny Goodman lived there and held a rooftop jam session with the king of Thailand. Grace Kelly breezed through on her way to becoming chatelaine of the palace in Monaco. Former Gov. Hugh Carey called Manhattan House home, as did Jackie Robinson; his widow Rachel still lives there. Architect Gordon Bunshaft was so taken with his creation that he moved in and stayed for the rest of his life.
More recently, though, Manhattan House has been famous for a seemingly interminable condo conversion. Purchased by developers Jeremiah O'Connor and N. Richard Kalikow for $623 million, or a little over $1 million an apartment, at the height of the real estate boom in 2005—at the time, it was the most expensive sale of a rental building ever, soon to be surpassed by the doomed Stuy-Town deal—its sell-out, which now appears imminent, has been a decade in the making. There are currently 26 remaining units of 495 post-conversion apartments; another 93 remain occupied by rent-stabilized tenants, according to O'Connor Capital Partners.
A successful conversion seemed improbable at several junctures: besides the market crash, the partners went through an acrimonious, court-mandated split (O'Connor is now the sole sponsor); there was a mid-conversion landmarking and an epic battle with tenants that amply illustrated the dangers of tangling with wealthy, well-connected senior citizens.
"It's been a long, shaggy story," remarked Donna Olshan of Olshan Realty. "When they first bought it people thought, 'Oh, my God, how are they going to get the tenants out?' And then you had the developers fighting. And it was just such a big housing project—there was nothing about it that read luxury, it was hard to see how it was going to reach its audience. But now, I think the amazing thing is how it got past everyone fighting and emerged into, well…anyone we've sold to there loves it. Loves it."
***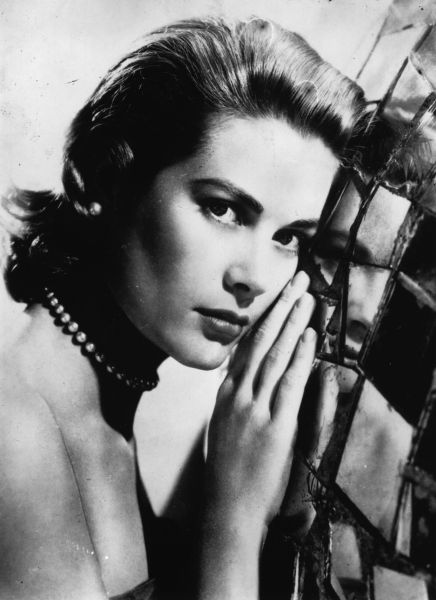 Built in 1951 by New York Life Insurance Company on the site of a former horse car and trolley barn, and designed by Skidmore, Owings & Merrill and Mayer & Whittlesey, the complex might have been considered the height of sophistication—a sleek and elegant construction despite its clodhopper of a footprint—but as Carol Krinsky notes in her book on Gordon Bunshaft, it was decidedly not luxury. Legally, it couldn't be, as insurance companies at the time were only allowed to invest in limited-revenue rentals, i.e. not luxury complexes.
Manhattan House, however, seemed determined to muddy the distinction. The complex had a wing of maid's rooms, but no central air (it was considered a luxury in 1951, so the developers wired the building with excess electricity to support window units, marring Bunshaft's pared-down exterior). The ceilings were relatively low—nine feet, rather than the 10 feet you'll find in most prewars—the floors ¾-inch parquet and the cabinetry made of metal, but there were terraces, wood-burning fireplaces and an abundance of light and air. A private garden spanned the property's length (the second-largest private garden in the city after Gramercy Park) and the complex's layout—five towers arranged in a cruciform shape along a shared central lobby—provided a sense of airy continuity while ensuring that the interiors never felt cold or cavernous. Apartments numbered no more than six per floor. The building was even designed such that the air pressure would be higher in the halls to keep cooking smells from circulating.
The complex was bracing and breezy, its crisp white brick exterior a fresh counterpoint to the red-brick tenements that cluttered the East 60s at the time. And whereas other insurance company complexes were somewhat plodding, working class affairs—Parckchester in the Bronx, or Stuy-Town and Peter Cooper Village—Manhattan House always had an upper class élan.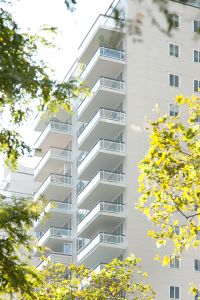 Like its postwar brethren, it catered to the economically emergent middle class, but rather than teachers and firefighters, those trope-tired exemplars we're always fighting to keep in the city, Manhattan House attracted eminent architects, designers, ad execs, prominent journalists, musicians and assorted culturati. They weren't the Saks-shopping society matrons of Park and Fifth, but neither were they the former tenement dwellers of Yorkville.
"It was alluring because it represented modernity," explained SOM partner Roger Duffy, who worked on Manhattan House's renovation and helped O'Connor shepherd it through the landmarks process. "It had one continuous lobby and garden, which I think is part of the magic of the building, because there aren't super-long hallways upstairs—it broke down the scale of tower living and created a sense of community."
New York Life even bought up all the parcels to the North and South to preserve the building's choice vantage, and made East 66th a two-way street, split by a distinctive stone wall that Woody Allen walks along with his friend Rob in a famous scene of Annie Hall ("Jew. Not You Eat. Jew. Jew Eat").
The first reinforced concrete building of its size in the city—and what may be the first American apartment building built in a variant of International Style—the design allowed for 22- and 25-foot living rooms without columns, and setbacks provided double, sometimes even triple exposures, in many apartments.
"It gives the building a sense of graciousness—they feel a little like prewars," Mr. Duffy said, echoing an oft-repeated observation. "I just think the ceiling heights could have been a little higher."
"In those days, people wouldn't have bought a kitchen without a window," Ms. Spahr remarked. "They wanted to make something that was very superior to attract people. It's a very up place."
And indeed, the building exudes a kind of cheery brightness, a distinctly postwar resourcefulness.
Nancy Hartstein, a antiquarian who bought an apartment on the third floor after the conversion, recalled that her friend Woody, "who was from a very patrician family," explained to her that it was considered to be "a vanguardish kind of building."
"People with big apartments on Park and Fifth, when their kids went to college, they would sell the big apartment and rent something smaller in Manhattan House. Of course, it still wasn't small," she continued. "Then the center of the family would become the country estate. Woody did the same thing when his kids went to college."
Ms. Hartstein said that she'd never seen herself living so far east, but when she and her husband looked to buy, all the apartments on the side streets off Lexington and Park were dark in the back and there was no service.
"We said, 'If it's good enough for Woody, come on,' " she recalled. "And we had a number of friends who moved here after we did. I think they did the same thing. 'Well, if it's good enough for Woody…' "
***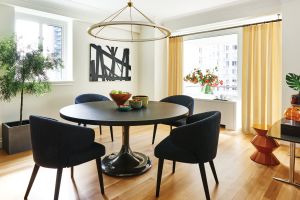 When the observer visited Manhattan House a few days before Thanksgiving, Christmas trees were already up in the lobby, which would have seemed off-kilter in most other places, but the lobby's mid-century look—marble walls, terrazzo floors and beaded curtains—and steady stream of stylish septuagenarians in sunglasses and statement coats gave the place a kind of timeless, seasonless atmosphere, rather like a department store.
Brett Buehrer, a senior vice president at O'Connor who's overseeing the final stretch of sales, escorted us up to the roof deck and resident lounge, which shares the top floor with a yoga studio and spa.
"You never saw anyone up here—it was too hot. It had all these windows and no air conditioning," Mr. Buehrer said of the space's previous incarnation. "The building was owned by an insurance company and they viewed amenities as liabilities."
Ratcheting up the amenities and increasing apartment sizes were two of the major changes that O'Connor and Kalikow agreed on after beating out the other bidders in 2005 (The Real Deal reported that they included Aby Rosen, Jerry Speyer, the Zeckendorfs and Dune Capital). The building would not only be upgraded with new electrical, windows and the long sought-after central air, but upscaled. They didn't have much choice given the $623 million they'd spent to acquire it.
Parquet floors were replaced with quarter-sawn oak planks, bathroom and kitchens overhauled with marble and stainless steel, and though nothing could be done to raise the ceilings—in fact, they had to be dropped slightly to accommodate the central air—plaster molding was added to give the apartments "a sense of quality."
"It's kind of a heavy detail," Mr. Buehrer acknowledged, "but it really resonates, it gives the apartments a sense of sophistication."
Prices, which were around $1,500 a square foot when sales launched, were thought to be perilously high in 2007, considering the quickly cooling condo market, but sluggish sales turned out to be the least of the developers' problems at the $1.1 billion conversion, the most expensive in New York history.
As might have been expected in a building where leases had been considered prized acquisitions for five decades, and almost half the elderly residents complained of being forced out, of construction at crazy hours, of dust and construction debris in the halls. One 97-year-old market-rate tenant was hospitalized for pneumonia seven days after he was evicted and died shortly thereafter; his 90-year-old sister blamed his death on the stress of relocation. At one point, a lawyer for the sponsor complained that tenants had "printed T-shirts with wording about asbestos and leaky pipes for the intent of disrupting sales," according to The New York Times. Someone involved with marketing the development in the mid-aughts remembered funneling prospective buyers to a separate elevator to any avoid potential showdowns with angry tenants. "The biggest hurdle was the older residents who hung out in the lobby all day. It felt like an old folks' home," remarked another.
After years of litigation, the tenants finally reached an agreement with the sponsor that included "many months of free rent, a protocol for when work could be done, allowed them to use a lot of their facilities and bring a dog in," said Adam Leitman Bailey, the attorney who represented the rent-stabilized tenants. "For the last couple of years they've been just terrific in handling any problems that come up," he added. "I'm the first to bash developers, but they did a really good job in the renter apartments."
And then there was the falling out between Jeremiah O'Connor, who has since died (his son Bill now runs the company) and Richard Kalikow, whom The Real Deal reported were matched up by another developer after coming in as the top bidders during early rounds of the process. TRD noted at the time that the moguls' differences seemed to go "to the heart of the project itself: What kind of apartments would sell—big ones or smaller ones? How much renovation did the building need? How should the project be marketed?" It even extended to the wording for the letter of credit demanded by the bank to release $30 million of funding, which meant that the developers were forced to essentially self-fund while they bickered.
"If I was selling it, it would have been done in 18 months," said Mr. Kalikow, who sold his shares to O'Connor after a judge mandated that one partner buy out the other, when the Observer recently reached him on the phone. "I don't really remember [what we disagreed on], but certain things Jerry O'Connor was doing were insanity. When you furnish model apartments, you're not selling furniture, you're showing a space and use of that space. He over-decorated the apartments and spent a fortune, which was ridiculous."
There were others besides Mr. Kalikow who thought that Manhattan House was overreaching at the start of the conversion. Many doubted that a white-brick rental, even the best-white brick rental, could fetch luxury condo prices.
"I think they did a beautiful job; I just don't really like white brick," said one real estate professional. Indeed, in the decades since Manhattan House was built, white brick became largely synonymous with indifferent postwar design.
"The imitators didn't imitate well. They were all out to the street line, very few sit in a garden, they weren't attractive," said Mr. Duffy. "They lacked the sophistication of Manhattan House. They were efficient urban living, but not gracious urban living."
And then there was the fact that the location, while convenient, was hardly a status signal. "If I was going to spend $2 million on a two-bedroom, I'd go to Park Avenue," one former tenant griped to New York. "You can teach an old dog new tricks, but an old dog's an old dog."
***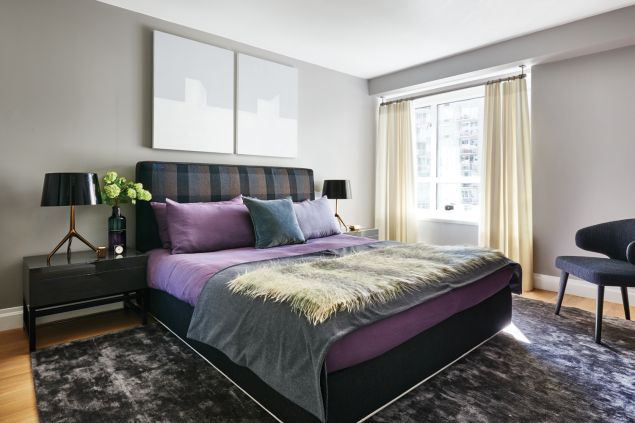 "When I saw Manhattan House originally, I wasn't crazy about the white brick, but when I walked went up to the apartment, I said, 'this is wonderful,' " recounted Dr. Elenie Bartzokis, a pharmaceutical researcher who paid $2.1 million for a one-bedroom pied-à-terre last June. "I liked that it was really well done, that it was good construction."
Closed sales at the complex now average $1,744 per square foot, according to StreetEasy, with current asking prices around $2,300 per square foot (penthouses, of which five out of 11 are left, are priced about $3,000 per square foot, according to O'Connor).
"Once you step west, prices go up to $3,100 a square foot," Ms. Spahr noted. "I hate to use the word fair—that's a stupid word—but in the context of the rest of the neighborhood, it's value for location."
"People love it!" exclaimed Compass broker Cecilia Serrano. "When they buy one, they usually buy a second as an investment. I have a lot of respect for the developer. They paid extremely high and the next day the market went down, but they did not reduce quality.
A lot did that—reduced the quality and then tried to sell for the same money."
"Nothing succeeds like success," crowed developer Bill O'Connor when we spoke a few weeks ago. "We've sold and closed almost 400 apartments. We never cut pricing and I think we were probably one of the only condominium conversions that didn't trade hands during the downturn. Not many projects have the ability to go full circle: from up to downturn to up again."
Mr. Leitman Bailey remarked that while the developers' refusal to budge their prices seemed like "not a great idea" at the time, "now the
market's on fire and they look like geniuses."
"This is so snobby, but I never imagined living over here. I only lived two blocks from the park and I thought four was a really far," confessed Ms. Hartstein. "But now I think it's cool to have an apartment because you want to live someplace, not because of the address. It's what would be called a bourgeois building in France. Bourgeois in the Haussmannian, the good sense of the term—it's livable, it's functional. When I walk in, I feel very
comfortable. I feel safe. And I don't mean safety in terms of security, I mean I feel at home."
Resales have also fetched impressive prices. Halstead broker Arthur Samuels, who represented a woman who bought a two-bedroom at the building for $2.16 million in 2011, sold the apartment for her last year to someone who paid $3.22 million.
"The building has changed 100 degrees; it's totally different than it was 20 years ago. You asked me what kind of people lived there 20 years ago? Old! That's who lived there. Now there are young families, young businesspeople," said Mr. Samuels, who used to live across the street. "When I go to show there now, I don't see all the walkers in the lobby anymore."
Mr. Kaswell, who was one of 18 existing tenants who decided to buy in Manhattan House when it converted, offered a similar assessment.
"When I moved into the building 35 years ago, I was the young guy. Now I'm the
old guy."