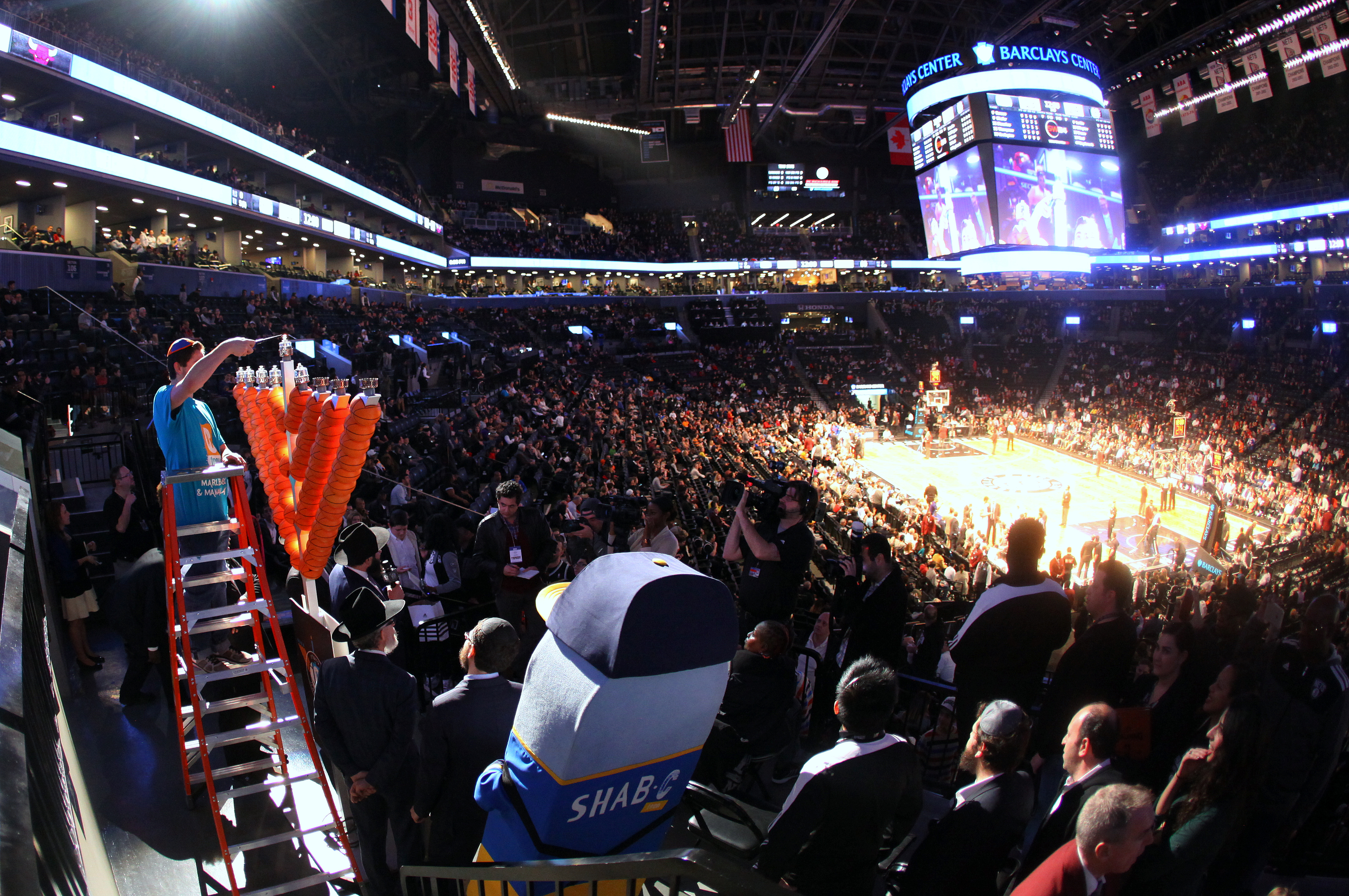 Last evening at the Barclays Center, Mike Goldberg, a 16-year-old member of Chabad's youth chapter in Manalapan, N.J., climbed up a ladder and lit a giant menorah bedecked with 66 small basketballs and eight liquid paraffin candles.
It was the fifth night of Hanukkah, and the Brooklyn Nets were hosting both the Philadelphia 76ers—whom they beat—and Jewish Heritage Night, which has taken place annually at the arena for the past three years.
The public menorah lighting, organized by Chabad, the Jewish organization, is one of several that are taking place at sports events around the country this holiday season. On Sunday, there will be another one at the Barclays Center when the New York Islanders host the New Jersey Devils. Two days ago, a menorah was lit before a Utah Jazz game in Salt Lake City.
The menorah lightings are an extension of the Hanukkah awareness campaign spearheaded by Rabbi Menachem M. Schneerson, the last Lubavitcher Rebbe, in 1973. "A large part of the holiday is about being proud of who you are, and spreading that message," said Rabbi Mendy Kotlarsky, the executive director of CTeen, Chabad's youth arm. In 1987, Chabad lit its first menorah at a sports venue, during halftime at a Miami Dolphins game in what was then known as Joe Robbie Stadium.
The Nets haven't had many Jewish players themselves; a spokesperson for the team mentioned Lawrence Frank, the former coach, and Jordan Farmar, who now plays for Maccabi Tel Aviv in Israel. That's about it. But the Brooklyn venue was, of course, fitting, given the borough's connection to all things Jewish.
"We find it important to celebrate culture this time of year," said Mandy Gutmann, the communications director for the Nets and the Barclays Center. "There's also a lot of talented Jewish people in the borough, and it's important to showcase that talent—for example, Yoni Z."
The singer and songwriter Ms. Gutmann was referring to opened up the event with the national anthem and performed at the game's half-time show. Other events included a pre-game scrimmage between local Chabad rabbis and CTeen members in the tri-state area.
Jason Silverstein, a 15-year-old CTeen member who lives in Woodcliffe, N.J., has been to Jewish Heritage Night at the Barclays Center every year since it began. "It's not just an ordinary game," he said. "To see all the other Jews here—that's pretty cool."
Mr. Silverstein is also a Nets fan—though he didn't seem impressed with the team this year, despite that they won last night.
"They stink," he said.