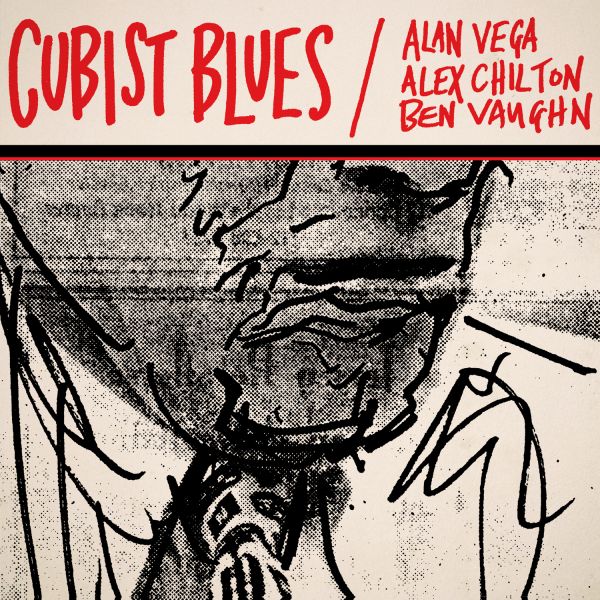 Light in the Attic Records reissues Cubist Blues this week, a moment-in-time meeting of music legends with no lone sonic precedent. The three players never intended to form any super-group or permanent project when they recorded these songs in 1994, and the album cover only lists their names—but this meeting of the minds captures a power on acetate that reinforces Ben Vaughn, Alex Chilton and Alan Vega's earned spot in the storied canon of American music.
"I literally felt the fire burning in my head. The flames were coming from the top of my head. It was one of those moments like, 'holy shit, what did I do?' "—Alan Vega
Ben Vaughn earned a reputation as both musician and producer, most notably on Ween's 12 Golden Country Greats and later as a composer for television shows 3rd Rock from the Sun and That 70's Show. The late Alex Chilton started in the recording business at 16 as the aloof and soft-spoken frontman of '60s pop group The Box Tops, and later became an American musical icon as the leader of '70s power pop legends Big Star. Lastly, a snarling, unapologetic New Yorker named Alan Vega made up one half of the loud, ahead-of-their time proto-punk synth act known as Suicide. He calls Chilton "the grey ghost."
Punk icon Henry Rollins, who originally released Cubist Blues on his Thirsty Ear label, says that a communal spontaneity was part of each player's DNA. "These are people who are artists before they are anything else," he tells the Observer. "When they did anything, they put it all out there. They would come out with something totally unrepeatable and the pitch-perfect definition of creation."
Cubist Blues was conceived through Ben Vaughn and Alex Chilton's mutual love of Alan Vega's music, when the two bonded over Vega's 1989 solo tune "Jukebox Baby" and agreed that Vega's voice was built for the blues. Vaughn thought of Vega as a character lifted straight out of film noir—a salty, jaded urbanite who'd seen and done it all. So Vaughn booked Dessau Studio in downtown New York for a one-off, impulsive recording session of New York Blues. With everything set up, he and Chilton brought in the enigmatic Vega, accompanying him all night in the dark and improvising off of Vega's wild energy.
"Alan Vega's such a New Yorker," says Vaughn. "Just his accent alone! And he's a night owl, so he's got a sort of noir thing going on. He's more of a beatnik than a hippie or a punk."
Though Chilton's postmodern surf-guitar kicks opening track "Fat City" into gear, Vega's voice becomes the focus on Cubist Blues from the outset. Vega recites words from the eponymous New York Post story like Elvis Presley cruising around downtown and looking for trouble, channeling the paper's trademark absurd nonsense into surrealism while an open studio window captures sounds of commotion from the street below. "Get on the four train, baby! Ride the hell train!!" he croons, a bluesy affectation wrapped in textured, guttural howls. "Fat City" embraces both the in-your-face mumbled prophecy of Suicide and the pristine Fender guitar warmth of Big Star, with Vaughn's drums as the glue bonding it all together.
"Alan came in with that newspaper just scribbling notes, and it was his idea to hang the microphone out the window and get the traffic sounds," says Vaughn. "We were just happy to be sharing the creative space that Alan was in. Wherever he goes, there's an environment that travels with him."
Such an environment could have yielded a failure. While Chilton was a veritable pop music craftsman, Vega's approach to writing and recording was lucid, gonzo and go-for-broke. He didn't treat making music like a laborious project or cerebral exercise, and Vaughn sought to capture that.
"It really was a non-intellectual experience," said Vaughn. "When you're working with Alan, he refuses to talk about what you're doing. There are no discussions. Somebody would mumble [that] something needs bass, then a bass part would be added."
[youtube https://www.youtube.com/watch?v=S6I_qTb7FrE&w=560&h=315]
For Vega, such off-the-cuff energy was achieved by entering an altered state. "We were meditating on sound and time was suspended," he says in the reissue liner notes. When we spoke, Vega added that accessing such a state of mind was exhausting. "I was really drained, I couldn't do anything else!" he says. "I literally felt the fire burning in my head. The flames were coming from the top of my head. It was one of those moments like, 'holy shit, what did I do?' "
Vaughn explains how Vega has a knack for bringing people with him into that state of mind. "Working with Alan is like working in a fever dream," he says. "We were creating a vacuum. No one was really listening or paying attention to music that sounded like what we were doing. I don't even know what it was we did, to tell you the truth. We went into the zone for two days and came out like, huh? What happened?"
'To me it was always, I shit brown, I piss yellow, I bleed blood red,' says Alan Vega.
Keenly aware of his power to induce such states, Vega nonetheless sees his process as fairly run-of-the-mill. "To me it was always, I shit brown, I piss yellow, I bleed blood red," he says. "I swear to god I make commercial records. But the world doesn't want to accept it!"
Matt Sullivan, founder of Light in the Attic Records, says that his label owes much of its genesis to Cubist Blues. Sullivan was but a lowly intern at Spain's Munster Records when the album was first released, and it dawned on him that nobody was reissuing lost classics in America like Munster. "Munster did the only vinyl release of Cubist Blues until ours," he says. "So I became really obsessed with that record, I probably heard that record even before I heard Big Star or Suicide." The Cubist Blues reissue is a co-release between Munster and Light in the Attic.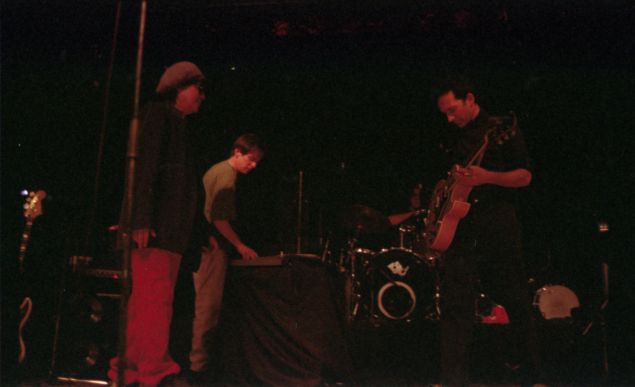 Munster's original release of Cubist Blues gained a following in Europe, but with little to no promotion and a sound that was years removed from the alt-rock glut of the mid '90s, it fast became the classic that time forgot. It didn't help that the men only played together twice, either—one show at Manhattan's Mercury Lounge, and one at the Trans Musicales in Rennes, France.
"Alan is popular in Europe because his voice is like an instrument, a saxophone or something," says Vaughn. "It's like throat singing, with 50 percent of it being poetry and the other 50 percent being sound."
Ever the no-frills punk, Vega wasn't nearly as enamored with the French as they were with him. He infamously had trouble communicating with the reporters during a press conference, and quickly tired of their over-analyses.
"The French got crazy and started asking me all these questions," says Vega, "and I needed a thesaurus to follow them. What were they talking about? I'm a New Yorker! They're much more into the music than I am, because I really don't give a shit. I care a lot, but I'm not trying to understand it as much."
The album's name is further proof of Vega's commitment to impulsive creation. During the recording, he riffed to Vaughn and Chilton about his fascination with the Cubist style of visual art. When someone suggested they call the record Cubist Blues, everyone had a laugh and it stuck. Apropos of the name, the songs on this record sound fractured and fragmented, and they don't move in straight lines.
As Vaughn remembers walking by the old Dessau Studio to find it transformed into condos, he reinforces the fragmented vibe chaos and spontaneity on Cubist Blues—a vibe that no longer exists in New York.
"It's pre 9/11, so New York was a different place then," says Vaughn. "It seems really innocent to me now."
As such, Cubist Blues is a snapshot of both New York and musical lore—a glimpse into the creative process of improvisation that artists rarely indulge anymore, and a glimpse into a city that used to run with a healthy dose of danger.
"As there is with a lot of great music, there are those unexplainable things that make music intoxicating," says Henry Rollins, "to where the players don't even know how they got there, which is that place you want to be. When you're being so in the moment, the music plays you."