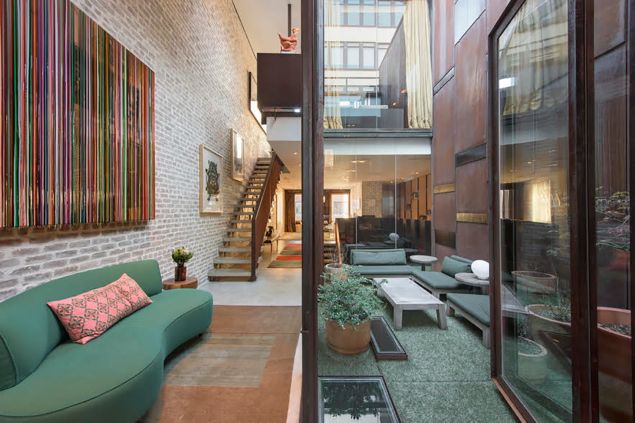 "This is bananas," said broker Ryan Serhant as he stroked a corten steel bannister inside 75 Warren Street. "This steel holds up skyscrapers and here it's used as an interior finish."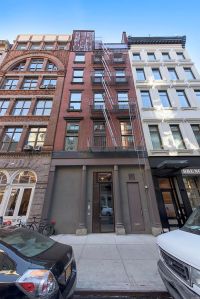 Overkill? Perhaps, but it was nice to be reminded that not everyone in New York shrinks from anything more daring than boilerplate luxury. The Tribeca warehouse-turned-10,000-square-foot townhouse (it also comes with an adjacent commercial space, which can be delivered partially vacant) boasts other bold choices as well, among them a 23-foot sky-lit ceiling in one of the living rooms, a bookcase that spans two floors, a courtyard terrace wedged between the living room and the kitchen and glass-paneled floors that offer vantages of the living spaces below.
"In the middle of a rainstorm or a snowstorm it's the coolest thing in the world," Mr. Serhant, who shares the $19.99 million listing with Nest Seekers colleague Katherine Salyi, boasted of the terrace courtyard. "You get a lot of houses that are designed for end users, or so high-design you can't live there. What's cool about this house is you can tell people actually live here."
That you could: the floor-spanning bookshelves had a somewhat motley array of paperbacks, and a soot-stained glove was flopped on the ground next to one of the home's four fireplaces. One of the five bedrooms had a wall plastered with horse photos—the daughter's, of course—and the playroom's pool table and old movie posters might have been right out of central casting, but the mini-trampoline and decals of labradors were decidedly not.
There were other surprises as well: recessed lighting in some of the concrete floors, a frosted-glass top on the master bathroom's shower that filtered in natural light from the courtyard above, and unexpected glimpses of city and sky that materialized when skylights and glass floors aligned, including one of the World Trade Center's spire that Mr. Serhant spotted for the first time as he led us through the house.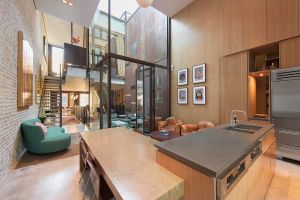 "The Freedom Tower is totally nuts!" Mr. Serhant exclaimed, whipping out his phone. "I want to take a picture of this," he said, struggling to bring the spire into focus. "This is so crazy."