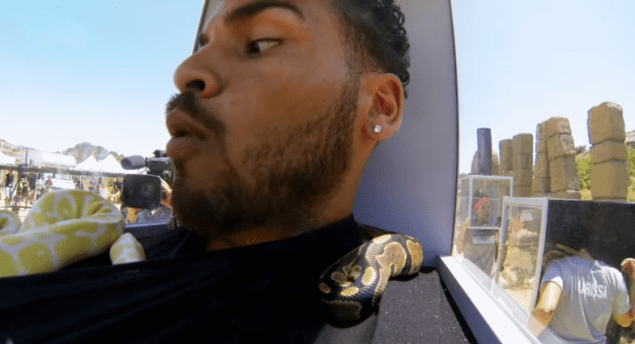 Just when I thought the Producers of The Challenge couldn't be more on-point, they go ahead and do something like give Johnny Bananas a Go-Pro cam and have it be the only recording device onsite for a day off at the beach. No, I'm not talking about the "Bananas Ass-cam," which was him swimming around shooting at butts for probably like 15 hours of footage that is in an editing bay somewhere. Nah, I'm talking about the bus ride home, when there's supposedly no cameras around and these professionals reality stars finally let their guard down. Cara Maria, previously seen on the beach flooring herself by taking a swing at one of those punching bag games, is cuddled up on Thomas's lap in the back of the bus. Cara Maria has a boyfriend that she lives with. His name is Abram and he is very very intense. Over the years there have been many very intense participants on these shows. CT for example, was a raging behemoth who had no problem busting out the peppersauce on someone. But over the years, he has chilled and become a lovable fan-favorite—he hasn't punched someone on tv in ages! Most people relax (relatively) as they get older on these shows. Abram has done the reverse. Abram got stung by like 1000 wasps on The Island and barely cared. Now he is set off so easily by Cara he probably goes into a room and whips himself for hatefun like the Paul Bettany DiVinci Code dude. All of this is to point out that Cara snuggled up to Thomas is not going to make Abe happy. Especially since they claimed to be playing "rock, paper, scissors" back there. "That's what that hand motion was." Throw out an imaginary round if you can't picture the gesture in your head. Thank goodness for the Johnny Bananas Go-Pro.
You could tell this week's challenge was going to be disgusting because TJ had the smug smile out to announce it. Family Dinner had one bloodline's head in a box with a couple of snakes. The other one had their head in a box with grasshoppers and cockroaches that they had to chew up and spit into a straw to be weighed. The highest total wins and picks who faces the loser in The Pit. There was some very solid strategies here. Johnny Bananas was head butting the bugs to kill them so he wouldn't have to bite them dead. Cara Maria has a pet snake so she didn't care about her head in the box at all, which took the pressure off her cousin Jamie to eat. Aneesa, the wily vet knew she only had to eat one to prevent her team from being in last. Cousin Mitch was chowing down like it was cold slices of deli meat while Cory was blowing kisses at his snake. No problem for them. Nany used her hair to swat the bugs but she also got in a great "shut up TJ" when he strolled by to tell her she was doing good. Only Brianna refused to take part, all while Jenna tried to get her to do something in vain. Cara Maria and Jamie won. Jenna and Brianna lost. But they didn't have to go into The Pit because it was a guy's elimination week. So as more eps go on, it looks like the elims will switch up guy / girl every other week. It's a disadvantage to the mixed teams because they are basically eligible for elimination every week. The guy / guy and girl / girl teams should always have alternating weeks off.
Cara Maria had to decide who to put in The Pit with Cohutta and Jill, who had the worst time for a team with an eligible guy. Cara asked Cohutta who he wanted to face and he said Dario and Raphy even though those guys have about 60 pounds of weight on him. I get it, go for the Are You The One? cast first, they aren't your friends. That's easy to say when you're not staring one of these massive humans down face-to-face. Cara Maria, who needs to play some more RISK or Connect Four or any other game that teaches you basic strategy, decides to tell Dario and Raphy because she doesn't like to blindside people. Of course they get mad, people get mad when you're nice to them on this show, what could their reaction possibly be when you try to send them home? Cara goes back to Cohutta who says he would want to face Thomas and Stephen instead. Dum dum dum, Cara doesn't want to put Thomas in because they are still in the middle of their Rock, Paper, Scissors best of 100 series from earlier in the episode. Nany puts them on blast in an interview saying Thomas and Cara "hook up on the low low, which they do." It's an important decision who Cohutta faces because he needs to win. He needs to win because his cousin, Jill, postponed her wedding to come on the show. Yo, that is for real the best cousin of all time. We would all be lucky to have someone switch their nuptials so you can go on a show and then they eat bugs for you. That is my dream family.
On the other hand, Jenna's cousin Brianna really wants to bounce. She doesn't want to eat bugs for anyone. She wants to go home and work on her real life. Jenna and her get into a drunk fight where Jenna immediately goes in on Brianna's boyfriend back home. Apparently, according to the drunk fight, Brianna thinks she's better than anyone because she has a job at the bakery. The reason she has a job at the bakery is because her dad owns the bakery. Congratulations your dad owns a bakery. And then there was some more screaming and Nany and Nicole broke up the fight because cousins shouldn't fight each other, just everyone else. I'd like to hear more about these bakery accusations though. Like what kind of a bakery is it? And what does she do there? Is she baking? Or is it more of a bookkeeping position? Did you know that the bakery game was so full of bakery nepotism? It's basically impossible to break into as an outsider. The inner workings of this bakery fam could be a good spin off, I'd watch that show.
The Pit got cut short so we won't know who won until next week. But Cohutta and Thomas are playing Squaring Off where they have to run through a small maze, fight for one ball, and then cross their finish line. Thomas won the first round. So we'll see if Hudy can pull this one out for his cousin. If they leave this early, they might still be able to make the original wedding date.