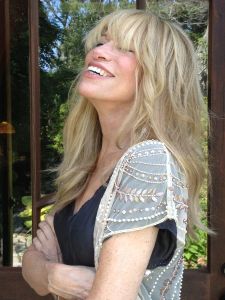 I am grateful to Carly Simon.
When, in 2003, I began researching my triple biography of her, Carole King and Joni Mitchell, Girls Like Us, she left me a phone message saying she was very supportive of the project and wanted her friends to cooperate. She made sure I understood that nothing I might ask people (whether I found them through her or on my own) was off-limits. "I expect to have my feelings hurt" she wrote in an email.
What celebrity does that? A very rare, brave one—respectful of journalists (appropriate for the daughter of the founder of Simon & Schuster), but also one without the filters, caution and protectiveness that are de rigueur in the long-famous. Ms. Simon's close friends had described her in ways that proved spot-on as I got to know her. "Carly doesn't bring her defenses forward from one moment to the next; she doesn't give herself that buffer, that solace," Mia Farrow told me. Jungian therapist Ellen Questel, her close friend for decades, put it this way: "You have two eyes—one says yes to the world, the other says no. You need to see with both of them. Carly sees more with the eye that says yes and that makes her so vulnerable. She belongs in another century, the era of grand feelings and penned love letters. She would be perfect in a Tolstoy novel."
Well, now, with her best seller Boys In The Trees, Ms. Simon has written her own penned love letter, Tolstoy-eloquent in places and full of those grand feelings. It traces the arc of her life: from being the ugly duckling youngest sister, fruitlessly craving her melancholic father's love within a sophisticated and slightly decadent family, to an upscale young folk singer zigzagging from painful rejection by a wry British aristocrat to her default incarnation as an overweight summer camp counselor (where she met the man who would be her lifelong, tough-opinioned confidant and the co-writer of her breakout song, Jake Brackman) to 1971's It Girl singer-songwriter, wooed by Cat Stevens, Kris Kristofferson, Terrence Malick, Jack Nicolson, Warren Beatty and Mick Jagger.

But of course—the "of course" is for any who know her well—it would be her 11-year-long love affair (and 10-year-long marriage) to Mr. Taylor, which produced two children: Sally, now 41, and Ben, 38—that is the mused-over focal and resting point of her memoir, even though the marriage ended in divorce in 1983 and even though the two do not speak. Her rich, 32-year-long post-divorce life (including a conquest of breast cancer; a "comeback" hit album Coming Around Again; her Oscar-, Grammy- and Golden Globe-winning anthem "Let The River Run" from Working Girl—both of these latter for her sensibility-simpatico filmmaker friends Nora Ephron and Mike Nichols—her nourishing, 20-year-long marriage to insurance-man-turned-poet Jim Hart, who,  though they divorced in 2007, is still one of her best friends; and an almost-decade-long relationship with surgeon Richard Koehler): none of this is covered in the memoir.
Odd, you might think. Wait. Seen a different way: liberating.
If I was grateful to Ms. Simon a dozen years ago for her generosity toward my own book, I'm now grateful to her for another reason: her lesson to older women. Boys in the Trees dares to contest the politically correct, feminist-ically correct and shrink-abetted "rule" (she herself uses this noun) that a mature, accomplished woman should be too proud and evolved to elevate a long-past golden moment in her life (especially one based on her relationship with a man) to special importance—that it is sad or unhealthy or retro, or all three, to relish yesterday instead of embracing the "Life keeps getting better! I keep growing! I am past all that!" mantra, which often seems more like defensive cheerleading than emotional reality. And that it is untoward for a creatively prolific woman to make love, not work, a leitmotif in her memoir. (Janet Maslin tsk-tsk'd, in her New York Times review, that "Ms. Simon, though described as a 'feminist icon' on the book's jacket, has organized her memoir around boys and men." But Ms. Simon wrote and sang two of the most feminist songs of the feminist-birthing '70s—"That's the Way I've Always Heard It Should Be" and "You're So Vain"—and her serial romances proved that women could enjoy many partners just like men could.) 
'I've stopped trying to stop loving. If the rules decree that you are allowed to love only if that love is reciprocated, then whoever made up those rules is cutting an important part of their authenticity away.'
In a conversation I had with Ms. Simon just before I read her book, she made clear that devoting a third of the book to her life with Mr. Taylor (for the most part, she is decorous about his drug addiction, which lasted a good deal of their time together), that honoring that time in her life, was something she was proud of. I worried that such attitude would invite pity. But reading these words—which she writes at the end of the book, when she muses about living in the same Martha's Vineyard home that she and Mr. Taylor (who is now on his third, and happy, marriage, with 14-year-old twin sons) built together—I am seized by their plainspoken dignity. I imagine how relieving her honesty will be for many women who find it exhausting to pretend that life keeps getting bigger and better—sometimes it does; sometimes it doesn't. She writes: "Over the years I've learned something that has made my life easier, more honest and satisfying: I've stopped trying to stop loving. If the rules decree that you are allowed to love only if that love is reciprocated, then whoever made up those rules is cutting an important part of their authenticity away. The commonly accepted belief that once you begin a new life, or move on, you must stop loving someone has nothing to do with your own private heart… It has nothing to do with masochism and it's not a conscious decision, either."
Even Ms. Simon's second husband, Jim Hart—who gets only a thank-you in the book, but is huge in her life—understands this. Mr. Hart recalled to me the other day, that when he and Ms. Simon first  met on a train, in the mid-'80s, she asked him, "Who is the person you love most in the world?" Immediately, he told her, "Alana [his ex-wife]—we're divorced but we raised a very [medically] challenged child together." Upon hearing this, "Carly teared up. She got it."
Convention-breaking was not foreign in Ms. Simon's childhood (her mother took a 19-year-old lover, whom Ms. Simon loathed, into the house, in view of her husband, for example) nor would it be foreign to her later. She and Mr. Hart would spend the last five years of their own marriage trying to figure out how to not get divorced; he had come out as gay, but they still loved each other. Ms. Simon is an original and originals are good people to learn from.
Boys in the Trees was a four-year-long journey of writing, rewriting and re-rewriting (its last round nicely helped along by editor-writer Peter Smith, who also made Kim Gordon's Girl in a Band a best seller) that involved wrestling with top-notch editors who differed with her on the form the book should take. Ms. Simon insisted on keeping her unique voice unique, switching publishers, from Random House to Flatiron, at close to the last minute. Over the course of its writing, Ms. Simon and I would occasionally write to each other—and I always felt her big, beating heart through those emails. (She was very upset when Joni Mitchell suffered her aneurysm earlier this year and was utterly bereft when her cousin and childhood best friend Jeanie Seligman died.) Every so often we would talk on the phone. I knew that writing the book was an ordeal for her, and once, not without anguish, she said she wondered what she had gotten herself into.
For someone so frank and quirkily open, book-sized self-revelation had certainly brought out an out-of-character hesitancy in her in the past. Her close friendship with Jackie Kennedy Onassis (another person not mentioned in her book) had started decades ago when Mrs. Onassis, then an acquiring editor at Doubleday, had wanted a memoir from Ms. Simon, and Ms. Simon—after writing 80 pages—ended up saying no to it. (Producers also wanted to write a remake of A Star is Born about Ms. Simon and Mr. Taylor, and they refused.) The opposite of Ms. Simon's lush emotionality and head-forwardness, Mr. Taylor has a New England rectitude, a recovered addict's tight boundaries—and Ms. Simon had seen him act coldly with ex-girlfriends (she heard him tell two who phoned him—one was Joni—never to call again, and his words and tone felt like a flashing warning sign of her future). Being herself in her book, and revealing her life with Mr. Taylor, almost assured further displeasing her long-ago ex. Perhaps this was the ultimate feminist act, a quantum-times version of "I bet you think this song is about you—don't you, don't you?''
Just before Boys in The Trees was published, Ms. Simon and I had two conversations. She was worried. Her famous stage fright seemed to have morphed into pub-date-fright. Her stammer had returned. "Will they think I'm name-dropping?" she asked, of the critics. "Are you kidding?" I replied. "You had all those lovers. You knew all those people and knew them well. How can you name-drop your own life?" That she herself was a drop-able name didn't seem to occur to her. Nine years ago Mia Farrow told me: on some level Ms. Simon doesn't realize she's a celebrity. True, that.
November 24, pub day, Ms. Simon appeared on The Late Show with Stephen Colbert. They did a rendition of her and Mr. Taylor's famous duet "Mockingbird." Then she sang her new song, "I Can't Thank You Enough," accompanied by Ben and Sally. The next day she was on Today, the day after that on Live With Kelly and Michael. I was shocked that she volunteered, on the latter show, that Mr. Taylor hasn't talked to her in over 30 years. That seemed to be tempting the viewers to think: She writes so much about him and he's so long ignored her? But on every show she also said that Mr. Taylor had just, that very week, received the Presidential Medal of Freedom and how proud she was. She took the high road. Or—well, let's put it this way: her own road.
'Will they think I'm name-dropping?' she asked, of the critics. 'Are you kidding?' I replied. 'You had all those lovers. You knew all those people and knew them well. How can you name-drop your own life?' That she herself was a drop-able name didn't seem to occur to her.
I talked to her several days later. She sounded liberated. "So many people over the years have told me that I was obsessed with James, and I felt in chains, trying to escape from that feeling," not only of the attachment to him, but, as well, from the assessment of "well-meaning and not-so-well-meaning" people, which made her feel "like I was naughty and mentally fucked up" for thinking about a marriage that was over. "And when I stopped resisting that feeling"—that she shouldn't think about Mr. Taylor—"it stopped doing me harm, and a part of that [relieving process] that was getting it all out on paper." 
In the book she writes poignantly of her father, Richard Simon, who, though brilliant and charismatic, was cuckolded by his wife, taken advantage of and eventually pushed out of his share of the major publishing house that he co-founded, and who spent the last years of his life playing classical music on his piano, in illness and darkness and sorrow. She dedicates the book to him—"my beloved hero, understood too late for our peace to come during his lifetime." I myself was a daughter who felt unloved by an accomplished father who died when I was a teenager, too early for us to close our chasm; I had felt partly healed by writing a book about it, so I understood the relaxation—the sense of resolution—in Ms. Simon's voice now, so different from the stammer I heard in her pre-publication phone calls. "I could never feel my father's death when it happened," she told me. "But when James and I got divorced, it was like there was an outline of my father on the floor and James"—a similarly tall, remote, not untroubled man who, as she put it in two separate photo captions, "walked straight, looking neither right nor left"—"fell right into it and filled the outline." Writing the book was thus a double reckoning.
As for the silent treatment she receives at the hands of her ex and his current wife,  Kim: "They think by keeping me in this cold war, I'm going to back away from the Reagan sensibility of crying, 'Tear down that wall!' " she says. (It bears noting that only the thinks-on-her-feet Ms. Simon would liken herself to Ronald Reagan.)
Her adult kids are supportive of the book. "Ben said, 'Why should you consider Dad's feelings when he hasn't talked to you in so many years?' And Sally loved it—and I let her read the most challenging things early on." One of those "challenging things" was a chapter near the end, when, after Mr. Taylor's remarriage to his second wife, he visits the Central Park West apartment where they had lived for so long as a family, and he and Ms. Simon fall into abrupt, dramatic sex. The chapter is titled for what she recalls Mr. Taylor said when he came on to her: "Strip, bitch!" During the book's auction, "all the publishers loved [that line] and wanted the book on the basis of it," she said.
There's lots of dishy stuff—from Warren Beatty's creative two-timing-ness being tattled on by Ms. Simon's psychoanalyst, of all people, in a manner that could have come from a Woody Allen movie, to Ms. Simon forcing an encounter with the surly dancer with whom Mr. Taylor was having an affair at the end of their marriage (Ms. Simon reciprocated).
Still, despite this chic and randy carrying-on, this gossip-bait, what I remain most struck with is that one earnest line: "If the rules decree that you are allowed to love only if that love is reciprocated, then whoever made up those rules is cutting an important part of their authenticity away." Authentic is what Ms. Simon is; it is impossible for her to be otherwise. "I believe in love; what else can I do? I'm so in love with you," she wrote and sang in "Coming Around Again.'' Those lines—followed by a half stanza of "The Itsy Bitsy Spider"—always got to me: The deceptively simple sentiment—framed in the context of domestic life, parental life—was equally plaintive and assertive, sad and triumphant. Now, with Boys in the Trees, there's a whole book full of that same soulful combination.