The recent murderous rampages in Colorado Springs, Colorado on November 27th and in San Bernardino, California on December 2nd, are, tragically, part of a string of mass shootings throughout the U.S., that are now so commonplace that American schools regularly hold lockdown drills. Politicians across the political spectrum are so used to responding to these attacks that they can almost write their Tweets or official statements off of a template.
Meanwhile, post-massacre responses from the conservative and progressive punditry, the President, various gun related interest groups and Congress are almost rote. If the shooter is Muslim, as was the case in San Bernardino, the conservative media stresses the threat of Islamic terrorism, faults the left, and the President specifically, for not using words like Islamist or Muslim enough when describing the events and generally contributes to feeling of panic. If, however, the shooter is not Muslim, conservative media desperately avoids the T word, while focusing on the personality and story of the shooter himself. Usually this quickly devolves into an ugly scapegoating of the mentally ill.
The progressive media also has a standard set of responses. If the shooter is Christian or otherwise not-Muslim, the progressive media often points out that the shooting was an act of terrorism, frequently in service of some twisted right wing agenda, sometimes including elements of white supremacism or misogyny. If, however, the shooter is Muslim, the left engages in awkward rhetorical contortions to downplay the role of Islamist ideology in the events.
Regardless who thinks the shooting is an act of terrorism, the question of gun regulations is invariably raised after these now all too frequent events. Gun advocates sagely advise the American people not to politicize the tragedy and scold anybody who does. President Obama and other supporters of stronger gun laws try to determine how long to wait before it is appropriate to raise issues regarding gun laws. This part of the drill is so standard that it is not questioned, but it should be.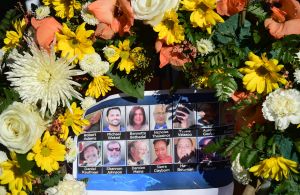 Whether or not such events should be politicized, they are. This politicization never leads to new legislation, but just back to the same endless loop that the gun debate has become. Politicians supporting gun reform call for new gun regulations, while gun supporters flex their political muscle, while more extreme supporters make fantastical arguments involving arming even more people, and eventually something else comes up and attention to the issue fades away—until the next mass shooting.
Domestic terrorism, whether conducted by angry white Christians or Jihadist Muslims, have become a fact of American life—one that makes life more frightening and dangerous for all of us. The fight against terrorism has long been a major political issue in the U.S., but it is now more clear than ever that politicians, and other Americans, can either be committed to fighting terrorism or to continuing virtually unfettered access to all kinds of guns, but not both. Asking our fellow citizens who work in law enforcement and counterterrorism to continue to fight against terror while allowing the terrorists, and everybody else, to so easily get ahold of devastating weapons, is, at best, unreasonable.
A country where it is possible for people on no-fly lists, due to suspected terrorist links, to buy guns, where the San Bernardino murderers can legally stockpile caches of arms more suited for a small battalion than for any legal or responsible use and where minors can buy a gun more easily than a beer, is one that is not going to be able to effectively fight terror. Today, those politicians who continue to fight to make sure that guns remain wildly unregulated compared to almost any other industrialized country, can continue to posture about strong anti-terror positions, but over time the inconsistency, if not outright hypocrisy, of their positions will be revealed. Sadly, it will probably take many more acts of domestic terrorism for that to happen.
Lincoln Mitchell is national political correspondent at the Observer. Follow him on Twitter @LincolnMitchell.