[youtube https://www.youtube.com/watch?v=J2-vm-L_dk4%5D
American Horror Story has been trying to get the message that humans are the real monsters, man across since 2011. Not content with metaphors anymore, Ryan Murphy created another anthology series about actual human monster O.J. Simpson, American Crime Story: The People vs. OJ Simpson, and now we have our first full length trailer.
It is barely a minute long. Somehow, I have so many thoughts.
So what tone are we going for here? I mean, judging by the trailer I'd say hyper-super-extreme-seriousness. But doesn't it seem everyone is playing it so straight that there's no way it isn't supposed to circle back around to absurd? I'm not saying there's anything particularly funny about the OJ Simpson murder trial. And if high-quality, anthology TV has taught us anything, it's to not pre-judge an actor's performance too harshly before sampling the finished project. But, I mean, come on: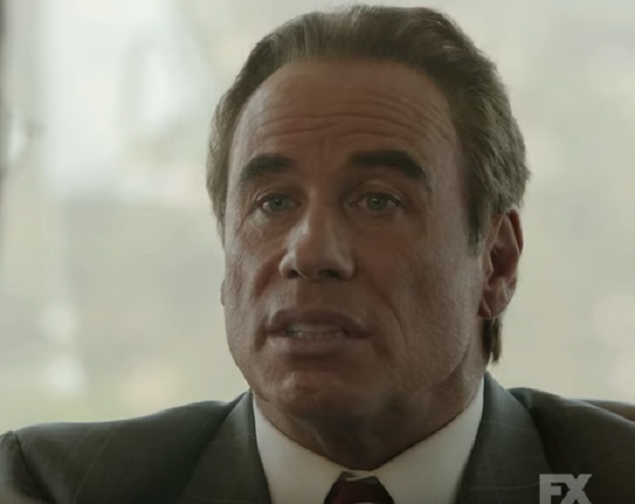 We have reached peak late-career John Travolta, where no matter the role–even if it's a real person like Evan Shapiro–I can only see John Travolta in different clothes.
And with that said…how closely are we supposed to associate this with American Horror Story? I'm not saying Pepper has to show up as a juror or anything, but they named the damn thing American Crime Story. Should we expect the same gruesomeness as Horror? The same level of gore? Can the EPs and writers Scott Alexander and Larry Karaszewski botch the ending of a book covering real-life story?
For the record, Pepper showing up as a juror would make this the best show on TV.
Do you think, five years ago, if I asked you to suspend disbelief enough to imagine Ross from Friends realistically conceived Kim Kardashian, would you even have any idea what I'm taking about?
How much money do you think Ryan Murphy saved by recycling the costumes from Coven?

Unless American Crime Story is insinuating Faye Resnick is a witch…?
The absolute hilarity of Travolta aside, there are some pretty great actors in this thing–Connie Britton, Sarah Paulson, Cuba Gooding Jr. Mr. Murphy gathered quite the ensemble. I might even be able to stomach David Schwimmer, if they didn't overdue the gray in half his hair to the point he looks like Tommy Lee Jones' Two-Face.
Is the anthology nature of American Crime Story limited to famous murders from the 90s? Because American Crime Story: Marky Mark has season 2 written all over it.
American Crime Story: The People vs. O.J. Simpson premieres Tuesday, February 2. Ryan Murphy executive-produces, along with Nina Jacobson, Brad Simpson, Brad Falchuk, and Dante Di Loreto.