As we come to the end of the year, it's time to revisit some of the highlights, as well as some of the lowlights, of our national security in 2015. There have been ups, there have been downs. Make that a lot of downs. As President Barack Obama entered the latter half of his second and final term, he oversaw numerous security challenges, some notably serious, that will be bequeathed to his successor. So let's take a look back at the year that was…
1. What National Security?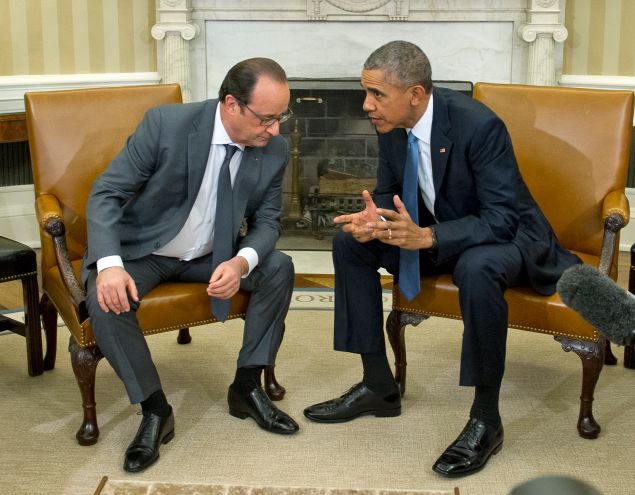 Without any benefit of hindsight, since we're still (barely) in it, 2015 stands as the year when the bottom fell out of our national security. When everybody in government and business seemed to be getting hacked and nobody quite knew what to do about it. Now, the cancerous trends in Washington, D.C. that birthed this unprecedented fiasco—bureaucratic laziness, incompetent leadership lacking accountability, above all a total neglect of basic counterintelligence—extend back years, even decades, and cannot be blamed on President Obama alone. That said, if you felt the president was slow out of the gate addressing how everybody—the Pentagon, the State Department, even the White House—was getting hacked, well, so did everybody else not on the administration's payroll. To say nothing of how the Office of Personnel Management gave away the store, the most personal records of more than twenty million government employees, military and civilian, past and present. That said, it's not fair to call what OPM got hit with "hacking" since it's what naturally happens when you outsource your IT to Chinese contractors actually sitting in China. Thus did "we suck at everything" become the mantra of national security pros in 2015.
2. Don't Micromanage—Nanomanage!
Mr. Obama's not-quite-a-war against the Islamic State, the fantastically evil ISIS, continued throughout the year, without resolution of any kind. Sure, a lot of bombs got dropped on "some folks" but any belief that we're defeating ISIS is not widely held in what Democrats once termed, in the context of a previous president's losing Mid-East war, the "reality-based community." In 2015, it became difficult to avoid comparisons to LBJ's diffidently failed efforts in Southeast Asia a half-century ago. A White House digging deep into bomb targeting lists. Check. Administration officials countermanding the orders of our military leadership. Check. Pressure on intelligence agencies resulting in skewed reports to get the "right" answers to policy problems. Check. All that's missing is a Tet Offensive… so far. This was also the year when Chuck Hagel, nobody's idea of a raging right-winger, admitted that during his tenure as Mr. Obama's Secretary of Defense, he was frustrated by the White House's inability to get its act together against ISIS. In Mr. Hagel's telling, Mr. Obama's National Security Council is run like a grad school seminar—endless meetings deciding nothing with interruptions for petty squabbling—and they're also jerks. Since Mr. Hagel's now Mr. Obama's third SECDEF to say all this, it's pretty clear Chuck's not the problem here.
3. Terror Strikes Home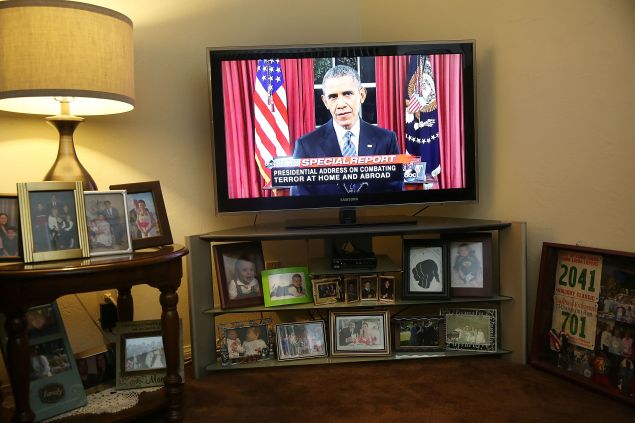 Napoleon famously considered being lucky a key asset in waging war, and by any standards Mr. Obama had been a lucky president when it comes to terrorism hitting home, despite his lack of ardor in the struggle against jihadism. But luck eventually runs out for everyone, and Obama's did in San Bernardino in early December, when two self-styled jihadists killed 14 Americans and seriously wounded 22 more in a gruesome attack on a holiday party. The killers were acting in the spirit of ISIS, if not on its orders, and reminded the public that madmen—and madwomen too, even mothers of newborns—are lurking among us, waiting to butcher "infidels." Coming on the heels of the far worse ISIS-inspired mass murdering in Paris in mid-November, which killed 130 civilians, American public opinion reflected a widespread belief that we're not as safe as we thought we were. In truth, we got somewhat lucky in San Bernardino, since given the killers' vast arsenal of ammunition and homemade bombs, they planned to kill many more people than they did. But that was cold comfort here, since despite countless billions spent on securing our homeland since 9/11, this event never should have happened at all. That this was a failure of policy, not intelligence, should not induce comfort. On the plus side, Mr. Obama eventually got around to calling San Bernardino "terrorism," not trying to pass it off as "workplace violence," indicating that his seven-year Global War on Whatever phase may have ended. One hopes we have seen the last of employing James Taylor as Ambassador-at-Large for Counterterrorism, as Mr. Obama bizarrely did in January, after a previous jihadist killing spree in Paris.
4. Our Pal Putin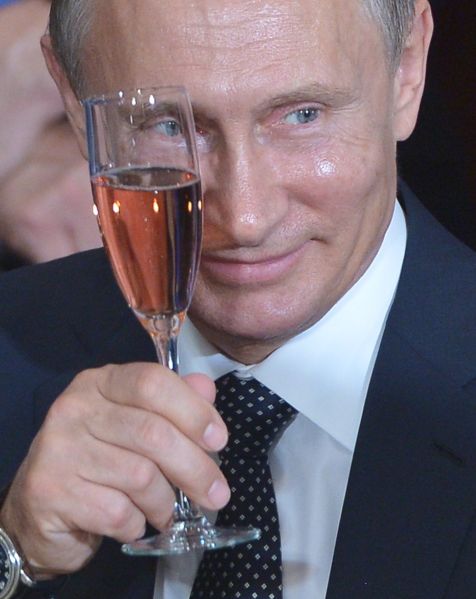 This was the year Mr. Obama semi-resolved our differences with Vladimir Putin by giving Russia's president whatever he wants. While sanctions on Russia remain in place, thanks to its 2014 aggression in Ukraine, Mr. Obama has done nothing substantive to help Kyiv, while deterring Russian moves in Eastern Europe remains more a Pentagon PowerPoint aspiration than detectable American policy. That Mr. Obama views Mr Putin as a partner, not a rival, much less an enemy, despite barrages of increasingly vulgar indications from the Kremlin that Enemy Number One is exactly how Moscow views us, was evidenced by his letting Mr. Putin have a free hand in Syria this year. In truth, Mr. Obama outsourced our Syria policy to the Kremlin way back in the summer of 2013, when he disregarded his own "redline" there, so permitting Mr. Putin to do whatever he likes in Syria—for instance deploying an expeditionary force that claims to be fighting ISIS but whose obvious intent is propping up the Assad regime, which Mr. Obama claims to want to be rid of—at least is consistent. Of course, if Mr. Obama planned to just let Mr. Putin do whatever he wants in Syria, the civil war could have ended over two years ago, saving tens if not hundreds of thousands of innocent lives. But the White House doesn't seem too concerned about any of that, and it's so ardent to play nice with Mr. Putin that it quashed a tiny State Department effort to counter noxious Russian propaganda aimed at the West. Say what you want about sucking up to Mr. Putin, at least it's an ethos.
5. Ed Who?
Speaking of Mr. Putin, 2015 was the year his pet American IT contractor became old news. Edward Snowden emerged overnight as the darling of anti-(Western) secrecy activists and Kremlin pawns—there being quite a bit of overlap—back in the summer of 2013, but a couple years on his act grew stale. With ISIS rampaging from country to country and Mr. Putin leering hungrily at his neighbors, you have to be pretty self-absorbed to think NSA is your biggest security problem. Not to mention that Mr. Snowden shows no sign of leaving Mr. Putin's Russia, not exactly a mecca of liberty, anytime soon, and he's been silent on how his KGB host treats privacy activists and journalists in that country. Hence pro-Snowden viewpoints, which were recently considered a plus in certain Republican circles, have become a millstone politically as the public worries about real threats again. Mr. Snowden's sudden appearance on Twitter in September galvanized his fans but was really his shark-jumping moment, since he needed to remind everyone he's still alive over there in Russia.
6. Meanwhile, in East Asia….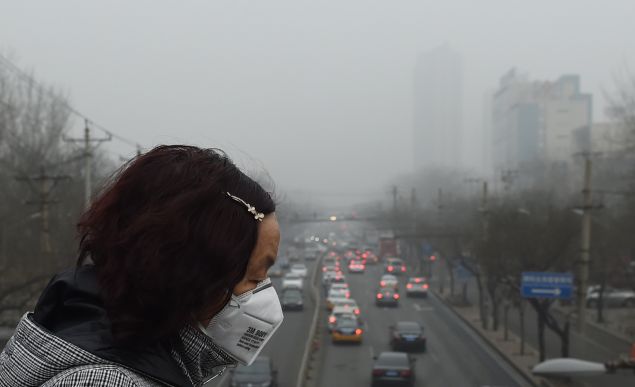 Between hackers, jihadists and Russians taking up our national security bandwidth, it was easy to forget that China continues to rise as a major regional power, and increasingly a peer competitor to the United States. This popped up in the headlines throughout the year, with Beijing asserting its sovereignty over a bunch of islands, some of them semi-submerged, that 99 percent of Americans have never heard of but which China cares passionately about. This has gotten the attention of specialists but few normals, yet Americans should pay attention because we're obligated to defend some of those uninhabited islands by treaty. The U.S. Navy has shown the flag with "Freedom of Navigation" operations, letting the Chinese know we will not tolerate their creating a regional war over a bunch of rocks, and the biggest card we hold is that nearly all of Beijing's neighbors fear and loathe them far more than they do us. Things are getting cozy even with Vietnam, and at this rate John McCain may soon be doing the ribbon-cutting on the reopened U.S. Navy base at Cam Ranh Bay. But all is not well with our Navy, the guarantor of Pacific security, as evidenced by East Asian corruption scandals that have taken down top admirals, to say nothing of the service's seriously screwed-up preparations for the future. Things got so bad that SECDEF Ash Carter at the end of the year sent a memo to the Secretary of the Navy basically asking, "What the hell are you doing over there?" This sort of thing seldom happens even in the Pentagon. Beijing is watching closely.
7. NatSec is YUGE!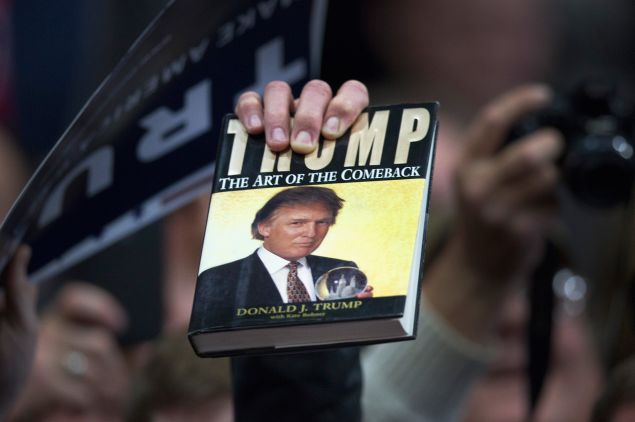 As we enter an election year, national security promises to feature in our political debates in a manner not seen since 2004, when "security moms" kept George W. Bush in the White House. This, however, requires careful handling, as Jeb Bush discovered when he couldn't explain exactly how he felt about his brother's self-created Iraq fiasco. This may have something to do with Jeb's complete collapse in the GOP race. For his part, Marco Rubio's antidote to Dubya's failed neoconservative national security policies is more neoconservatism, applied harder. That his main benefactor advocates preemptively nuking Iran just for the hell of it may not be irrelevant here. Ted Cruz has rejected at least some of that neoconservatism, but it would be unwise to take this too seriously, since the Texas senator changes his opinions on major issues like real people change their clothes. Hillary Clinton, who will be the Democratic nominee in 2016 unless (and perhaps even if) she is indicted for her email mishandling as Secretary of State, is a bit tougher to read. Sometimes she waxes nostalgically about the intermittently muscular neoliberal foreign policies practiced by her husband when he was in the Oval Office, while at other times she appears more like its current occupant, unwilling to talk about "radical Islam." Hillary at this point seems to offer Obama's national security policy executed by an old white lady. Then there's Donald Trump, the quintessential angry old white guy, to mix things up. His recent brotastic dalliance with Mr. Putin was odd, even for the reality TV star, but since Mr. Obama's Russia policy also centers on kowtowing to the Kremlin, this isn't exactly a change. Mr. Trump seems to know very little about national security and despite having bizarrely called himself "the most militaristic person" in the GOP race, his actual views seem quite different. His recent debate statement that our policies in the Middle East have been "a mess" as well as a waste of trillions of dollars and thousands of American lives was refreshing in its candor. In the coming year, shortly before the presidential election, Americans will mark fifteen years since the 9/11 attacks and our failed wars of choice that followed. We need a genuine debate on that, and what we can learn from it all. Trump may have started it. Watch this space, 2016 promises to be as much of a security rollercoaster as 2015 has been.
Disclosure: Donald Trump is the father-in-law of Jared Kushner, the publisher of Observer Media.