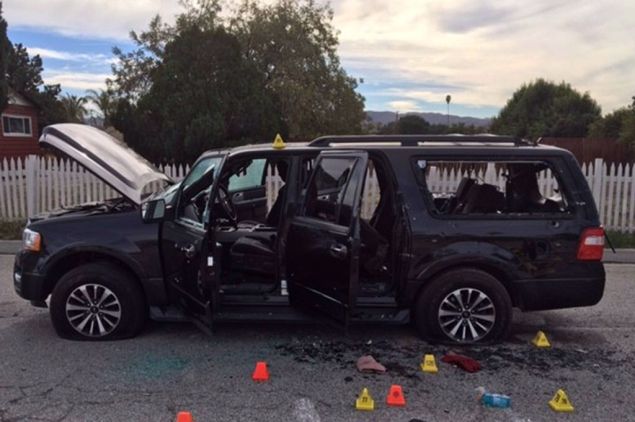 It's been nearly two weeks since Syed Farook and Tashfeen Malik, a married couple, murdered 14 innocent people and wounded 22 more in their terrorist attack on a mental health facility in San Bernardino, California. Once the initial shock of that terrible event, the worst jihadist terror attack on American soil since 9/11, began to wane, awkward questions have been raised about just how effective our government's efforts to combat violent extremism inside our country actually are.
Americans were shocked by the San Bernardino crime, and no wonder: Farook, a native-born citizen, coldly gunned down co-workers who were assembled at an office party, with help from his immigrant wife, both of whom had left their 6-month-old baby at home when they left for their suicide mission. While female participation in jihadist terrorism is nothing new, this was an unusually brazen and horrifying attack, particularly since given the size of their arsenal—with thousands of rounds of ammunition and multiple homemade bombs—Farook and Malik intended to kill many more people than they did.
Making matters worse, most Americans felt reasonably safe from the threat of domestic jihadism in recent years, despite repeated warnings about the rise of the Islamic State and terrible attacks like the recent mass-casualty atrocity in Paris. Although the November 2009 Fort Hood massacre, perpetrated by Army Major Nidal Hasan, killed 13, it happened within the confines of a military base and did not involve the general public.
Before San Bernardino, the NSA-FBI combination had a near-perfect track record of cutting short major jihadist attacks on Americans at home since late 2001.
Two months before that, authorities rolled up a major jihadist cell in the New York City area that was plotting complex attacks that would have rivaled the 2005 London 7/7 atrocity in scope and lethality. That plot was backed by Al Qaeda Central in Pakistan and might have changed the debate on terrorism in the United States, but it was happily halted before execution—"left of boom" as counterterrorism professionals put it.
In general, American domestic counterterrorism since 9/11 has been astonishingly effective. The combination of National Security Agency signals intelligence (SIGINT) providing lead information for Federal Bureau Investigation operations has disrupted dozens of terror plots over the last fourteen years. Something like eighty percent of disrupted terrorism cases in the United States begin with a SIGINT "hit" by NSA. Before San Bernardino, the NSA-FBI combination had a near-perfect track record of cutting short major jihadist attacks on Americans at home since late 2001.
Indeed, the marriage of NSA SIGINT with old-fashioned FBI gumshoe work has been so effective that civil libertarians and anti-intelligence activists have complained that it has worked too well, with the FBI using agent provocateurs to egg homegrown radicals onto the path violence—and then rapid arrest. While the issue of the limits of provocation in counterterrorism is a legitimate one that needs discussion, it's evident that many of those castigating the FBI and NSA for being too effective are also the first to criticize them when those agencies miss a terrorist.
However, the effectiveness of the NSA-FBI counterterrorism team has begun to erode in the last couple years, thanks in no small part to the work of such journalists-cum-activists. Since June 2013, when the former NSA IT contractor Edward Snowden defected to Moscow, leaking the biggest trove of classified material in all intelligence history, American SIGINT has been subjected to unprecedented criticism and scrutiny.
The uproar that followed the Snowden leak and defection has put NSA in an unflattering light, which has taken a serious toll on agency morale. The recent Congressionally-mandated halt on NSA holding phone call information, so-called metadata, has harmed counterterrorism, though to what extent remains unclear. FBI Director James Comey has stated, "We don't know yet" whether the curtailing of NSA's metadata program, which went into effect just days before the San Bernardino attack, would have made a difference. Anti-intelligence activists have predictably said it's irrelevant, while some on the right have made opposite claims. The latter have overstated their case but are closer to the truth.
Tashfeen Malik got less scrutiny immigrating to the United States than average Americans receive when applying for almost any job or college.
While the importance of metadata to American counterterrorism will continue to be a hot-button topic, the disastrous effect of the Snowden affair and its political aftershocks on our intelligence agencies is not up for debate. Neither is the fact, as attested to by several Western intelligence chiefs, that Snowden's leaks have made terrorists more careful in their communications, and therefore more difficult to intercept. Just as bad, several top-secret NSA programs, beyond metadata, that assisted counterterrorism have been downscaled since 2013 out of fears they may "look bad" if leaked.
"Before Snowden we had a definite bias for action," explained a senior NSA official with extensive experience in counterterrorism. "But now we all wonder how the White House will react if this winds up in the newspapers." "It's all legal," the official added, "the lawyers have approved, and boy do we have lots of lawyers—but will Obama throw us under the bus again?"
That concern is widespread in American counterterrorism circles, where the Obama administration's worries about appearing "Islamophobic" are well known. This White House early on warned intelligence personnel about using the term "Islamic terrorism" even in classified reports that would never be released to the public. "Since 2009 we've opened investigations of groups we knew to be harmless," explained a Pentagon counterterrorism official, "they weren't Muslims, and we needed some 'balance' in case the White House asked if we were 'profiling' potential terrorists."
One of the worst side-effects of the Snowden affair is the entirely false image it created of NSA as an all-listening and all-seeing agency that spies on everyone, everywhere without respite. The truth is more mundane—or worrisome, depending on your viewpoint. While 21-century SIGINT, thanks to advanced filtering technologies, can collect and process unprecedented amounts of information for analysis—phone calls, text messages, emails, online chats and whatnot—that has in no way kept up with the global IT revolution. There is much more information out there that might be of interest to counterterrorism officials but which will never be examined closely by any NSA analyst, much less passed to the FBI for action.
Investigation has revealed that Syed Farook and Tashfeen Malik were radicalized long before they embarked on their mass murder spree. Both had engaged in online radicalism for years and it's evident that a devotion to violent hatred brought the couple together; speculation in counterintelligence circles that Malik was actually the prime mover of the couple's jihadism—and may even have been a provocateur—are plausible but not yet substantiated.
What is known, however, is that Malik, a Pakistani national who had lived for years in Saudi Arabia, had written extensively on her public social media accounts about her ardent desire to wage jihad and seek martyrdom in the name of radical Islam. Americans who are accustomed to having their social media accounts examined whenever they apply for a job have questions here, and rightly so.
Malik was granted her green card in July 2015 despite the fact that her public writings offered a clear indication of violent extremism.
Her allegedly extensive 2014-15 examination by Immigration and Customs Enforcement, subsequent to her marriage to Syed Farook, made no effort to look at Tashfeen Malik's social media writings, even though they could have been easily found. She passed cursory ICE security screening, which now must be judged useless. Malik was granted her green card in July 2015 despite the fact that her public writings offered a clear indication of violent extremism.
This was not a failure of the system; this is how our system works today. The Obama administration, through the highest levels of the Department of Homeland Security, explicitly banned looks at the social media of immigration applicants. Tashfeen Malik got less scrutiny immigrating to the United States than average Americans receive when applying for almost any job or college.
At a minimum, this sort of institutionalized dysfunction at DHS and ICE needs Congressional investigation, and there should be little doubt that the White House was the originator of such escapism-as-policy. Until this mess gets sorted out, and immigrants receive a bare minimum of real security screening, we should expect more jihadists to enter our country. How many have entered since 2009 is a vexing question.
Although President Obama has not tried to dismiss the San Bernardino attack as "workplace violence," as he infamously did with the Fort Hood massacre, and he eventually got around to admitting it was terrorism, this will not suffice. Neither will gun restrictions make any worthwhile difference. Serious action is required to prevent future jihadist terrorism inside the United States.
I have castigated European countries over their refusal to take their jihadism problem seriously, pointing out that the threat is now so great no intelligence service can fix it. We have been lucky in America, our domestic jihadism problem is much smaller than Europe's on a per capita basis, but Obama's reckless policies are changing that rapidly. No intelligence in the world can move political leaders who refuse to address terrorism and extremism realistically. There is still time to act, but not much.