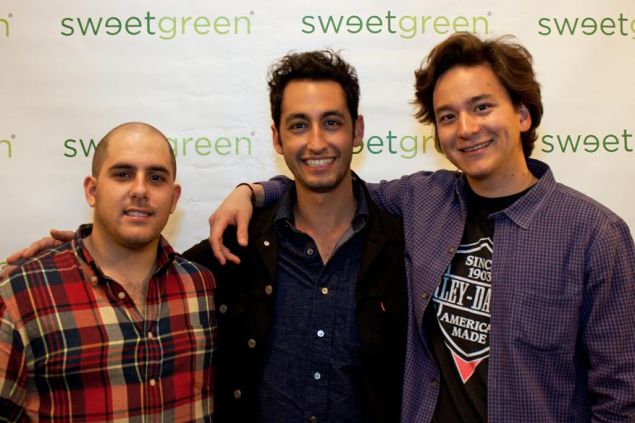 The kale craze may well be past its sell-by date, but it's still enormously lucrative for those doing the selling. At least, the public's adoration of a nicely packaged salad with an organic label remains strong enough that two of the co-founders of salad and yogurt chain Sweetgreen can afford a new downtown condo in the city for $3.4 million.
Jonathan Neman and Nathaniel Ru are the new owners of a two-bedroom, 2.5-bath unit at 161 Grand Street. The platonic duo previously shared a two-bedroom bachelor pad in Soho, but perhaps felt it was time to put down more permanent roots in the city.
"The two guys have sort of an interesting living situation," designer Noa Santos previously told Bloomberg. "They live together but they're not partners, they're both straight…they throw these amazing parties."
It doesn't look like the unit in the Solita (the same building where Sofia Coppola once owned a loft) was ever officially listed, but from what we can tell, the pair should have plenty of room in the 1,771-square-foot abode, which they purchased from David and Sari Rafiy, for their aforementioned amazing parties. Sadly, the third co-founder has thus far been excluded from their combined bachelor pad. Maybe he prefers an actual bachelor pad…you know, of one person.
Sweetgreen currently has stores in Nomad, Tribeca, Nolita, and Williamsburg, and is apparently about to open three additional locations at Columbia University, the Upper West Side, and Union Square. Clearly, the world is in desperate need of more kale, and we're so glad that these two have decided to maintain a permanent residence in the city to ensure the public's needs are met.
Other highlights of their new home include 11-foot ceilings, a keyed elevator opening directly into the apartment, and a chef's kitchen. A previous listing promises "spectacular views of the Police Building!" Oh, and the Nolita outpost of Sweetgreen is just two blocks away on Kenmare! So they can stop in for salad anytime they want.