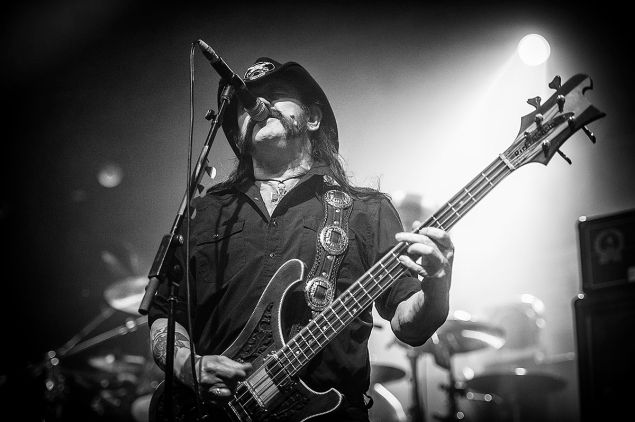 The myth is magnificent, and it casts such a magic shadow: a proto-Tarantino/post-Peckinpah porn-age Pan. Vince Taylor via Dennis Hopper. All the memorials underline the amazing leather-faced, leather-bound, leather-lunged legend. But do not let the myth obscure the music. The music he left is monumental. The music he left is even greater than the myth.
Ian Fraser "Lemmy" Kilmister is responsible for some of the most innovative and exciting rock and roll ever made.
Ian Fraser "Lemmy" Kilmister, who died less than a hundred hours ago, is responsible for some of the most innovative and exciting rock and roll ever made. So let's discuss this, not the whiskey-breathing dragon who stalked the Rainbow.
Let's start here: Lemmy was a member of Hawkwind between late 1971 and mid 1975. During that time, Hawkwind were one of the most original and powerful rock and roll bands ever to inhabit this planet.
For the uninitiated, Hawkwind are the missing link between Pink Floyd and the Sex Pistols; at the same time, their chugging, zooming, maxi-minimalist speed-freak-on-Skylab spacerock somehow links Jerry Lee Lewis with "Sister Ray," Tangerine Dream with the Swans. It's what the Grateful Dead should have been, if they had worshipped the Sonics and been banned from listening to bluegrass. There is nothing like the Lemmy-era Hawkwind, and there never will be.
[youtube https://www.youtube.com/watch?v=HYAd0-ifNlM&w=560&h=315]
Start with "Born to Go" (off of the Space Ritual live album). Some mysterious noodling that would sound great while staring at a black-light poster morphs into an insane dark riff that seems to be coming from the depth of a special hell where the devil's DJ is simultaneously playing the Stooges and Deep Purple at 66 RPM; the band thrash, drift, and drape themselves around that riff for about eight and half minutes, dipping into various colors of wah-wah, Tardis-esque whistles, and Neu!-ish one-chord jam breaks; and the entire time drummer Simon King never lets up on an eight-beats-to-the-bar Pete-Best-on-meth meltdown. Over, under and around the whole adventure, Lemmy pulses away, like Holger Czukay channeling Dee Dee Ramone.
It sounds like Hawkwind are inventing the future as they are actually playing it; so little of what they are doing seems to have anything to do with the extant history of rock and roll. They invoke this manic magic again and again, generating machine-churning space noise that goes from ambient soft-focus into gnashing, repetitive caveman riffing and then back again, often dipping into airy and gentle melodicism that wouldn't melt ice. Go and listen to the whole Space Ritual live album, and hear the universe's greatest and only interplanetary minimalist psycho-punk band at the height of their powers, sounding like Sabbath jamming with Stereolab remixed by the BBC Radiophonic Workshop.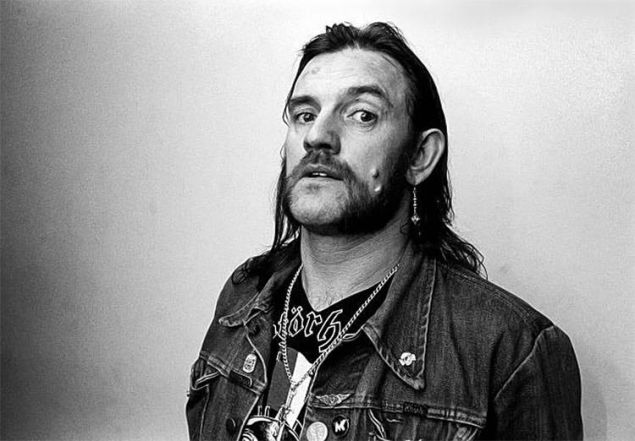 Which isn't to say that Hawkwind couldn't produce magnificent music in the studio. 1972's Doremi Fasol Latido, 1974's Hall of the Mountain Grill and 1975's Warrior on the Edge of Time all feature the qualities noted above, but with a little more cohesion and variety.
As you probably know, after being ejected from Hawkwind in 1975, Lemmy formed his own band, naming it after the last song he wrote for Hawkwind (without Lemmy, Hawkwind went both a little hazy and a little poppy; still very active, they remain a band capable of mighty highs, but they were never again the Greatest Band In The Galaxy).
It took a little while for Motörhead to get up to speed. In the beginning, they were an almost desperately streamlined boogie band, performing gristle-tough interpretations of the kind of visceral beatmusic played by the Pretty Things, with an overlay of the beery, Stooge-ish psychedelia of the Pink Fairies; there were some Hawkwind-ish elements (both bands have the ability to sound like professional wrestling villains chewing tin foil), but the space rock had been totally removed, replaced by a pioneering barbed-wire minimalism that discarded anything indulgent about metal and replaced it with punk's immediacy.
[youtube https://www.youtube.com/watch?v=q9NT6BBYWLg&w=420&h=315]
But on Motörhead's second album, 1979's Overkill, the world changed, at least for one song. It was as if Lemmy had been in the Beatles twice: he left the greatest band in the world, and started one that was nearly as good, and equally as seismic.
On Overkill's title track the band did what so very, very few groups ever achieved: they wrote the first sentence to an entirely new chapter in rock and roll. Utilizing the machine-gun double-kick drum that was to become the trademark of speed metal, "Overkill" reduces rock and roll to a ferocious seismic scrawl stripped of any of the indulgences that might distract from the message. "Overkill" is rock and roll condensed to its most base elements, a sled full of history's bullshit and blue balls set on fire and pushed down a steep hill, with no curves and no brakes. No one—not the Ramones, not the Velvets, not the Stooges, not even the monster acid space-motorbike that was Hawkwind—had attempted anything like this: translating Jerry Lee Lewis and Huey Piano Smith and Little Richard's manic down-beat essence into pure metallic ecstasy.
On their fourth album, 1980's Ace of Spades, Motörhead fully hit their stride: they took their invention and put it into overdrive. It is the music of punk rock huns intent on transcribing the sound of speed at the speed of sound.
And that was the map Motörhead pretty much stuck to for the next 35 years, but it never got tired.
Motörhead were one of the greatest and most consistent rock bands of all time.
1986's Orgasmatron (which re-introduced a certain Hawkwind-ish spacephase psychosis into the formula) may be their single best album, though 1991's 1916 is very nearly as good, and showed that Lemmy and Motörhead could actually do goddamn satisfying work in more traditional rock and ballad formats (including the title track, which is both a ballad and one of Lemmy's greatest songs). Despite—or rather, inclusive of—a certain degree of stylistic repetition, Motörhead were one of the greatest and most consistent rock bands of all time, and perhaps the only electric band of the past 40 years to effectively honor and evoke the filthy Memphis/New Orleans speed dream of rock's originators in a completely original manner (though I find an odd affinity between Motörhead and both Suicide and the Bad Brains).
And Motörhead kept it up until the end: if you forgive some (very understandable) weakness in the chest-end of Lemmy's vocals, Bad Magic (released this past August) is as good as Ace of Spades, Iron Fist, 1916, or any classic Motörhead, chock full of snaky, quadruple-timed blasts of mid-range panzer purring, very occasionally slowing down to (merely double-timed) riffing that sounds like the Golem on speed kicking over Satan's Legos. Bad Magic is one of Motörhead's five best albums, and that's a helluva achievement, considering it was released when Lemmy, who had been playing in rock bands for more than 50 years, had barely half a year left to live.
Lemmy Kilmister cut one of rock's greatest figures, and like others he shares this honor with—Elvis, Kurt and Lennon, to name three—his brilliance not only refuses to be overshadowed by the myth, but actually exceeds it. An integral member of two of the most important and most aurally satisfying bands of all time, an inventor who threw a plugged-in radio into a bathtub containing the elders of rock and roll and then utterly basked in the burst of lightning, he is one of the greats, and his likes will never, ever come this way again.