The Public Art Fund has tapped Emma Enderby as its new associate curator, wooing her away from her position as exhibitions curator at London's prestigious Serpentine Galleries.
Ms. Enderby is the Public Art Fund's latest additional staff member, following the creation of several new positions over the past six years under director and chief curator Nicholas Baume. Since Mr. Baume took the helm in 2009, the arts nonprofit has grown its staff from eight to 17 employees, and has seen its budget grow 190 percent to $5.5 million from $1.9 million.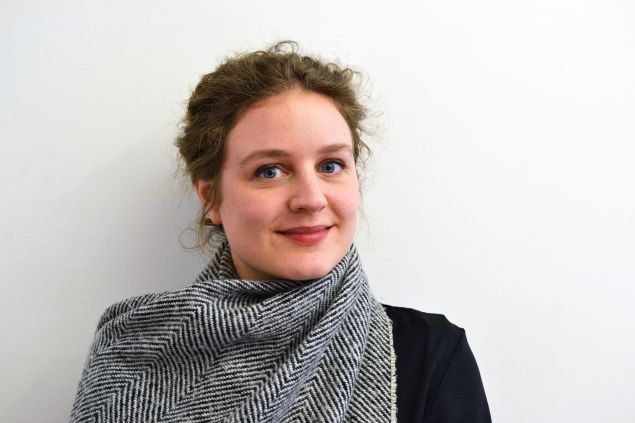 "We're in a period of great interest and expansion in public art," Mr. Baume told the Observer.
As a result of the expansion, the organization has been responsible for some of the city's most high-profile public art projects, including Rob Pruitt's The Andy Monument (2012), a silver statue of the Pop artist erected in Union Square, Jeff Koons' Split-Rocker (2014), a massive statue of a toy horse head covered in flowers at Rockefeller Center, and most recently Hank Willis Thomas' The Truth is I See You (2015), a series of cartoon speech bubbles with text in different languages hung from lamp posts at Metrotech Commons in Brooklyn.
But one project, Mr. Baume says, best exemplifies the growth of the organization: Tatzu Nishi's 2012 work Discovering Columbus. For the work, the artist constructed a living room around the monumental statue of Columbus that sits atop a 70-foot column at the center of Manhattan's Columbus Circle. Visitors were able to climb stairs to the top of the column and visit the statue in the domestic environment built by Mr. Nishi.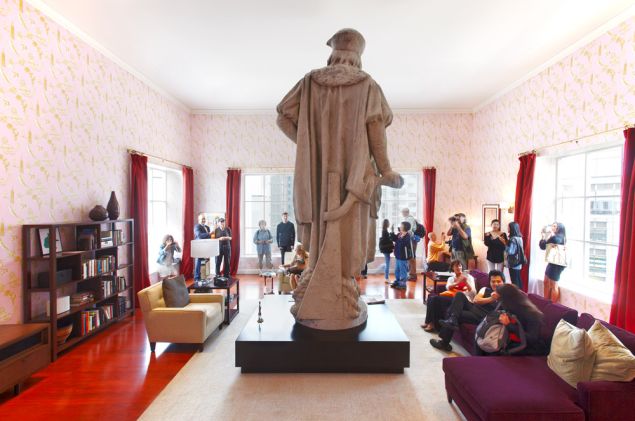 "[The project] was so out of the box and such a complex thing to undertake and do," he said. "We were able to partner with the city and its agencies very effectively, as well as activate our networks to generate the interest and resources to pull off a project like that. It was an artist many people weren't familiar with, who didn't have a big market, but we could still do something that created a city wide impact where everyone knew about it and wanted to come see it.
Mr. Baume joined the organization on the heels of the 2008 financial crisis. "In the aftermath we were looking at how the organization was going to thrive and contribute in a different environment," he said.
The group set a series of "ambitious goals" such as adding staff, additional programming and building its board and budget. "With a methodical approach we've grown the organization past the level we though was ambitious and outlandish even then," he explained.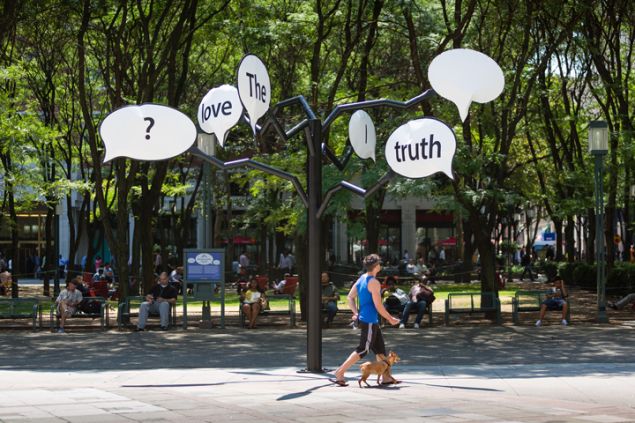 Supporters in the past have included New York City's Department of Cultural Affairs, the U.S. Department of Housing and Urban Development, along with Forest City Ratner, Related Companies and Bloomberg, among others.
Looking forward, the Public Art Fund will exhibit Peter Fischli and David Weiss' text-based wall mural How to Work Better in Lower Manhattan in conjunction with the Guggenheim's 2016 exhibition, set to open February 5. Then, on March 1, Berlin-based artist Isa Genzken's sculpture Two Orchids will be shown in Central Park.
While at the Serpentine, Ms. Enderby curated exhibitions of work by artists Rachel Rose, Leon Golub, and Trisha Donnelly. Public Art Fund's former associate curator Andria Hickey has been promoted to curator.