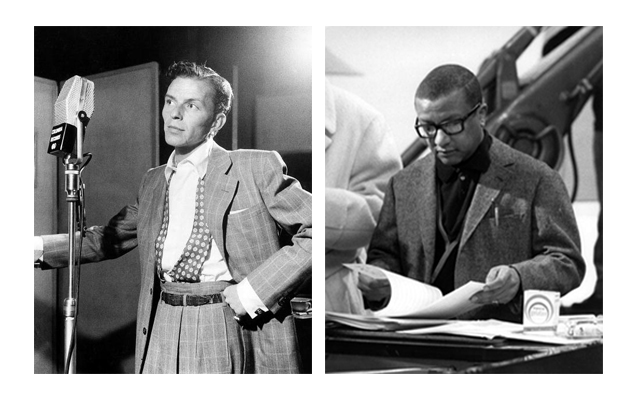 It says a lot about Frank Sinatra that the most famous profile ever written about him, Gay Talese's 1966 Esquire story, "Frank Sinatra Has a Cold," is a write-around in which the crooner isn't even interviewed. Sinatra was—and remains—a difficult man to pin down, a torch-singing tough guy with inscrutable blue eyes, a Rat Packer with mob connections who walked around with a broken heart given to him by Ava Gardner. "Being an 18-karat manic-depressive, and having lived a life of violent emotional contradictions," he once said, "I have an over-acute capacity for sadness, as well as elation."
He would have turned 100 this Saturday, and writers and historians have been scrambling over the past year or so to piece together the man and his legacy. Much has been made of his friendship with Billie Holiday, an equally mysterious entertainer eight months Sinatra's senior. She taught him how to bend notes, to communicate a song as a direct emotional statement. But there is a third jazz musician celebrating his centennial this year: Billy Strayhorn, Duke Ellington's longtime collaborator, was born a century ago last month—and the parallels between him and Sinatra are illuminating, though overlooked.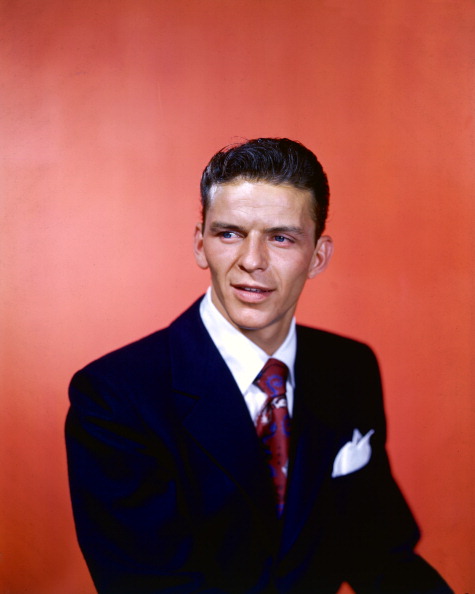 At first glance, it may seem counterintuitive to put them side by side. Strayhorn operated mostly in the shadows, behind the scenes, as Duke Ellington's secret weapon. "It's a wonderful thing, I mean, to bow after a Billy Strayhorn orchestration," Ellington once jokingly noted. "This is one of the things I do best." Raised in Pittsburgh, Strayhorn was a reserved, black, openly gay man who aspired, early in his life, to be a classical composer. Sinatra was…well, Sinatra. But it's clear the singer had a deep appreciation for Strayhorn's artful arrangements as well as his searching compositions.
In 1958, while recording his album of ballads Frank Sinatra Sings for Only the Lonely, he tried his hand at Strayhorn's "Lush Life," a sad, beautiful tune whose disillusioned narrator reflects wistfully on loneliness and failed romance: "I used to visit all the very gay places / those come-what-may places / where one relaxes on the axis of the wheel of life / to get the feel of life / from jazz and cocktails." The song—Strayhorn wrote it in his teens—is revered for its complex harmonic structure, which should have been no challenge for Sinatra. In fact, the song was perfect for him; you can picture him inhabiting its melancholic world.
But after a few botched takes, he dropped it. "Put it aside for about a year," he said, which meant forever. It's likely Sinatra hadn't internalized its meaning. "He would have gotten it, but he didn't really have it in his ear," said the saxophonist Joe Lovano, who has recorded tributes to Sinatra and Strayhorn. Indeed, Sinatra liked to memorize songs—printed out on a sheet of paper, like a poem—independent of their melodies. Perhaps he hadn't given "Lush Life" its due, though that would have said nothing of his respect for Strayhorn. It's likely they got to know each other in New York, at clubs like Basin Street East and the Rainbow Grill, where Sinatra and Ava Gardner would go when Ellington's orchestra rolled through town. (As the lyricist Don George recounts in Sweet Man, his biography of Ellington, Gardner liked to go hear the alto saxophonist Johnny Hodges play Strayhorn's "Passion Flower" and, yes, "Lush Life.")
There are also hidden, aesthetic reasons why Sinatra and Strayhorn have more in common than it may seem. They were, of course, both very sensitive artists who were heavily influenced by strong mothers. Strayhorn wrote bittersweet tunes about longing and regret—"Something to Live For," "My Little Brown Book," "Day Dream"—and Sinatra was a master interpreter of such songs.
"Joy wasn't exactly Sinatra's forte," said James Kaplan, the author of The Chairman, the final volume in a two-part biography of Sinatra, which came out in October. "He was deeper, darker than that. Even in the most joyous songs, like 'I've Got the World on a String' and 'Fly Me to the Moon,' there's always a shadow behind the exuberance."
A pioneer of the concept album, Sinatra was, during his solo career, one of the first popular singers to mine American musical theater for material, which he did both out of desperation for content and adoration for the past. What made his song choices radical, for the time anyway, was that he was going back and picking songs originally written for female characters ("What Is This Thing Called Love," "I've Got You Under My Skin," "It Never Entered My Mind," among countless others). That's whom the emotionally complex songs were written for—men got the less nuanced lines—and Sinatra wisely saw value in tapping into them.
Such a strategy hints at the sexually transgressive nature of Sinatra's rise to fame. It's hard to imagine now, but early in his career, he was criticized for being effete and unmanly. Although he found fame in the late 1930s with the bandleader Tommy Dorsey, he was an awkward-looking, gangly twenty-something (much like Justin Bieber). He was into beauty, and his music was beautiful, and that wasn't the norm.
Evidence of the backlash can be found in E.J. Kahn's three-part New Yorker profile, published in 1946, which addresses the singer as a social phenomenon. Kahn quotes one critic as saying, "a friend of mine who thinks much about these things finds this style very dangerous to our morale, for it is passive, luxurious and ends up not with a bang but a whimper."
"In the same way, Strayhorn was held in suspicion," said David Hajdu, the music critic for The Nation and the author of Lush Life, the definitive biography of Strayhorn. "He was openly gay, so he had license: 'Oh, of course he's doing that, he's gay.' It was much more daring for Sinatra to go out and do that as a public figure."
Sinatra, who died in 1998, was an incredibly confident man—despite the ennui that seemed to pervade his being—and it was almost certainly his confidence that led him, in 1962, to attempt to lure Billy Strayhorn to his new record label, Reprise, as an arranger. Strayhorn was, at the time, one of the country's greatest composers. But when Ellington got wind of the negotiations, he flipped out, and Strayhorn, who was diagnosed with esophageal cancer two years later and died in 1967, turned the offer down.
Given the reputation of the great arranger Nelson Riddle, who worked with Sinatra for decades, it's a wonder what a collaboration between the two men would have yielded. Fittingly, though, all we can do is daydream, with a tinge of sadness, about what might have been.