Last summer, the lob was inescapable. What was truly an old school inverted long bob became the it look of twentysomethings trying to look older, cool moms trying to look younger and celebrities everywhere hoping to gain Instagram likes courtesy of  a new haircut. Mermaid hair, the center-parted, long bent sided look made famous by the Kardo-Jenners was chopped for good. Now, Princess Kate is hopping on the hip hair bandwagon a little bit late, chopping off the shiny locks she was famous for.
If you can manage to look away from the precious Princess Charlotte, you might wonder why Catherine, Duchess of Cambridge, would ruin her classic look with side bangs that are reminiscent of Myspace selfies in the early aughts. While it might make motherhood easier, it won't make a tiara trendier.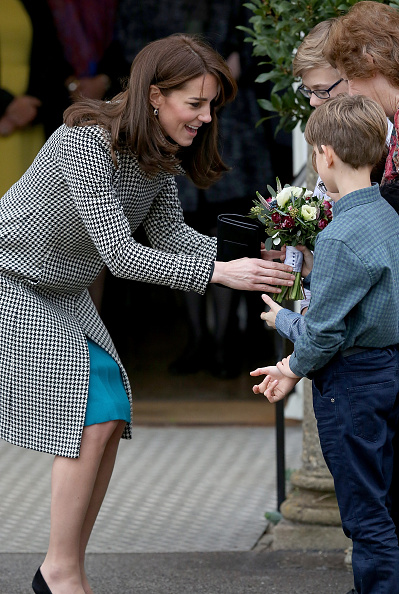 The haircutter in question is Richard Ward, the Duchess of Cambridge's longtime hairdresser from her university days. While he's famous for maintaining her long locks, it might be time for the princess to venture to other London-based stylists if she's looking for an edgier look. After all, London gave us Vidal Sassoon and John Frieda, hairdressers who quite literally changed the world with magical movements in hair. Mary Quant was half the 1960s, half the Sassoon bob. Princess Diana's hair, the epitome of the Sloane Ranger look sparked a worldwide trend still being chased by Donald Trump today. London is so famous for its chic, trend-setting stylists that it is surprising to see these odd bangs and chunky shoulder lumps on the chic Duchess.
Mr. Ward guarantees that the cut is going to take half the time to blow dry, which is a woman's dream, whether or not she's a princess. "It's a practical style and a great option for a mom who has had long hair, who has a busy life and is short on time. It's slightly more sophisticated but with all the benefits of long hair," says Mr. Ward. While it might make life easier, it will take the adoring public a little getting used to.